Getting to Better Times: What the Top Producers are Doing
A difference of over €200 in margin over feed per sow was found in an analysis of Irish pig farm results by Seamas Clarke of Ballyhaise. He presented his results and possible reasons for the discrepancies at the Pig Farmers' Conference organised by Teagasc in the Republic of Ireland in October 2012.
As feed prices rose steadily through the spring and summer of 2012 many pig farmers wondered was there any future in pig farming. The Pig Development Department has struggled to come to terms with the new feed crisis and investigated all types of strategies for client survival. Options examined included reduce sale weights, selling weaners, reduced creep and link feeding, destock/repo population, by-product substitution, etc; all part solutions to survival or are they?

In late July 2012, the Pig Development Dept carried out a quick survey of the Irish sow herd of 148,000 sows. We came to the conclusion that 25 per cent of the herd was in immediate danger of closure if feed was to remain at the composite high price of €331 and pig price remain at €1.64. Another 25 per cent were vulnerable and 50 per cent would survive come what may!

As the author prepared this paper he pondered what makes this 50 per cent secure, or at least less vulnerable than the rest? Why were their margins better than other farmers? What top producers do! (S. Clarke, Teagasc Pig Farmers' Conference October 2005). Simple answers such as better buying price for their feed or better carcass price returns might be the answer but was it the full story?
Back to the 2-Tonne Sow Story!
What had the 'strong' producers in common? The Pigsys Recording System might have some answers! The author selected the 'strong' clients on the basis of selling finishers at or above 80kg carcass. Their average carcass sale weight was 84.26kg. They had hit the heady heights of 2,054kg carcass per sow for the year ending June 2012. There were eight pig farmers in the bunch with almost 7,000 sows.

Next, the author looked to the weaker, more vulnerable group. He assembled the performance returns of the 11 'weaker' clients selling below 80kg; their average carcass sale weight was 75.41kg. Their annual carcass sale per sow was a meagre 1,770kg carcass. This group had a combined herd size of almost 6,000 sows. Overall, the 19 clients in the study represented 25 per cent of the entire sow herd in the Northern region.

Factors considered:
Carcass weight sold per sow
Pigs sold per sow
Born alive per litter
Litters per sow per year
Weaning age
Sow feed per annum
Creep per pig sold
Link per pig sold
Weaner to sale growth rate
Weaner to sale feed efficiency
Composite feed price per tonne
Carcass feed efficiency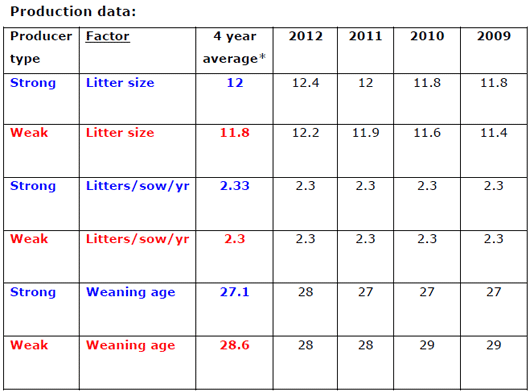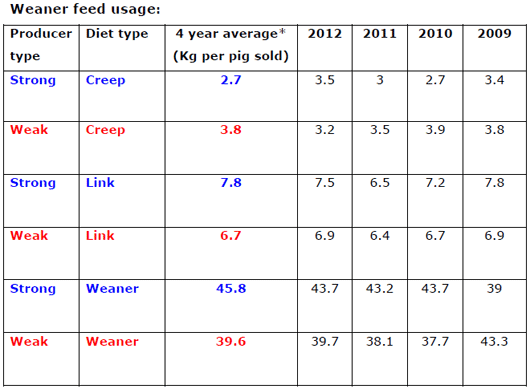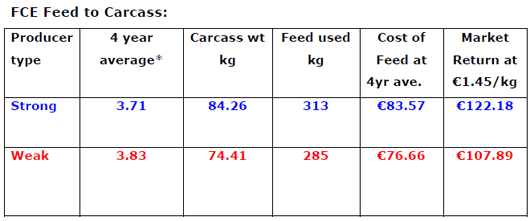 This paper is a review of the herd performance on 19 pig farms in the northern region of the Irish Republic from June 2009 to June 2012. The data were gathered in the normal quarterly Teagasc recording system and the findings are based on a snapshot analysis. They may not adhere to full scientific research statistical methods as factors such as herd health, feeding method, genetic type and housing system may have influenced the outcome. However what ever conclusion you may reach from the above data/results, you must surely accept that a difference of over €200 margin over feed per sow requires your attention!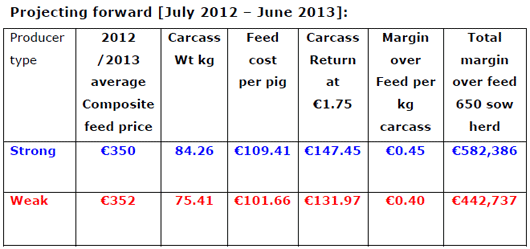 The category you belong to be it 'Strong' or 'Weak' may have serious implications for your survival over the next 12 months! Sale weight in combination with growth rate and carcass feed efficiency are the critical areas in times of high feed prices.

Note: Present factory slaughter weight band policies militate against slaughter weights much above 80kg, thus making the '2 Tonne Sow' less achievable into the future.
Further Reading

You can view other papers presented at the Teagasc 2012 conference by clicking here.
January 2013