Pig outlook: lean hog futures bulls hitting the accelerator again
US hog futures rally as supplies tighten and China reports a new outbreak of African swine fever.
The pig trader's perspective
Lean hog futures prices rallied strongly this week. US pork packers this week did aggressive buying that sent average cash bids soaring to above $113.00, matching prices for this time in the PEDV year of 2014. Prices eventually rose above $130 in July 2014. Market weights have trended sideways since February but have turned lower in the last two weeks, another indicator of tightening supplies. Packer profit margins fell to a 16-week low this week. But after months of margins in the black, packers can likely withstand negative margins for a while. Pork cut-out futures are pointing to a top in June, but futures hint it may come next month as restaurant restocking will likely slow.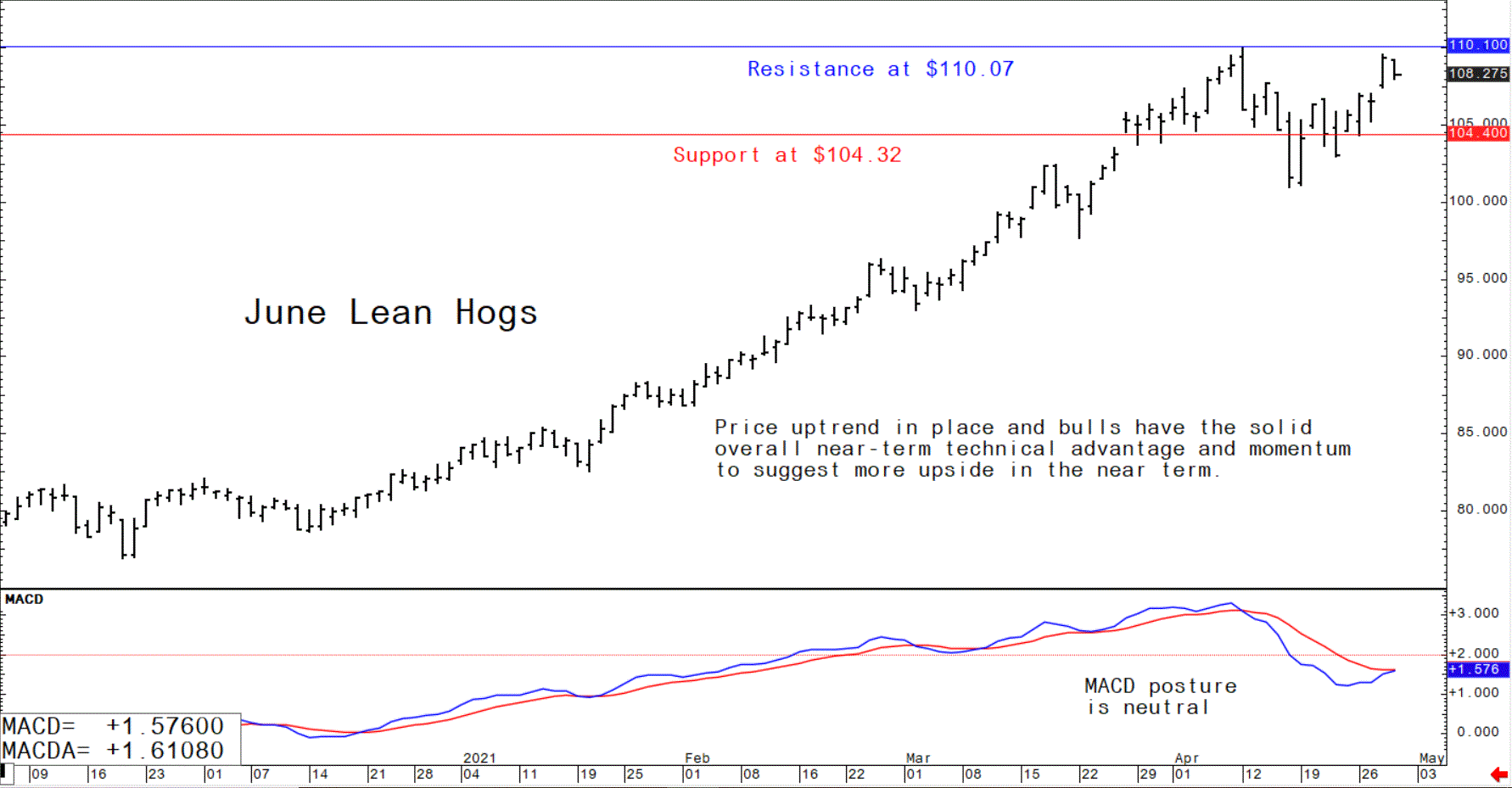 The next week's likely high-low price trading ranges:
June lean hog futures: $105.0 to $112.00 and with a higher bias
July soybean meal futures: $410.00 to $433.60, and with a sideways
July corn futures: $6.00 to $6.70, and a sideways bias
Latest USDA and other news regarding the global pork industry
US pork exports slide in latest week
USDA Thursday 29 April reported US pork net sales of 35,600 metric tonnes (MT) for 2021 were down noticeably from the previous week, but up 59% from the prior four-week average. Increases were primarily for Mexico (16,700 MT, including decreases of 600 MT), Japan (6,800 MT, including decreases of 200 MT), South Korea (5,000 MT, including decreases of 500 MT), China (2,000 MT, including decreases of 1,300 MT), and Honduras (800 MT).
Exports of 58,800 MT - a marketing-year high - were up 34% from the previous week and 46% from the prior four-week average. The destinations were primarily to Mexico (30,300 MT, including 17,700 MT - late), China (13,900 MT), Japan (4,100 MT), South Korea (2,300 MT), and Canada (1,900 MT).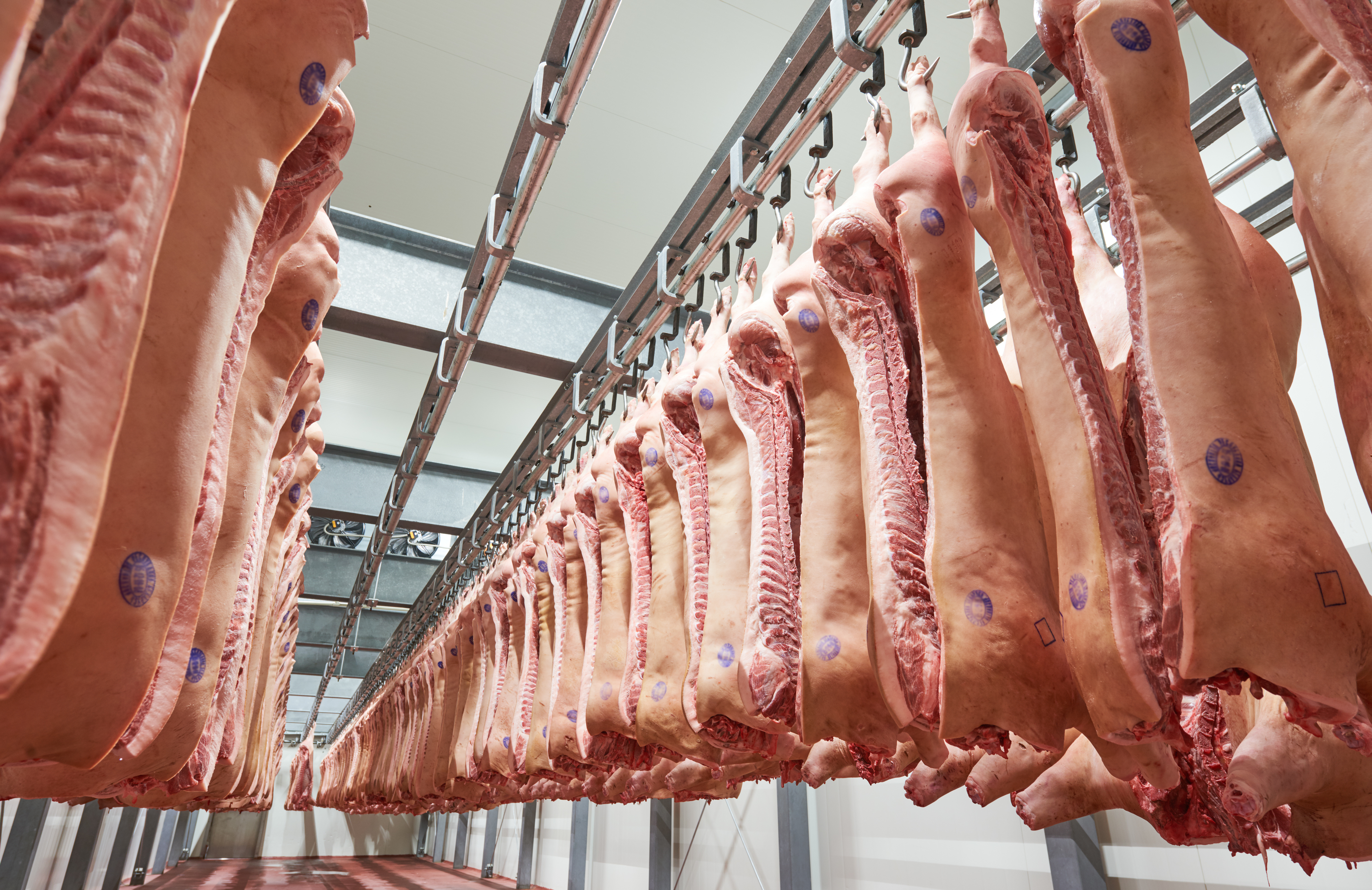 USDA US weekly pork retail report
Feature activity for pork was higher than the last week and sharply higher than last year. Hams and loins yielded advertisement space to all other cuts. Individual item prices were steady to weak compared to the previous week and steady to firm compared to the previous year. Wholesale prices were firm with higher rib and loin primal values balancing out lower belly values.

China announces new ASF outbreak in Mongolia

China reported an outbreak of African swine fever at a farm in its northern Mongolia region that had 432 pigs, 343 of which had died. This marks China's tenth official outbreak report of the year, though private estimates say as much as 30% of northern China's hog herd may have been wiped out by a resurgence of the virus.
"The epidemic is occurring in spots and no regional outbreaks have occurred," the ag ministry said in a statement on its website.
The country will divide itself into five zones on May 1 to help contain the disease, with only breeding pigs and piglets allowed to move between the zones. Fitch ratings recently commented that these restrictions could result in major consumption zones like eastern and southern China seeking more pork imports, as China's major producing regions are in the northeast and central areas of the country.
Read Jim Wyckoff's updates on the beef and dairy industry on The Cattle Site.