Pig outlook: lean hog bulls keep pedal to the metal
The US hog market continues to heat up and JBS bounces back from 2020's profit woes.
The pig trader's perspective
Lean hog futures continue to be supported by the strong US cash hog market amid solid domestic and foreign demand. Also, the pork cut-out values have risen this week. Chinese live hog prices slumped this week.
The lean hog futures market bulls are a bit concerned about the falling cash hog prices in China, which may indicate better supplies there and slower Chinese pork imports.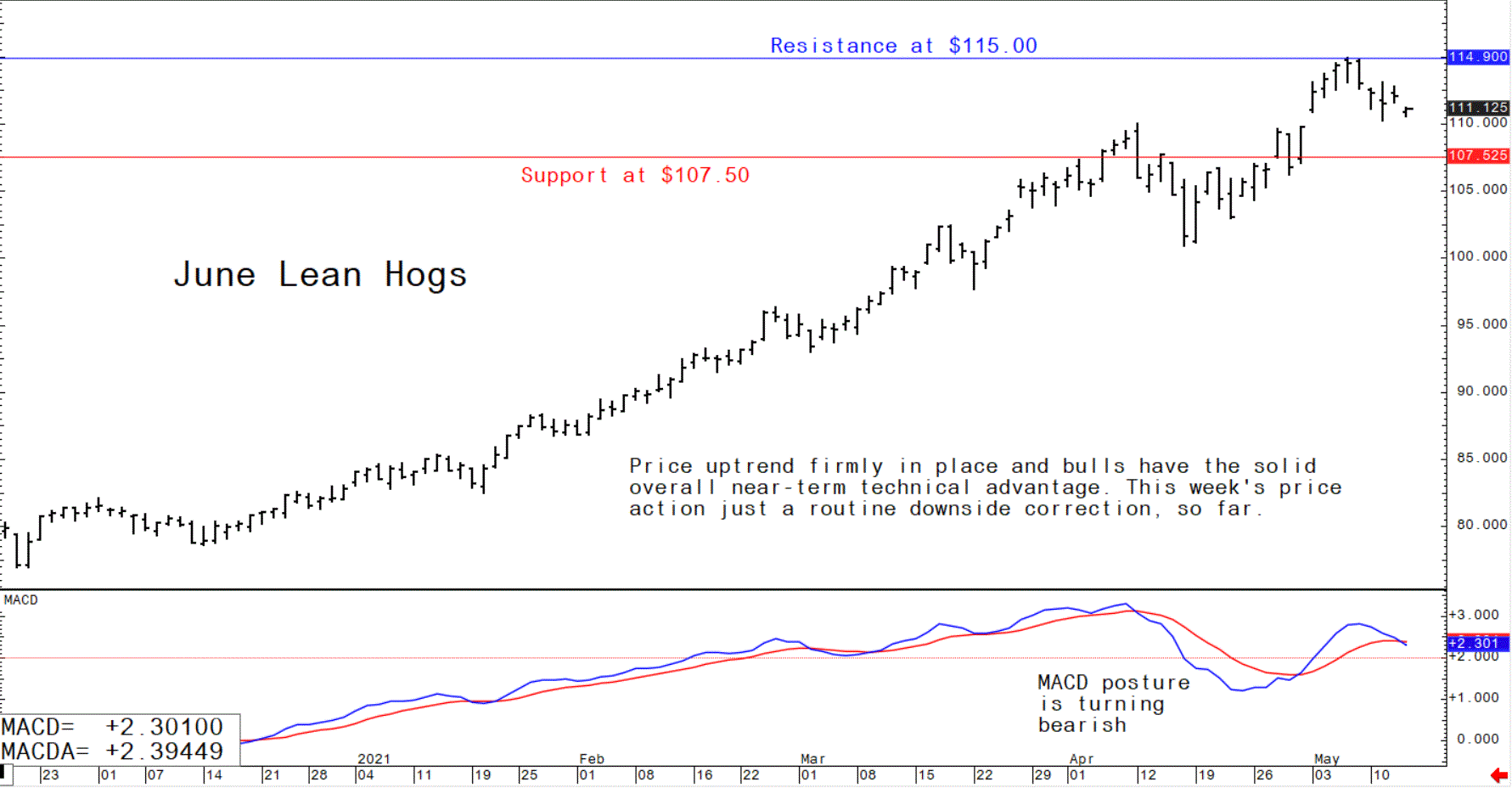 Average hog weights in the Iowa/southern Minnesota/South Dakota market dropped 1.2 lbs to 283.9 lbs the week ending 8 May, which is 11.2 lbs under year-ago levels. Supplies are tightening seasonally, which has supported cash prices.

The next week's likely high-low price trading ranges
June lean hog futures - $107.50 to $115.00 and with a sideways bias
July soybean meal futures - $425.50 to $458.20, and with a higher bias
July corn futures - $6.75 to $7.35 1/4, and a sideways bias
Latest news from the global pork industry
US pork sales continue to slide
USDA Thursday morning reported weekly US pork net sales of 14,700 metric tonnes (MT) for 2021 were down 69% from the previous week and 25% from the prior four-week average.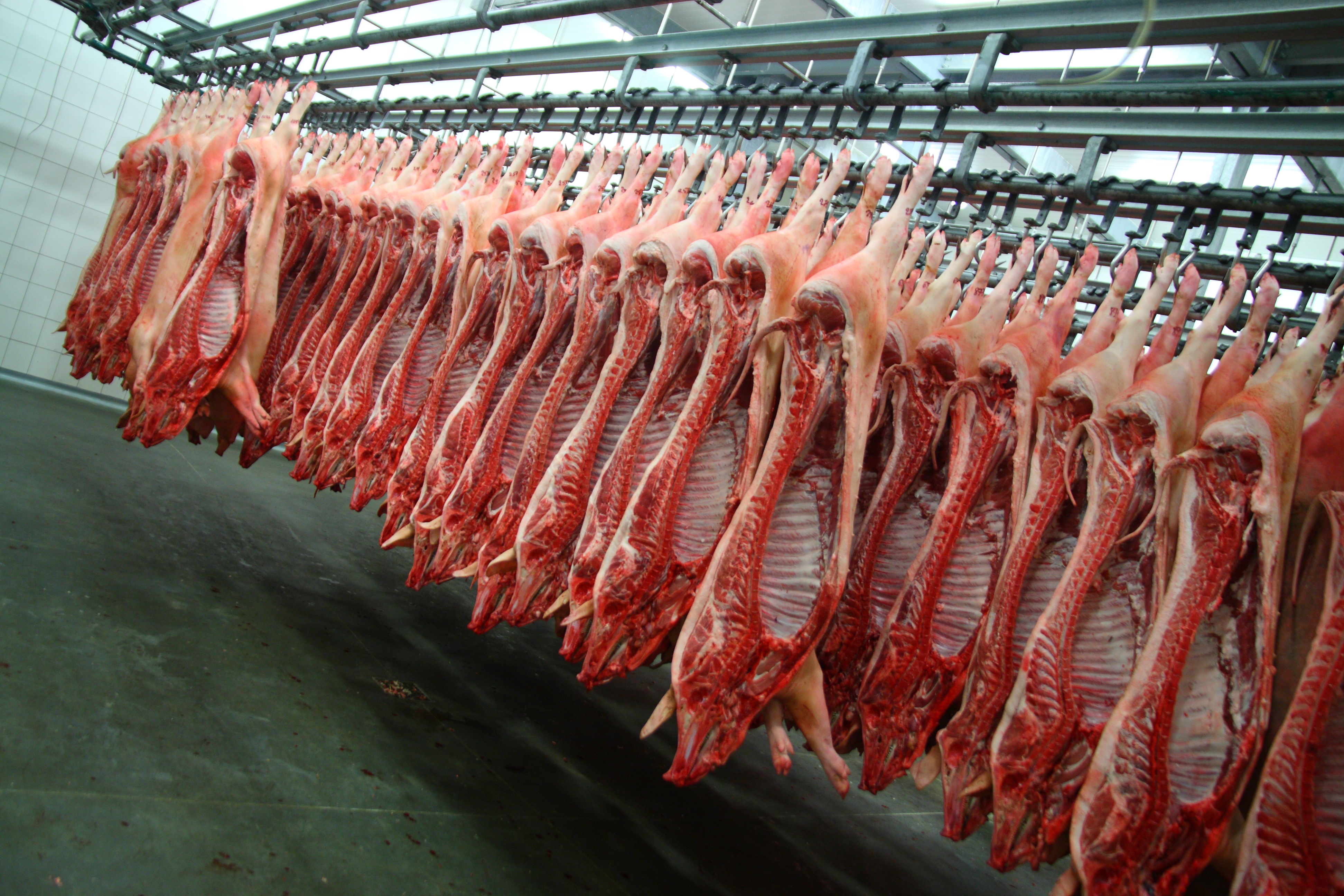 Increases were primarily for Mexico (5,300 MT, including decreases of 300 MT), China (3,000 MT, including decreases of 1,600 MT), Japan (2,900 MT, including decreases of 400 MT), the Dominican Republic (800 MT), and Canada (700 MT, including decreases of 700 MT).
Exports of 41,900 MT were up 13% from the previous week, but down 6% from the prior four-week average. The destinations were primarily to Mexico (14,200 MT), China (12,300 MT), Japan (4,300 MT), South Korea (2,600 MT), and Canada (2,000 MT).

JBS reports strong first-quarter profits
"Exceptionally good" operating performance for JBS's US meat operations helped swing meatpacker JBS back to profitability in the first quarter, with the world's largest meatpacker noting strong demand for meat as US restaurants started to reopen.
It also said strong exports from the US to Asian countries also helped it to post a net profit of 2 billion reais ($377 million) in the quarter ending 31 March, a dramatic improvement from last year's 5.93 billion reais loss for the first quarter of 2020.
High feed costs did weigh on margins for the company's Seara food division in Brazil, but those expenses had less of an impact on the company's finances than feared. The company's chief financial officer did say high cattle and feed prices will continue to challenge JBS.
Read Jim Wyckoff's analysis of the poultry industry on The Poultry Site and see his take on the beef and dairy industries on The Cattle Site.