Pig outlook: Lean hog futures market remains wobbly
US rethinks its China strategy and increased COVID-19 infections rock the industry.
The pig traders' perspective
Lean hog futures prices are trending sideways to lower at present. Bulls have lost strength and the recent chart posture suggests sideways and choppy trading into the end of the year. Average hog weights in the Iowa/southern Minnesota market climbed 1.4 lbs. the week ending 14 November to 289.1 lbs., which is also 1.4 lbs. above year-ago levels.
Meanwhile, the US pork cut-out value slipped another 92 cents on Wednesday 18 November, but movement was solid at 394.12 loads. US packer profit margins have slipped nearly $8 over the past week, but at $28.75 a head, there's still plenty of incentive for packers to keep lines full.
Last week's kill was down 2.6 percent from year-ago, again reminding USDA's seems to have dramatically underestimated the impact of COVID-19 related processing disruptions on hog production. The market will continue to monitor Chinese demand for pork ahead of its Lunar New Year festival.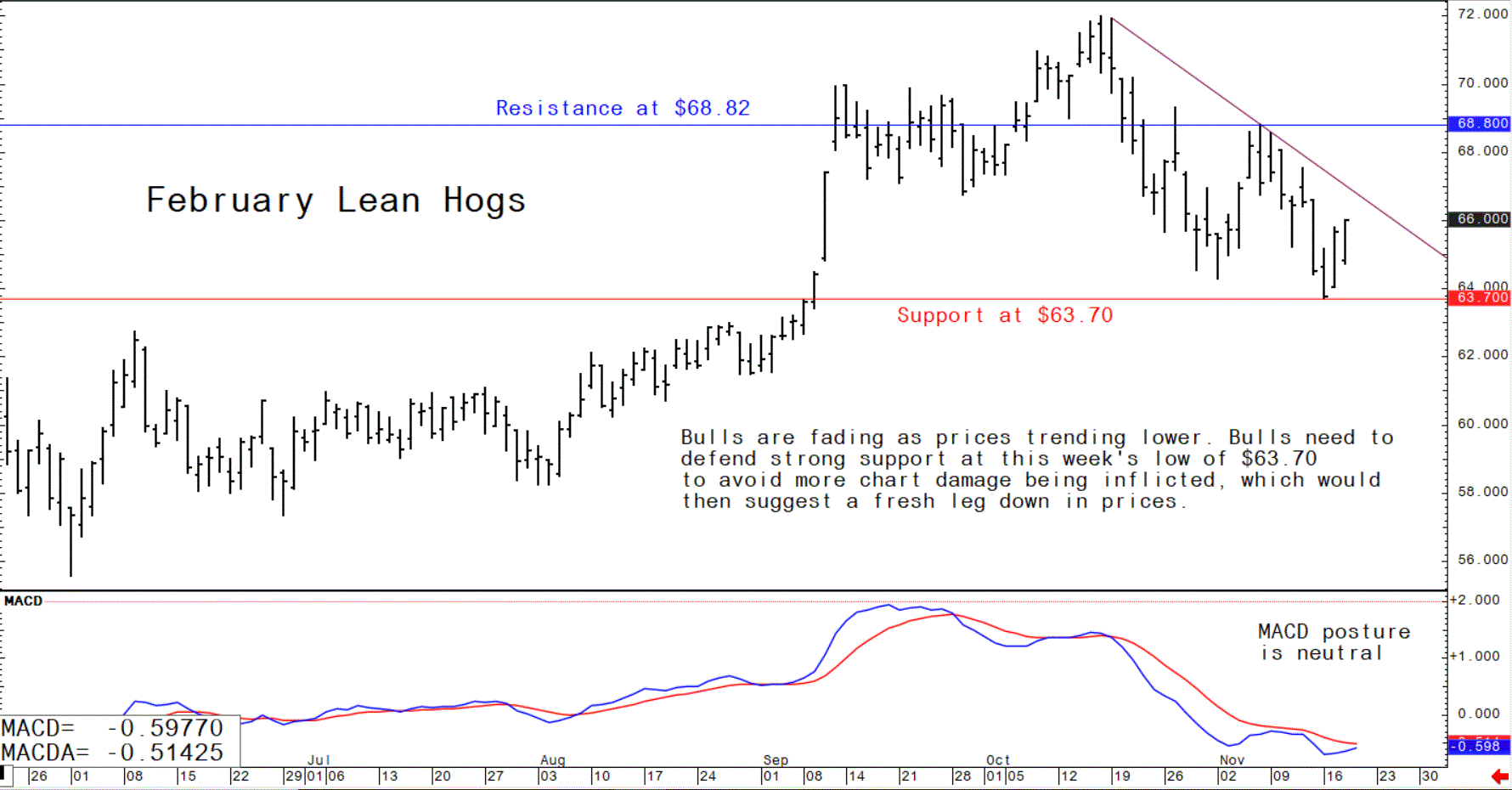 The next week's likely high-low price trading ranges
February lean hog futures--$63.00 to $68.82, and with a sideways bias
March soybean meal futures--$380.00 to $400.00, and with a higher bias
March corn futures--$4.15 to $4.40, and a sideways-higher bias
Latest US Department of Agriculture (USDA) reports, and other news
US pork export sales slip in latest week
USDA Thursday 19 November reported US pork net sales of 28,900 metric tonnes (MT) reported for 2020 were down 32 percent from the previous week and 18 percent from the prior 4-week average.
Increases primarily for Mexico (8,700 MT, including decreases of 600 MT), Canada (5,100 MT, including decreases of 400 MT), South Korea (5,000 MT, including decreases of 800 MT), Japan (3,900 MT, including decreases of 700 MT), and China (2,100 MT, including decreases of 1,400 MT), were offset by reductions primarily for Vietnam (100 MT).
For 2021, net sales of 2,300 MT were primarily for China (900 MT), South Korea (700 MT), and the Philippines (200 MT). Exports of 38,800 MT were up 2 percent from the previous week and 4 percent from the prior 4-week average. The destinations were primarily to China (13,100 MT), Mexico (12,000 MT), Japan (4,900 MT), South Korea (2,200 MT), and Canada (1,800 MT).
Goldman Sachs: bull markets in raw commodities as hedge against inflation
Goldman has forecast a return of around 27 percent over the next 12-months on the Goldman Sachs Commodity Index (GSCI) index, with a 19 percent return for precious metals, 40 percent for energy, 3 percent for industrial metals and a -1 percent return on agriculture. The grain futures markets are already in a major bull run. Goldman reportedly kept its target of $2,300 an ounce for gold and $30 an ounce for silver.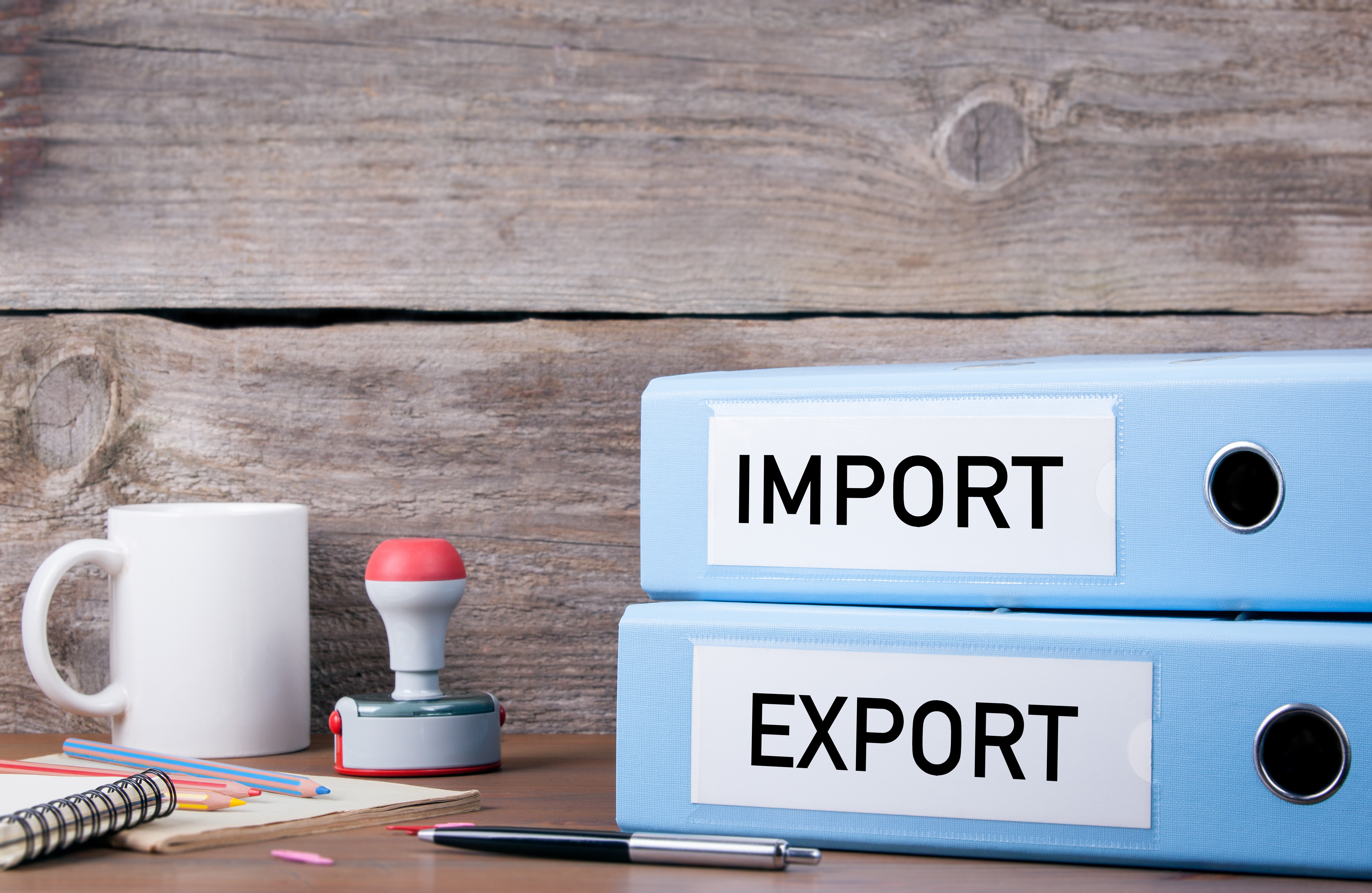 The view from China - economics
Big gains in China's hog herd
China's pig herd climbed 26.9 percent from year-ago levels during October, with the sow herd climbing 31.5 percent, the country's ag ministry reported. The country has worked to aggressively expand its hog herd after African swine fever wiped out around half of it. This has helped pork prices to moderate.
China finds COVID-19 on packaging of frozen meat and seafood from numerous countries
The city of Shanghai in China announced that all imports of "high-risk" cold-storage food will have to be tested for COVID-19 and have packaging disinfected before it is stored and sold in the city. China increased testing of frozen foods for COVID-19 last week, resulting in more import bans, despite continued assertions from the World Heath Organisation that the risk of catching the virus from frozen food is low.
Meanwhile, the southern city of Xiamen detected the virus on a shipment of pork from France during a random inspection. Also, Jining city in China's Shandong province found COVID-19 on imported frozen seafood, beef and tripe, triggering bans from associated companies in Brazil, Bolivia and New Zealand. Two other provincial capitals detected COVID-19 on the packaging of pork from Argentina.
Growing China retail sector a positive for pork imports

China's retail sector continues to grow to new highs as the number of middle-class consumers keeps growing. Online and offline stores continue to expand their footprint to attract customers who increasingly value quality, safety, convenience, and nutrition.
The retail food industry held up relatively well despite the COVID-19 economic downturn during the first half of 2020. Imports of consumer-oriented food products climbed to a record high of $73 billion in 2019, but US sales were down because of China's retaliatory duties. However, imports of US retail food products are gaining ground in 2020 because of the US-China Economic & Trade Agreement.
China's voracious appetite for imported meat is starting to wane
China's domestic pork prices are falling and consumer worries are growing about the coronavirus lingering on food, the Wall Street Journal reported.
For more than two years, Chinese farmers have battled outbreaks of African swine fever, a highly contagious disease that reduced the country's domestic herds in 2019 by as much as 41 percent, causing pork prices to more than double. Swine fever outbreaks are still occurring, but the country has moved to repopulate its pig farms, cumulatively adding 60 million hogs since the start of 2020, according to China's National Bureau of Statistics.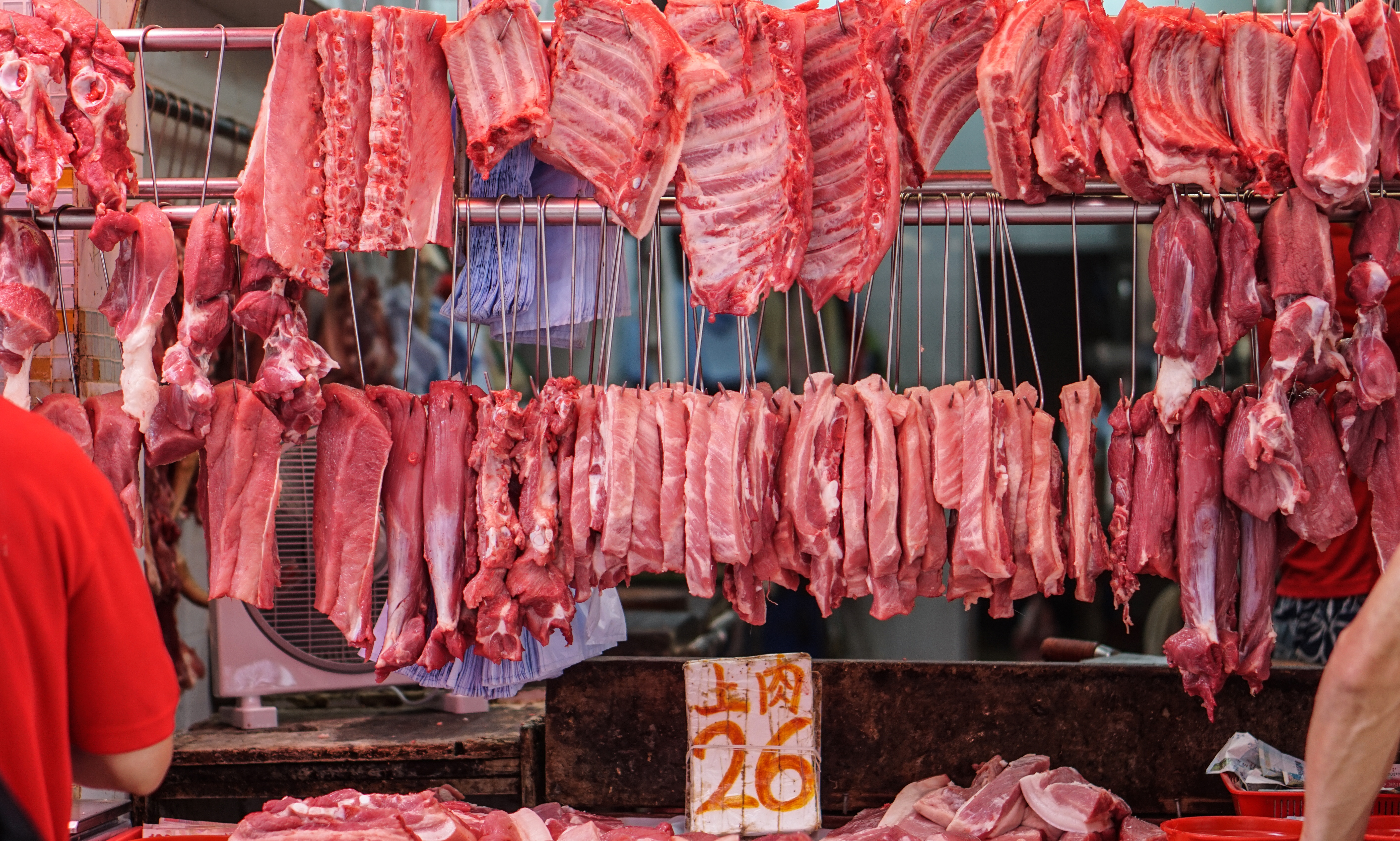 China's hog population currently stands at 370 million, down from roughly 430 million pigs before African swine fever was first detected in the country in August 2018. Pork now costs slightly less than it did a year ago. Wholesale prices have fallen 18 percent since the start of September to the equivalent of about $2.75 a pound, according to Wind, a Chinese financial data provider. Pork prices should continue to fall next year, says Feng Yonghui, chief analyst at pig-industry portal Soozhu.com, as the rebuilding effort continues and farmers send more pigs to slaughter.
The country is the world's largest producer and consumer of pork and has increased imports of meat — including beef and lamb — to help cover the domestic shortfall. In the first 10 months of 2020, China's meat imports were valued at $25.4 billion, up 75 percent from a year earlier. The growth has recently slowed, with October import volumes at levels last seen in February, according to data from China's General Administration of Customs.
The view from China - politics
President Trump may be planning last-minute China crackdown
US President Donald Trump will enact a series of hardline policies during his final 10 weeks to cement his legacy on China," senior administration officials with direct knowledge of the plans told Axios' Jonathan Swan and Bethany Allen-Ebrahimian.
Based on the Axios report, Trump will "try to make it politically untenable for the Biden administration to change course as China acts aggressively from India to Hong Kong to Taiwan, and the pandemic triggers a second global wave of shutdowns." National Intelligence Director John Ratcliffe is expected to publicly describe in granular detail intelligence about China's nefarious actions inside the US.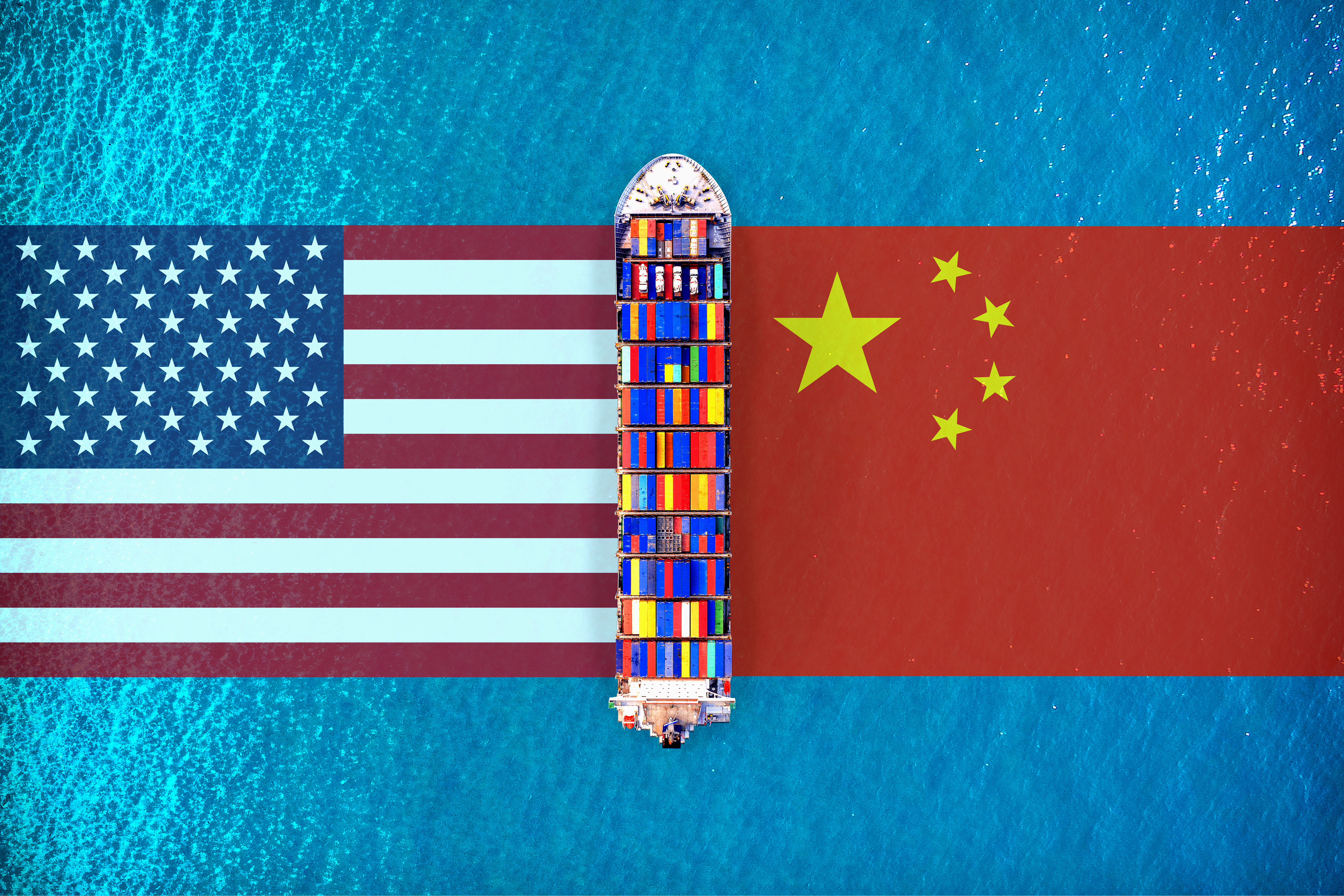 Axios says, "Trump officials plan to sanction or restrict trade with more Chinese companies, government entities and officials for alleged complicity in human rights violations in Xinjiang and Hong Kong, or threatening US national security. The administration also will crack down on China for its labour practices beyond Xinjiang forced labour camps. But don't expect big new moves on Taiwan or more closures of Chinese consulates in the US."
Joe Biden may reverse Trump's China policy after he assumes the presidency
"Given the consensus in Washington DC, it's going to be nearly impossible for Joe Biden to have a new course in US/China relationship," Xie Tao, professor of political science at Beijing Foreign Studies University, said in an interview.
"The Biden administration will try to demonstrate that it's tougher than the Trump administration on China — but smarter. It won't be the preoccupation fixation with a bilateral trade balance," said Graham Allison, Douglas Dillon professor of government at Harvard and the founding dean of Harvard's John F Kennedy School of Government. "Biden believes in multilateral efforts, alliances, multilateral institutions and initiatives," he said.
Read Jim Wyckoff's latest updates on the global poultry industry on The Poultry Site and see his analysis of the cattle industry on The Cattle Site.