The US Economy: Some pain is necessary
About 50% of surveyed economists expect a US recession in 2023
Economists have never been this pessimistic about the U.S. economy – at least not since the Federal Reserve started tracking economists' expectations in 1969. Nearly half of surveyed economists expect a US recession in 2023, far exceeding the second-largest figure of 34%, which preceded the recession of 1979-80. The extremeness of this data point can only be fully appreciated in the context of the current unemployment rate, which is near a 50-year low. The best of times and worst of times are forecast to be separated by only a few months.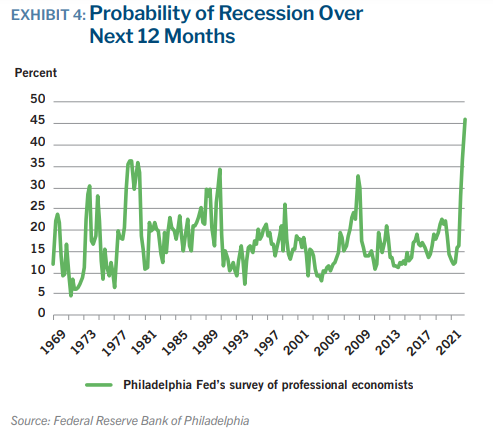 Of course the pessimism stems from the Fed's record-setting pace of interest rate hikes, and the damage that could result. There are real reasons for concern, including the current slump in manufacturing and housing, a deeply inverted yield curve, and the fact that over the past half century inflation over 5% has never been tamed without incurring a recession.
But the U.S. economy still has considerable momentum and is not currently on the verge of recession. The labor market remains very tight, consumers are still spending aggressively, and corporate profit margins have hit record levels despite high inflation. If a recession is coming, it will take several months for these factors to reverse course, delaying any potential recession until at least Q2 2023. Even then, it is unclear how readily businesses would lay off workers after experiencing such extreme staffing challenges over the past two years. Millions of workers in two categories – women and people over age 55 – abruptly left the labor force in 2020, and many of them have not returned. This structural loss of more than 2 million workers is contributing to higher inflation for both goods and services. However, the void that their exit has left could also cushion the economy from the worst of a downturn in 2023.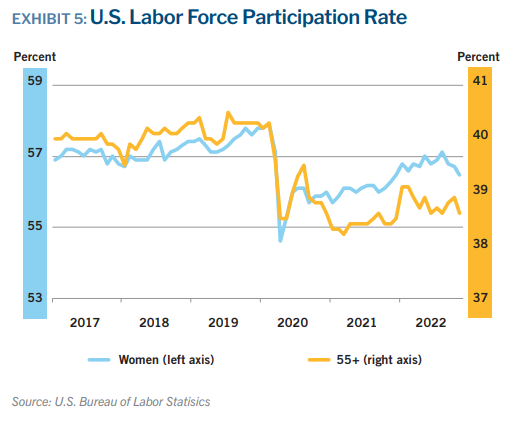 As financial conditions continue to tighten, we expect the U.S. economy to steadily soften through the first half of 2023, ushering in a brief, modest recession. The number of jobs available and jobs filled will decline, adding slack to the labor market, and easing the upward pressure of wages. The unemployment rate could rise as high as 5%, indirectly leading to a decline in consumer spending.
Without this softening in the labor market, and associated slowing of wage gains (supply-side inflation pressure) and spending (demand-side inflation pressure), it will be difficult to stabilize prices. Improving supply chain conditions and moderating commodity prices will generate additional downward pressure on supply side inflation. We estimate that this painful yet necessary chain of events will reduce headline inflation to a range of 3.5% - 4.5% by late 2023, and lead to flat GDP growth for the year.