Zoetis launches IMPROVEST® (gonadotropin releasing factor analog-diphtheria toxoid conjugate) 0.2 mg/ml for estrus suppression in market gilts
Close the Gilt Gap with higher weight gain, better uniformity and improved carcass value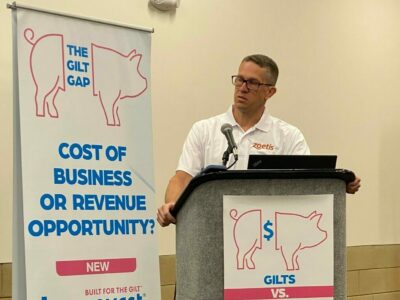 Zoetis recently announced that the U.S. Food and Drug Administration (FDA) has approved a label extension of IMPROVEST for use in market gilts. By temporarily suppressing estrus in gilts intended for slaughter, IMPROVEST helps to minimize the differences between barrows and gilts when it comes to weight gain, uniformity, carcass value and economics.

The announcement was made at a business seminar held at World Pork Expo featuring a panel discussion with industry experts who explained how the product works in market gilts and its benefits:
Dr. Ben Bohrer, meat scientist, The Ohio State University
Dr. Chris Hodges, swine industry consultant
Dr. Taylor Engle, veterinarian at Four Star Veterinary Service
Dr. Brian Payne, business director at Zoetis
The industry is well aware that gilts, which make up about half of market production, do not perform as consistently as barrows. IMPROVEST is an operational efficiency tool that can provide pork producers with an innovative solution to help address the gilt-gap productivity issue.
"By pausing estrus activity in the gilt, IMPROVEST improves feed intake and weight gain, even during summer heat, by reducing needed nutrients for the reproductive tract during the final finishing phase and enabling further growth," said Dr. Payne.
Higher Weights, Less Variation
Based on numerous studies in a meta-analysis, IMPROVEST improved average daily gain an average of 4%1 and increased hot carcass weight by 7 pounds1. It also improved group uniformity by reducing sort losses and optimizing barn close-outs. IMPROVEST consistently produced fewer lightweight, discounted pigs and culls, and resulted in more pigs reaching the targeted weight range1.
Improved Carcass Quality
IMPROVEST improves carcass value by increasing primal weights and improving primal quality by consistently producing thicker, higher-yielding bellies for processing1-5. It also improves pass rates for export and domestic premium markets5 due to increased intramuscular fat and improved iodine value which is an important indicator of fat quality and firmness.
Two-dose Administration
IMPROVEST is administered using a two-dose injection program, with the first dose given no earlier than nine weeks of age and the second dose given four-to-six weeks later. Zoetis provides an IMPROVEST administration certification and training program that includes recommendations to maximize outcomes.
What to Expect with IMPROVEST
Producers and integrators can expect to see the improvements. Studies have demonstrated the following:
IMPROVEST gilts have shown consistent improvement in weight gain in U.S. tests of + 5.5 to 7.5 lbs
Higher weight gain when the interval between dose #1 and dose #2 is between 4 to 6 weeks
The performance improvement with IMPROVEST is due to increased feed intake that begins approximately 7 days after the second IMPROVEST dose
IMPROVEST may generate a net ROI for producers of $2–$3 per gilt when selling on a grid-based system and factoring in the improved percentage of the full value pigs marketed; and a net return for integrators of $4–$5 per gilt based on carcass and other product value and light/secondary marketed pigs6
"IMPROVEST offers two areas that are critical to producers and integrators. First, we consistently see weights increase by about 5–7 lbs compared to untreated gilts," said Dr. Payne. "Second, processors get heavier, more uniform carcasses and greater value due to heavier primals, higher belly yields and increased intramuscular fat. IMPROVEST is particularly advantageous for integrators due to the increased weight gain, reduced sort loss and higher yield premiums."
IMPROVEST is used worldwide, requires no withdrawal, and has no impact on meat export. To set up an on-farm validation demo, contact your Zoetis sales representative or to learn more about IMPROVEST for gilts, visit builtforthegilt.com


IMPORTANT SAFETY INFORMATION: Pregnant women should not administer IMPROVEST. Women of childbearing age should exercise extreme caution when administering this product. Exercise special care to prevent accidental self-injection because of negative effects on reproductive physiology in both men and women. However, there is no risk associated with consuming pork from animals administered this product. Do not use IMPROVEST in male pigs or gilts intended for breeding, or in barrows, cull boars or sows. See full Prescribing Information: https://www.zoetisus.com/improvestpi
References
Nautrup, BP, et al., Res Vet Sci, 2020
Data on file. TI-05746: US OR 19PRGIMV-01-01
Data on file. TI-05793: US OR 19PRGIMV-01-02
Data on file. TI-06304: 21PPTIMV-01-01
Data on file. TI-06733: US OR 19PRGIMV-01-03
IMPROVEST Return on Investment Simulator