2021 US Leman Swine Conference will be unlike any other
In-person or online - producers, veterinarians and industry won't want to miss this year's Leman Conference because all your favorites are back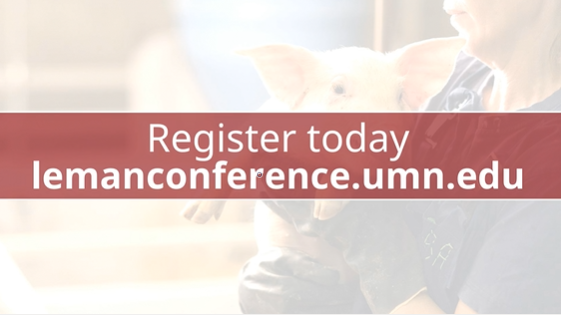 Choose to join swine industry colleagues in-person at the usual RiverCentre venue in downtown St. Paul, Minnesota, USA or live-stream the conference from anywhere in the world from the comfort of your home, farm, school or office. Plus, recordings of all presentations will be posted online for every conference registrant to review at their leisure.
"Our goal is to spark conversations that help all of us tackle the issues we're facing," says Montse Torremorell, DVM, PhD, swine health and management professor at the University of Minnesota, "both for those able to travel to St. Paul and those who cannot."
To sign up for this year's conference, click here.
This year's conference covers a lot of ground. Producers, veterinarians and industry won't want to miss a thing - all your favorites are back:
From keynote presentations to breakout sessions, infectious diseases like African swine fever and PRRS will be hot topics. Conference speakers will describe the latest innovations to mitigate the threats as well as important reality checks that put these situations into perspective.
It's not all about ASF and PRRS - there are sessions on influenza, mycoplasma, salmonella and the growing threat of antimicrobial resistance.
Monday and Tuesday's breakout sessions will leave you wishing you could be in two places at one time. Topics like:

Improving swine production is also about making good business decisions.
How to put "big data" to work in your operation
The opportunities and risks of Prop 12
Protecting the health of employees throughout the value chain

Plus, there are interesting pre-conference workshops on the latest research and testing of ventilation systems, and opportunities to bring barn managers to a necropsy.
This year boasts fun social events and engaging conversations with more space than ever before to help you reunite with industry friends you may not have seen for a while.
If you plan to attend in-person, the RiverCentre venue is taking extra steps to ensure everyone's safety. An onsite flu clinic will have medical professionals available to answer your COVID and flu-related questions.
"We want everyone to feel safe," says Torremorell. "We'll be handing out masks to the first 500 to arrive and will be practicing social distancing in the meeting rooms and general sessions."
To sign up for this year's conference, click here.
The Allen D. Leman Swine Conference is an annual educational event for the global swine industry. It is internationally acclaimed for bringing science-driven solutions to the complex challenges facing the industry. Each year hundreds of participants from more than 20 countries, including swine veterinarians and other professionals working in swine production and animal health management, attend the Leman Swine Conference.