Crossing the line: biosecurity for employee entry is still a work in progress
Routine failures and how to avoid them
By Derald Holtkamp, MS, DVM, Associate Professor, Iowa State University
Several decades ago, most sow farms installed showers so employees could routinely shower in and out. These days, it's rare to find a sow farm that doesn't have a shower, though they do still exist.
Many producers feel confident that showers eliminate the risk of disease transmission due to employee entry, but that's not the case. Employees entering sow houses still pose a serious threat, particularly regarding the introduction of porcine reproductive and respiratory syndrome (PRRS) virus.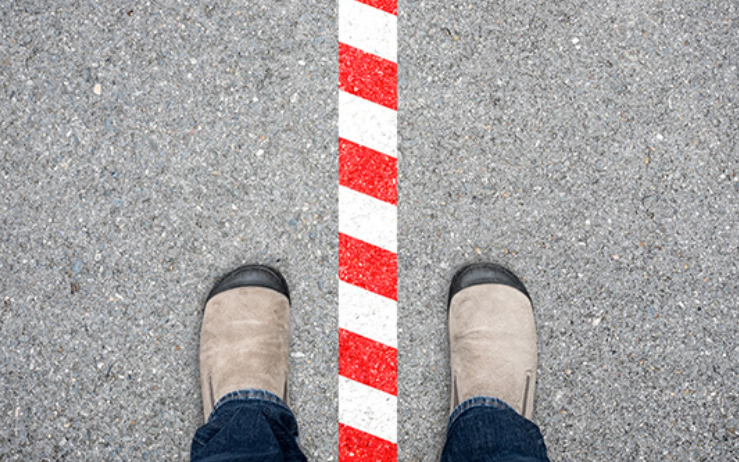 My students and I have been conducting PRRS-outbreak investigations since 2013. The project is part of a pilot program funded by the Iowa Pork Producers Association. In nine of 17 cases, employee entry was rated as having a high likelihood of being responsible for the PRRS outbreak.
This doesn't mean every employee entry is a high-risk event, but it does mean there are lots of opportunities for something to go wrong each time an employee steps onto the farm or into a pig house.
Assessing risk vulnerability
When we conduct outbreak investigations, we assess risk events, including employee entry. Risk events occur when carrying agents enter the site. Carrying agents are defined as anything that may be contaminated or infected with PRRS virus that is brought onto the farm. For employee entry, carrying agents include the employees themselves, their vehicles, lunches and other personal belongings such as cell phones and watches.
To assess how vulnerable a farm is when employees enter, we consider all of the carrying agents and the series of failures that must occur for PRRS virus to be introduced into a herd. We assess what producers are doing poorly that leaves the herd vulnerable as well as what they are doing well.
First failure: Carrying agent was contaminated with PRRS virus
This failure occurs when employees, their lunches or other personal belongings contact swine that are shedding PRRS virus or environmental surfaces that are contaminated with the virus.
Practices producers have implemented to reduce the risk of this failure include these rules:
No visiting or working on other swine farms or working in livestock-related jobs such as driving livestock trucks or taking a job at a feed mill.
No living with an individual who works on another swine farm (no-cohabitation rule).
No raising pigs, including show pigs.
Second failure: Not taking steps to mitigate contamination of carrying agents
This failure occurs when farms lack sanitation and decontamination procedures or these procedures are poorly executed.
To reduce the risk of this failure, here are steps some producers have taken in addition to basic shower-in/shower-out facilities.
These procedures apply to the "dirty" side of the shower where employees disrobe before showering and entering the "clean" or pig side of entry:
Towels are prohibited on the dirty side of the shower or, if used on the dirty side, they must be disposed of on the dirty side.
Clean, heated mats are provided on the dirty side of the shower to discourage employees from standing on towels as they dress.
If towels are permitted on the dirty side, they are colour-coded to indicate that's where they belong, and there's a washer and dryer on the dirty side to launder them.
The best employee-entry procedure we've found had three basic elements:
A sink is just inside the entry from the outside where hands can be washed and disposable polypropylene shoe covers are donned upon entry from the outside.
A bench entryway leading to showers has a boot jack for hands-free removal of covered outside shoes.
Shower
Here are several other procedures implemented by producers to reduce the risk of this failure:
Plastic disposable shoe covers are provided to employees to wear when stepping out of their vehicles. Once donned, employees are trained to avoid touching floor boards or other surfaces inside their vehicles with their covered shoes.
Entryways and showers are cleaned and disinfected daily.
At the entrance to the farm, there's a window with a pass-through box where lunches and other belongings brought onto the farm are decontaminated with ultraviolet light.
Floors are covered in entryway and showers with a non-porous epoxy coating for easy cleaning.
Cell phones, watches and other personal belongings are prohibited in the swine facility or restricted to the breakroom.
Company provides cell phones and watches to employees while in the barns and these items are never removed from the barns. In one case, the company paid for a worker's second pair of eye glasses. In other cases, cell phones, lunches and other personal items were restricted to the breakroom.
Lunches are double-bagged and the outside bag removed as lunches are put through the pass-through box.
Downtime is required from overnight to 3 days if employees visit or work on another swine farm or swine-related location (e.g., feed mills, cull buying stations, swine exhibitions, etc.).
Environmental swabs are periodically collected from entryways, employee hands and shoes so they can be tested in case of an outbreak.
Colour-coded boots and coveralls indicate attire that may be worn inside or outside of pig houses. Note: Even if chores performed outside the barns are done at end of day, this helps avoid contaminating employee vehicles, which may be a source of virus on the following day when employees return to the farm.
Signs are strategically placed to describe standard biosecurity operating procedures in all languages spoken by workers on the farm.
Third failure: Allowing PRRS virus to be transmitted from carrying agent to pigs
Any time a carrying agent enters the site, we consider it a risk event. Even when carrying agents such as personal employee items are taken into pig houses, they may not come into direct contact with pigs, but employees do. When employees or their personal items directly contact pigs in the herd, the likelihood of this last failure is relatively high.
Here are some of the practices we've observed that reduce the risk of infecting pigs with PRRS due to contaminated carrying agents:
There are clear lines of separation between the employee breakroom and barns. A bench can be provided where employees can remove boots worn in barns on one side, then swing socked feet to the breakroom side of the bench without stepping on the barn side.
Boot and hand-wash stations are used when entering barns and when returning to the breakroom.
Cell phones, watches, other personal belongings and food and drinks are restricted to the breakroom.
Frequency of event
The fewer employee entries there are, the lower the risk for introducing PRRS virus.
The frequency of employee entry we've found on our investigations has ranged from 42 to 1,120 times over a 4-week period. The frequency was primarily determined by farm size and the number of employees but also by how farms scheduled jobs that needed to be performed outside the barns, whether employees left for lunch, performed jobs elsewhere and how many smokers they had that went outside to smoke.
Good practices we've observed that can reduce the frequency of employee entry include:
Schedule outside chores, such as moving deads, collecting garbage or going to care for gilts in an on-site isolation unit, etc., at the end of the work day whenever possible.
Employees are prohibited from leaving the farm for lunch.
Culture and training
It's helpful to have a "culture" of biosecurity that's understood and reinforced by everyone in the company. It takes time to establish but it's well worth the effort.
To help ensure all employees understand biosecurity procedures and have a reference, the procedures can be provided in writing and in every language employees speak as their first language.
Some producers not only train new employees, they provide retraining, and a few reward employees with bonuses for completing online training.
Audits can help spot weaknesses in compliance with biosecurity procedures. Most audits are conducted by company employees such as production supervisors, veterinarians or biosecurity officers and sometimes by contract veterinarians. Few producers we've encountered use a third party for auditing.
Wrapping up
The lists of helpful biosecurity practices here are by no means exhaustive. None of the farms we've investigated have incorporated all of these practices and many have incorporated very few.
However, we hope our compilation of good practices we've observed regarding employee entry will help producers learn from each other, thus reducing their vulnerability to a PRRS outbreak.