DL-methionine: Standard methionine source as a cost-effective driver to optimal pig performance
Selecting the best quality methionine (Met) source, as well as applying the correct bioavailability, is important for cost-effective and precise diet formulation to optimize pig production.
The application of dry DL-methionine (DL-Met) in animal production delivers consistent results and easy compliance with regulatory standards. Studies show the relative bioavailability of liquid 2-Hydroxy-4-methylbutanoic acid (HMTBa) and/or dry HMTBa-Ca is around 65 percent on a product-to-product basis compared with DL-Met in pigs. HMTBa does not only have a lower nutritional value compared to DL-Met, but also needs different handling, dosing and feed formulation concepts.
Methionine is the third limiting amino acid (AA) in corn-soybean meal-based swine diets. The dietary requirement of Met could be fulfilled by using plant or animal protein feed ingredients. However, increasing the inclusion rate of these raw materials for meeting Met requirement increases the levels of other AA in the diet, and results in imbalanced or excess AA.
DL-Met and HMTBa are often used as feed supplements to balance swine diets to meet sulfur amino acids requirements.
Defining the best quality standards
Animal feed production must guarantee homogenous mixability of critical and expensive nutrients, including feed grade AA. The physical properties of DL-Met, such as particle size distribution and flowability, allows for homogenous mixing in commercial feed milling operations. DL-Met is 99 percent pure methionine, while HMTBa comes as 88 percent liquid form or 84 percent in dry form. Moreover, liquid HMTBa is a mixture of monomers (65 percent), dimers (18 percent), trimers (3 percent), and oligomers (2 percent), (Martin-Venegas et al., 2006), of which dimers and higher polymers are poorly absorbed in intestine (Mitchell and Lemme, 2008). Unlike DL-Met, HMTBa is corrosive and is classified as dangerous in accordance with Directive 1994/45/EC, so it needs handling considerations.
Lower bioavailability
Bioavailability is a relative value that compares the nutritional value of a given nutrient with a defined standard. In general, the nutritional value of supplemental Met sources is typically compared to DL-Met. Studies have been conducted in the past to compare the relative bioavailability (RBV) of HMTBa/HMTBa-Ca to DL-Met in pigs. These studies have consistently demonstrated that the bioavailability of HMTBa/HMTBa-Ca is around 65 percent compared to DL-Met on product basis (Zimmermann et al., 2005; Kim et al., 2006; Opapeju et al., 2012).
The lower RBV of HMTBa relative to DL-Met was confirmed in the European Food Safety Authority (EFSA, 2018) report. The lower estimated bioavailability of HMTBa for non-ruminants could be attributed to the following, as per EFSA report, (i) the gut microbiota of the non-ruminants compete with the host for HMTBa and its salts compared to DL-Met, and (ii) commercial HMTBa and its salts may contain significant amounts of dimers, trimers and oligomers, which is considered to have lower bioavailability.
In a recent study, Romanet et al. (2020) investigated whether the choice of Met sources changes the absorptive capacity for Met isomers in small intestine of piglets. The results from the study showed that diets containing DL-Met increased absorptive capacity (expressed as nmol.cm-2.hr‑1) of both D- and L-isomers. This increase could be demonstrated at a low physiological concentration of 50 µM across the small intestinal segments. This was most obvious when comparing DL-Met with HMTBa (Fig 1). From this study, it can be concluded that feeding a diet supplemented with DL-Met increased the absorptive fluxes of D-Met and L-Met over the diet supplemented with HMTBa.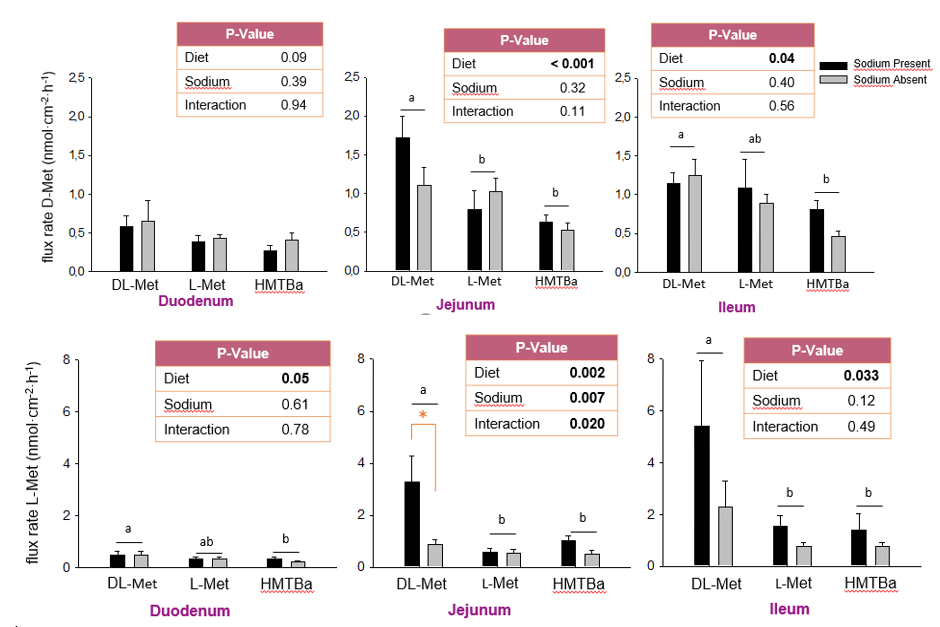 Another feeding study was conducted in a commercial swine farm in the USA to evaluate the growth performance of 65 parts DL-Met and 100 parts HMTBa-Ca supplemented diets in nursery pigs (n=1,296; 5.02 kg initial BW) for a period of 49 days (Evonik Facts and Figures No. 14143). Results indicated that pigs fed the negative control diet (70% of the SID Met+Cys:Lys requirements) had lower final body weight (BW), average daily gain (ADG) and higher feed conversion ratio (FCR) compared to pigs fed HMTBa-Ca and DL-Met diets (supplemented to achieve 100% SID Met+Cys:Lys requirements). Pigs fed 65 parts of DL-Met showed similar performance as 100 percent HMTBa-Ca (Fig 2). An economic analysis showed there is an advantage of 58 cents per pig in income over feed cost when pigs were fed 65 part of DL-Met diet compared to pigs fed 100 parts HMTBa-Ca diets (Table 1).

Table 1. Economic analysis in pigs fed 65 parts DL-Met compared to 100 parts HMTBa-Ca
Item

Control

HMTBa-Ca

65 parts DL-Met

Initial BW, kg

5.02

5.02

5.02

Feeder pig price, $/kg1

3.34

3.34

3.34

Final BW

22.77

25.15

25.37

Feeder pig price, $/kg2

3.27

3.27

3.27

Revenue per pig, $/kg

57.68

65.48

66.19

Feed per pig, kg

30.38

30.68

31.48

Feed cost, $/kg3

0.273

0.278

0.276

Feed cost per pig, $

8.29

8.54

8.67

IOFC, $/pig

49.39

56.93

57.51

Marginal contribution DL-Met over HMTBa-Ca, $/pig

0.58
1 average price of Q1 2020 for feeder pigs of 5.4 kg BW (USDA Feeder Pig Quarterly Report, 2020)
2 average price of Q1 2020 for feeder pigs of 18.14 kg BW (USDA Feeder Pig Quarterly Report, 2020)
3 The feed price is based on diet cost of each phase and the supplemental HMTBa-Ca and DL-Met cost during the trial period.

A feeding study conducted in Vietnam (Evonik Facts and Figures No. 1496) showed that nitrogen retention was not different among pigs fed similar inclusion levels of two Met sources added to the Met-deficient diet at a DL-Met to HMTBa-Ca ratio of 65:100 on a product basis. Basal diet was supplemented with three graded levels of DL-Met (0.025, 0.05 and 0.075%) or HMTBa-Ca (0.038, 0.077 and 0.115%) on a product basis at DL-Met to HMTBa-Ca ratio of 65:100. In this study, the bioavailability of HMTBa-Ca relative to DL-Met was 63 percent on a product-to-product basis for N retention (g/day) when added to a Met-deficient diet (Fig 3).
The evidence is clear and increasing, if pork producers are looking for consistent results and straightforward compliance with regulatory standards then dry DL-Met needs to be part of the process.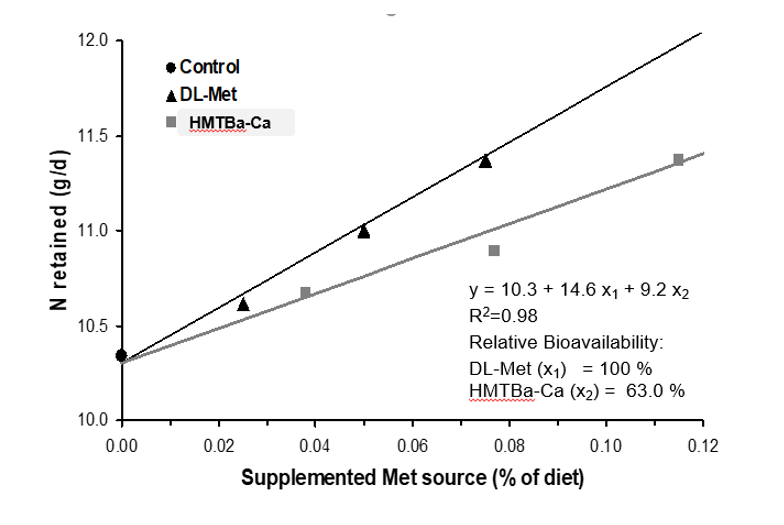 Sponsored Article
---