Farmers and activists must communicate for the benefit of swine welfare
Why do extreme forms of activism compromise animal welfare? And how can producers and activists work together to improve swine welfare on farm?
Tension between welfare activists and farmers has hit breaking point in recent years, with farm break-ins and police arrests becoming increasingly common. This tension is encouraging some groups to take a proactive approach to rebuilding trust between producers and the public. But what particular activist issues are facing pork producers? And how can they reconnect with consumers?
With the growing interest in what we eat and how our food is produced, consumers keen to investigate are able to find out more than ever – and discuss with others – about where their food comes from and the conditions under which it is produced. It is therefore unsurprising that animal welfare has risen to the top of the list of consumer concerns as awareness of meat production systems increases.
This concern for animal welfare has led to significant changes in the pig industry, but some would argue it is not enough. Animal rights activism is no new concept and certainly not when it comes to farmed animal welfare – in the past, activists have played a large part in improving conditions of livestock on farm, during transport and at slaughter. On the other hand, more militant activism has at times threatened the health and safety of both farmers and their animals, leading to ever-growing tensions between the swine industry and the public.
Speaking to Lizzie Wilson, National Pig Association (NPA) policy services officer, The Pig Site looks at the impact that militant activism is having on the UK pig industry and why producers are finally speaking out.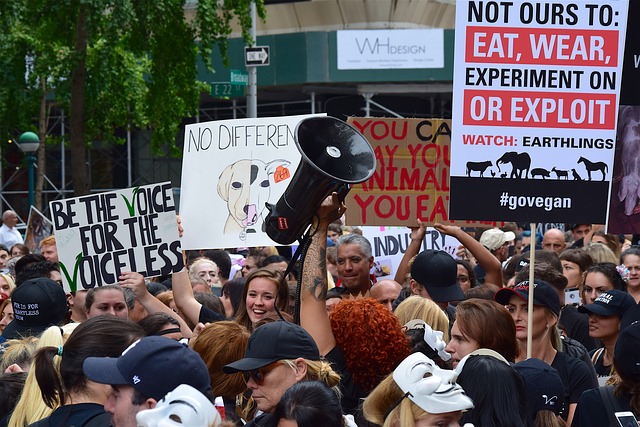 The media
Over the last 12 months, the British pig industry has been at the centre of a number of online exposés concerning pig welfare. Public release of video footage showing below-standard conditions in swine units certified by UK assurance schemes has stirred public concern. Animal welfare is a bastion of UK farming, and is of increasing importance around the world. Legally, if the conditions in a swine unit are not conducive to good health and welfare – and are certainly not meeting legal standards – farms must be dealt with by authorities on an individual basis and changes made. Such exposés have played a role in raising awareness of issues on individual farms and those requiring action by assurance schemes more widely.
But activist methods can extend from online campaigns to more disruptive interventions. In extreme cases, these can include breaking and entering into swine units illegally, interacting with animals in biosecure units and, unfortunately, holding all UK producers accountable for the activities on individual farms. Lizzie says that now is the time for industry to get involved: "Before the situation escalated, we made a point of staying out of such conversations in the media. However, it has reached a point at which we need to provide more balance to the story.
"There's a lot of the militant vegan agenda out there and not a lot from a farming perspective, so we have made the decision to participate and comment on such issues with the national media."
From recent reports, it appears that activism directed towards pork producers is becoming more confrontational.
"We've always been targeted by animal rights activists but we've seen a distinct escalation in activity over the last three years, and in particular the last 12 months," explains Lizzie.
"We liaise with police across the UK and they tell us that they see the militant factions using social media to target millennials who are conscious of their health, their impact on the environment and their ethical decisions when it comes to animal welfare. Those young people are wanting to do the right thing, morally, but they are being drawn into a more insidious side of animal rights activism."
The animals
There are many issues with entering a swine unit without proper supervision and induction onto the farm. First and foremost, the biosecurity of the farm is immediately compromised, which in turn compromises the health of all of the animals – and any intruder's own health and safety will be greatly put at risk.
A recent report from Farmers Weekly discussed the experiences of a producer in Lincolnshire where activists stormed a farrowing house. Two piglets died during the break-in and, distraught, the farm staff believe those deaths are on the hands of the activists that staged the protest that night.
"They came in mob-handed, about 50 of them all piled into a farrowing house. Immediately the sows are jumping up and down. It's caused the death of two young piglets through being squashed and two other piglets that I have had to take to try and get them back up and running again," one of the farm owners told The Lincolnshire Echo.

Lizzie says that the openness of pig units means that there are increasing incidences of break-ins and also "the liberation of animals", where pigs are stolen from farms as an act of compassion. Stealing a pig and also the movement of pigs without a proper license is illegal. Movement of livestock must be regulated in order maintain disease biosecurity and to reduce the impacts of stress that animals may encounter during travel.
"Sadly, in many cases, they [the activists] are picking pigs that are in isolation pens – sick pigs are isolated for treatment and to prevent infection of the whole herd," explains Lizzie.
"The person stealing the pig is unlikely to have access to proper medication and will have little experience in the care and welfare of the pig, such as the ban on feeding kitchen scraps to swine. This compromises the welfare and survival of that pig.
"Not to mention, these people have never been around a sow with piglets, or a boar – they don't know what they're letting themselves in for. Sows with piglets can find disturbances very stressful and will kill to protect their young."
The farmers
Not only are these experiences stressful for the animals, but farmers and their families can have their lives turned upside down. In some cases, communities have felt so threatened by militant activists that they have engaged with police and installed security systems on their properties. While their farms were once open, some producers feel like they have been forced to close their gates for their own safety and protection.
"What is seen in the media is obviously not reflective of the majority of farms and it's feeding an immediate suspicion of farmers. 30 years ago if there was a lame sheep or a cow in a field, people may have asked what is wrong with the animal and the producer could explain that the animal was lame and was being treated accordingly. End of story," says Lizzie.
"These days, I've heard stories from farmers where they've had, 'What are you doing about it?', 'You obviously don't care, you've left it, I'll report it to the RSPCA.' There's this preconceived suspicion that farmers aren't doing the best by their animals."
Support and advice
The National Pig Association aim to provide support and guidance to as many producers as possible, whether they are NPA members or not.

For members, a security pack is available online, which details how to keep your facilities secure and what steps to take if you feel the security of your farm is threatened.
The Tidy Unit checklist, available to non-members, provides managers and their staff with a tally of issues to address last thing at night to make sure that their farm is left as they would wish it to be found. For example, ensuring all medication is locked away in the fridge where it should be; disposing of all dirty syringes and needles safely and hygienically, and euthanising any particularly poor pigs and locking them away in the dead bin.
"Tasks that you might normally complete the next morning are better done before locking up," says Lizzie.
There is also a confidential reporting system, operated by Safecall, which is open to anyone – producers, the public, consumers, activists – to report any concerns regarding the health, welfare and safety of the animals and people on a farm.
The future relationship between farming and the public relies on efficient communication and establishing reliable sources people can go to for information. The NPA and other allied industry members are making this a priority, with a focus on providing accurate, unbiased, publicly available resources for everyone to use to inform their decisions.