How does your farm assurance compare?
Compassion in World Farming compares some of the major welfare assurance schemes across Europe and the US in a global welfare study

Compassion in World Farming (CIWF) has sought to provide consumers, producers and other industry bodies with a comprehensive comparison of animal welfare initiatives at a global level, exploring what defines higher welfare within each assurance scheme.
Illustrating the global comparison in a freely accessible table, CIWF compares 14 components considered to be indicative of higher welfare across both sow and meat pig units. Based on whether they meet these welfare requirements, the initiatives are graded; YES, MAYBE or NO. The criteria does not include access to an outdoor range, though access to outdoor ranges is recommended by CIWF.

Assurance schemes that meet the CIWF criteria in both sows and meat pigs include:
• Australia: RSPCA Approved Indoor
RSPCA Approved Outdoor
Soil Association
• Denmark: Bedre Dyrevelfærd- 3 hearts
• UK: RSPCA Assured
Where many assurance schemes fall short of CIWF criteria, is with inadequate space allowances and use of routine mutilations (especially without pain relief) in meat pigs, and the continued use of confined farrowing crates with sows.
Thirty-one assurance schemes are included in the study, representing welfare initiatives from Australia, the UK, Denmark, France, Sweden, the Netherlands and the USA, with some initiatives covering the whole of the EU and swine units globally.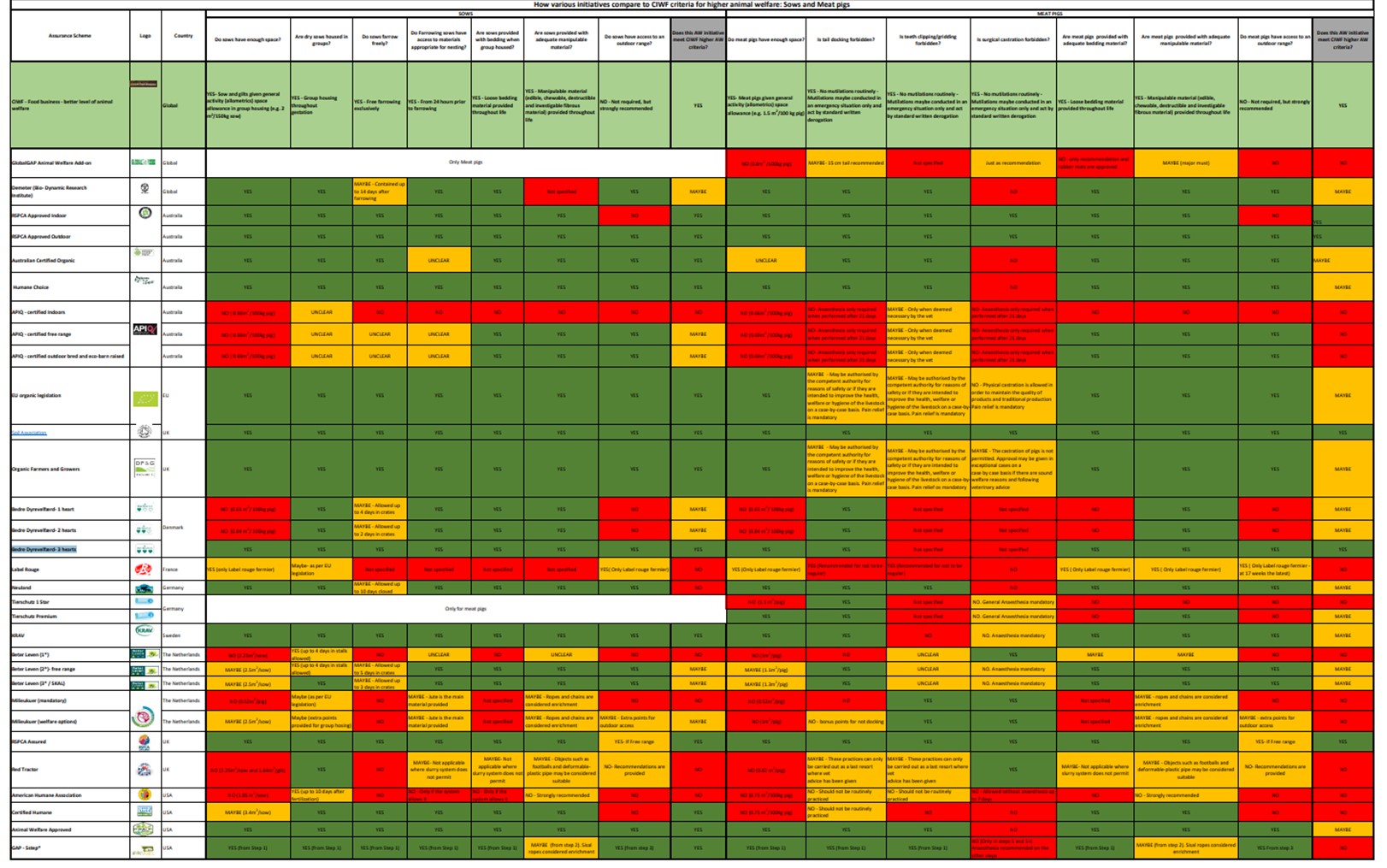 Click here to read the full comparison
As reported by Compassion in World Farming