New Tonisity product improves transition stage in pigs
Chad Steinkamp introduces Tonsitiy's new Pxw WeanBetter, designed to improve the transition process for pigs entering wean-to-finish barns and nurseries.
"It's got a very similar flavor profile to our existing product, Tonisity Px," said Steinkamp. "The difference with this new product is that it's designed to go through water medicators. We've listened to our customers in the US over the last year-and-a-half, and the feedback was, 'Is there a way to get this in an easier administrative form?' Working with water medicators is a popular administration application process for the US industry, so we're excited to have a product that will go through medicators and is able to be used around the weaning transition of pigs."
Upon arrival in wean-to-finish barns or nurseries, it's key to keep young pigs hydrated. Pigs typically consume feed after consuming water, so Tonisity helps get pigs started on both water and feed.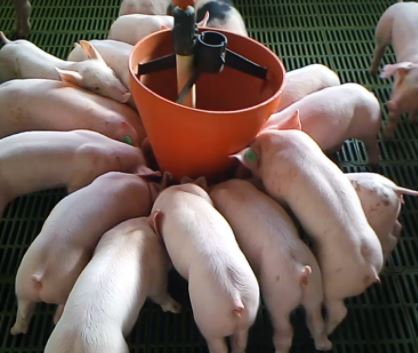 The weaning process creates a lot of stress for a pig when they leave their mother. They are moved to a new environment which can increase their stress. Helping pigs through the process of getting used to a new location, new pen mates and new feed is keeping the pig hydrated so their stress levels go down.
"In the long run, this will give producers a great solution that can be added on to the Tonisity Px program," said Steinkamp. "If they're using Tonisity, the palatability of this product is very similar, so when the pigs show up, they're going to recognize that which will enhance drive. There's no doubt pigs like Tonisity, so this will help drive pigs to eat and drink, so we're excited about what it's going to bring the producer. It's going to help them create fast starts as pigs go into nursery and wean-to-finish barns, and with a fast start, as long as they manage that moving forward, is going to come a good finish."