Nursery feed steps up with balanced dietary fiber
Pharmaceutical use of zinc oxide in piglet nursery diets is on the way out in the European Union. Strategic use of dietary fiber is a strong alternative in protein-dense feed.
Gone are the days when fiber was frowned upon as an ingredient in piglet feed. Today balanced fiber addition is becoming the new go-to solution for stimulating gut health and reducing post-weaning diarrhea – and a high-performing alternative to pharmaceutical zinc oxide.
The need for an efficient zinc oxide replacement became urgent when the European Union announced a ban on its use from June 2022. That fiber would be the answer may still come as a surprise to some. Producers have traditionally avoided fiber in piglet feed, believing that it reduces energy density and potentially compromises growth.
Over the past decade, fiber research has gradually turned that negative perception around. Strategic use of soluble and insoluble fibers in protein-dense feed is now known to play a core role in maintaining the gastrointestinal (GI) balance and easing the weaning transition.
Why fiber is important
The three main factors in piglet gut health are the starting point for understanding how fiber makes a difference – the diet, the gut lining or mucosa and the commensal microflora that help protect against pathogens.
A well-functioning gastrointestinal system depends on the continuous interaction between mucosa and microflora. Used in the right proportions, dietary fibers support the delicate balance created by this interaction. Through that, they have a direct impact on animal health and performance.
How fiber works
Fiber works in three ways: by physical stimulation of the GI system, by the simulation of gut wall receptors and by fermentation, which drives the production of volatile organic acids.
Physical stimulation is enabled by insoluble fibers, which bind some of the gut fluids, increase the bulk and dry matter content of feces and spark peristaltic movements in the GI tract. In this way, insoluble fibers support normal digesta transit through the gut, reducing the risk of a digesta buildup that can feed the growth of potentially harmful pathogens. Improved transit also encourages higher feed intake, contributing to improved piglet growth.
The similarity between certain fiber structures and gut wall receptors is another factor in pathogen control. Pathogenic bacteria that bind to insoluble fiber instead of the gut wall are then simply flushed out as the fiber passes through the colon.
Soluble fibers, on the other hand, are available for fermentation as soon as piglets reach 10kg in weight. This fermentation process is key to modulating the immature microbiome and activating the production of desirable volatile organic acids – indicators of a functioning microbiota. Of these volatile organic acids, butyric acid is particularly important due to its ability to strengthen the lining, integrity and anti-inflammatory functions of the lower gut.
Suitable for protein-dense diets
Soluble fibers have a further valuable function in protein-dense diets. They help prevent the fermentation of bypassed protein, which enters the lower gut from the small intestine and becomes substrate for pathogenic bacteria.
Until now, diets with a low crude protein content have often been the answer to unwanted protein fermentation. Compared to protein, however, soluble fibers are a more accessible substrate for piglets' developing gut microflora. In this way, they drive the growth of beneficial bacteria, eliminating pathogens by competitive exclusion and reducing the production of harmful metabolites, such as amines, indoles and ammonia products. Bypassed protein is then simply excreted.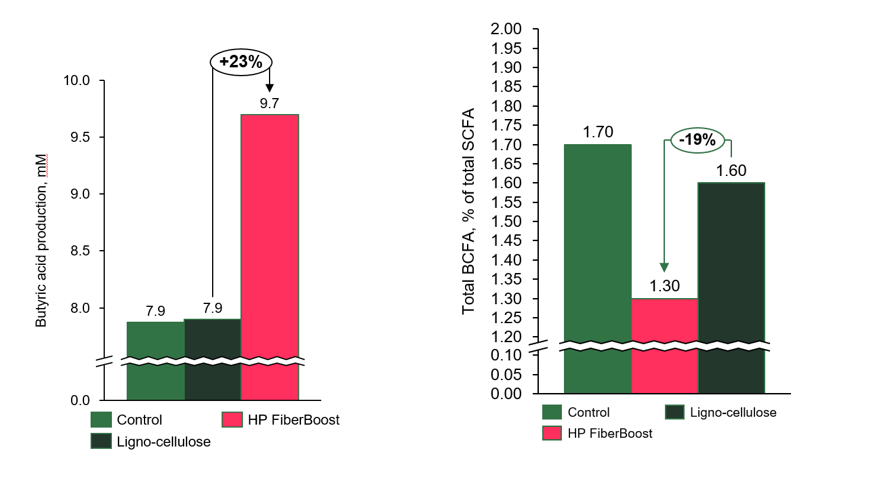 Pig producers can already do much to reduce protein malabsorption and the risk of diarrhea by improving protein digestibility and absorption. An optimal combination of soluble and insoluble fibers is the next step in optimizing protein-dense diets. By supporting the development of the piglet gut and reducing diarrhea in the vulnerable post-weaning phase, strategic fiber use has strong potential as an alternative to pharmaceutical zinc oxide. That makes it the natural choice for healthier piglets and higher, more uniform growth.
Choosing the best method for fiber analysis
The right fiber analysis is essential when using fiber as a strategic tool to phase out zinc oxide in piglet feed. Although the proximate analysis method is the most easily accessible and widely used, it has a number of limitations. An enzymatic-chemical analysis represents a more comprehensive and accurate methodology.
The explanation lies with the two main fractions in plant dry matter: the cell wall and cell content. While the cell content consists of non-structural carbohydrates such as starch and simple sugars, the main building blocks of cell walls are mono sugars, collectively referred to as non-starch polysaccharides (NSP).
As the dry matter of plant cell walls contains up to 950g of various polysaccharides per kilo, the analysis method must be able to measure a wide range of polysaccharides. This is where proximate analysis falls short as it simply fractionates carbohydrates into crude fiber, sugar and starch – underestimating the true fiber concentration of the feed.
The enzymatic-chemical analysis separates carbohydrates according to glycoside linkages, degree of polymerization, NSP solubility and lignin. Consequently, it both reveals the true fiber content and categorizes carbohydrates according to their fermentability in each section of the gut. This makes the method a more useful tool when evaluating the strategic value of fibers in gut modulation.