PCV2 Sow Vaccination Recommendations
Recommendations for vaccinating gilts, sows and piglets.
Research and field experience have provided clear goals and specific recommendations for whole-herd vaccination programs for managing PCV2 and associated diseases.
Three goals in the breeding herd:
Consistently produce negative or very low-incidence piglet populations from breeding farms
Protect pigs through reduction in PCV2 exposure from the sow herd
Combined sow and pig vaccination is superior
The US Pork Technical Services team of Zoetis developed the following recommendations for vaccinating gilts, sows and piglets. Veterinarians should check their PCV2 vaccine's label for usage guidelines and whether the vaccine has been shown to be safe for use in breeding females.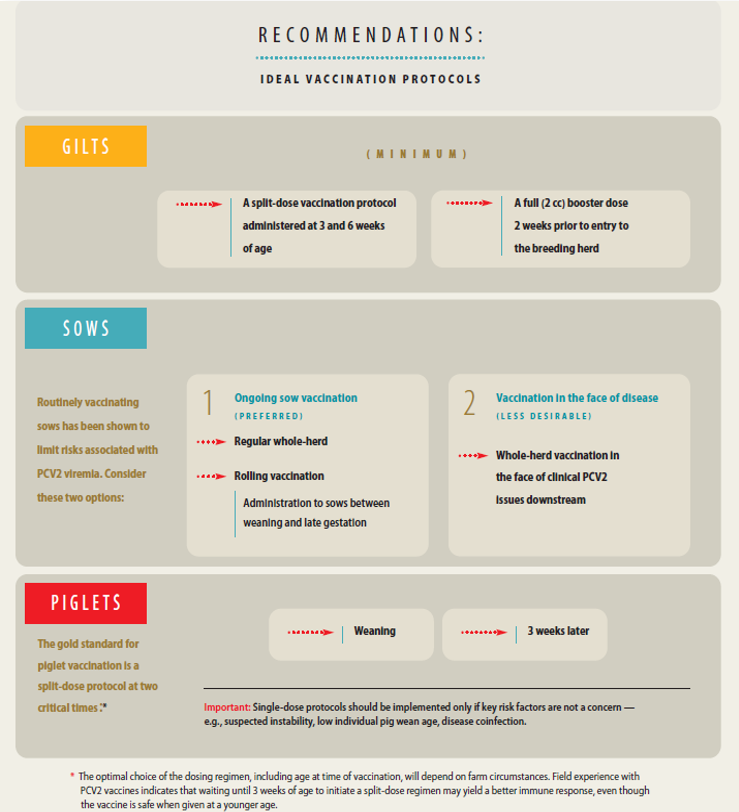 Gilts. As a piglet, gilts should receive a split dose combination - they get two partial doses of 1 cc doses of vaccine at three weeks of age and then three weeks later. Then gilts receive another 2 cc dose when they're selected as replacement gilts two weeks prior to their move to the sow farm.
Sows. Sows should be proactively vaccinated at least twice a year if vaccinating on a whole herd schedule. If on a rolling vaccination schedule, vaccinating between weaning and late gestation is ideal.
Piglets. The recommended approach is a split dose, where 1 cc is given at about three weeks of age or at weaning, then a second dose is given three weeks later in the nursery.
The prevalence of PCV2 in a herd can be driven to low levels relatively easily — happening almost naturally if there is consistent application of an effective vaccination program and obvious risks, such as those posed by incoming gilts, are well managed.