Pig outlook: bull market run in lean hog futures still strong
Despite slipping from last week's highs, the US hog market remains bullish.
The pig trader's perspective
The lean hog futures market has slipped just a bit this week, but remains in a bullish overall technical posture amid price uptrends still firmly in place on the charts.
USDA reported this morning just 17,200 metric tonnes (MT) of US pork were sold last week, a new marketing-year low with no new sales reported to China. The export data could pressure the futures market in the near term.
Daily US hog slaughter tallies have been relatively light this week, but cash hog bids have continued to climb, a possible indication that packers are encountering tightening supplies in the aftermath of last spring's processing problems. On the positive fundamental side, Chinese imports of US pork will likely increase as that nation deals with a resurgence in African swine fever outbreaks.
The next week's likely high-low price trading ranges
June lean hog futures: $104.90 to $110.07 and with a sideways-higher bias
July soybean meal futures: $395.90 to $415.00, and with a sideways bias
July corn futures: $5.52 3/4 to $5.90, and a sideways-higher bias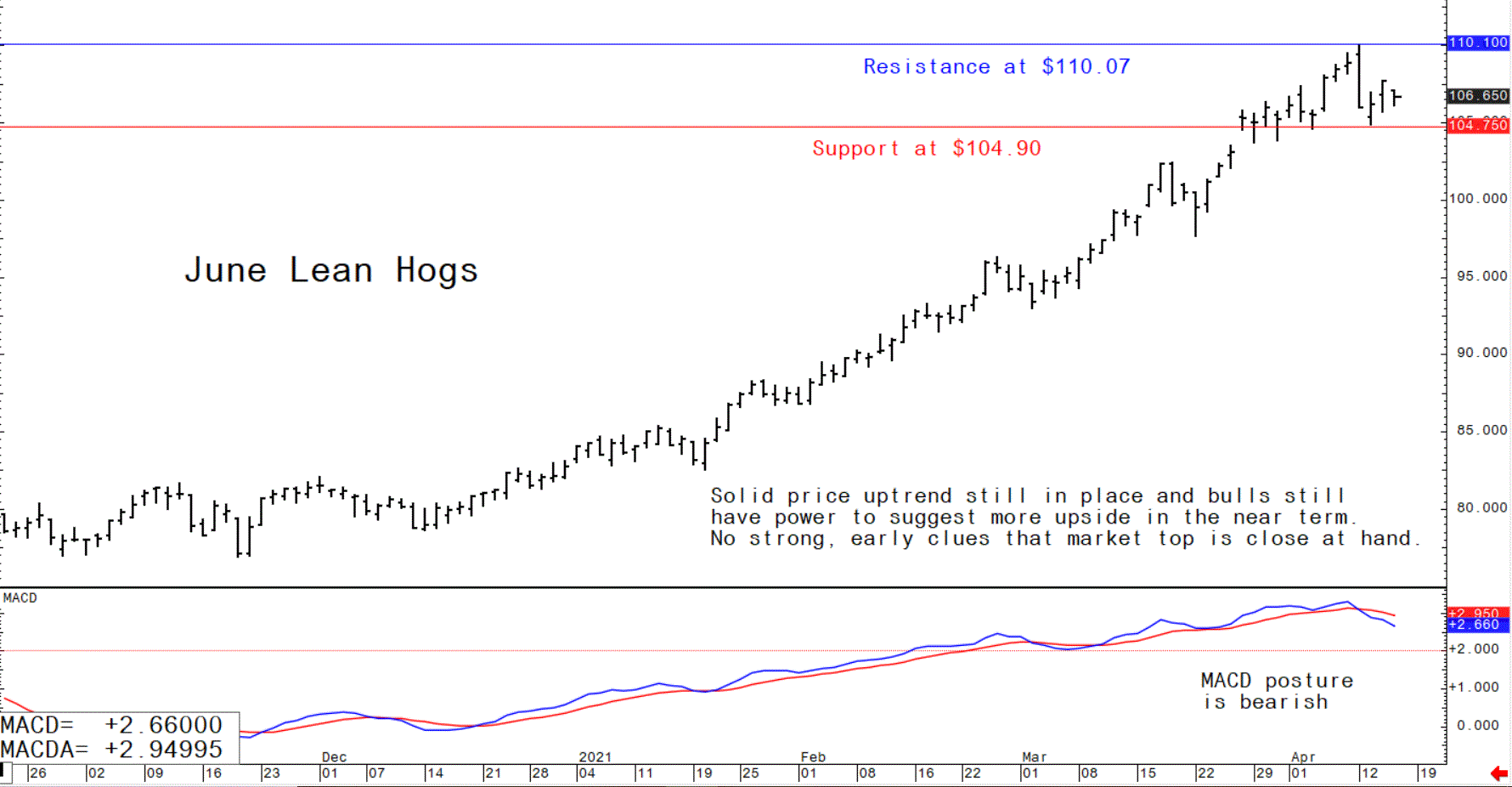 USDA's latest global pork outlook
USDA forecasts global pork production 5% higher in 2021 to 101.5 million tonnes as China and Vietnam recover from the impacts of African swine fever (ASF). Additionally, improving economic conditions and continued export opportunities will support output growth among most major producers. While China production is expected to still be 25% below pre-ASF levels, it is nevertheless forecast up 11% year-over-year.
According to official government statistics, hog inventories grew rapidly in 2020; however, low productivity and continued disease challenges are expected to constrain production this year. High feed prices are also likely to put pressure on China carcass weights and limit output growth. Vietnam production is forecast up 5% year-over-year. With ASF mostly under control, high prices have incentivized investment and led to recovery in the breeding herd. Meanwhile, Philippines production is expected to decline 10% as ASF continues to constrain output.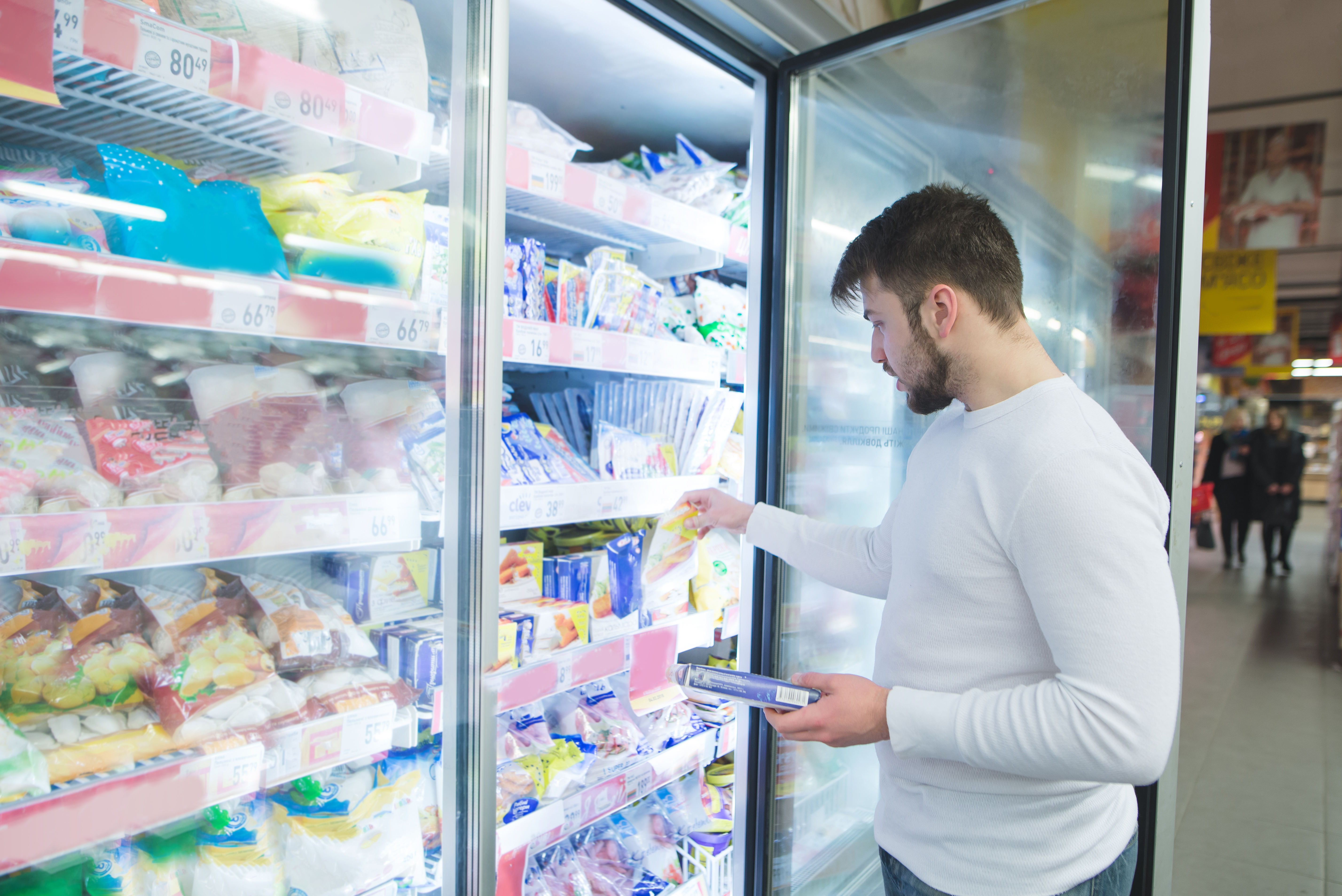 Global exports are forecast to decline 1% to 11.5 million tonnes from the 2020 record as import demand from China slows and more than offsets growth from the rest of the world. China imports are forecast 8% lower year-over-year due to recovering production but are still expected to be elevated by historical standards. On the other hand, the Philippines is expected to see imports more than double amid a domestic pork supply shortfall and changes to its tariff rate quota system. Additionally, a rebound in foodservice business, which is a major user of imported product, will drive South Korea imports 16% higher year-over-year.
US production and exports
US production is forecast virtually unchanged in 2021 at 12.8 million tonnes as lower carcass weights offset slightly higher slaughter. Going forward, production will be constrained by a lower first-quarter pig crop and producer intentions to farrow fewer sows mid-year.
US exports are forecast at 3.3 million tonnes in 2021, marginally lower year-over-year. China demand is expected to moderate from the record levels of last year and will offset higher expected exports to Mexico, Japan, South Korea, and the Philippines.
News from the United States

US pork sales abroad continue to slip
USDA Thursday reported US pork net sales of 17,200 MT reported for 2021-a marketing-year low-were down 48% from the previous week and 60% from the prior four-week average.
Increases were primarily for Mexico (7,800 MT, including decreases of 500 MT), Japan (4,300 MT, including decreases of 100 MT), South Korea (1,300 MT, including decreases of 900 MT), Colombia (900 MT, including decreases of 100 MT), and the Philippines (800 MT, including decreases of 200 MT).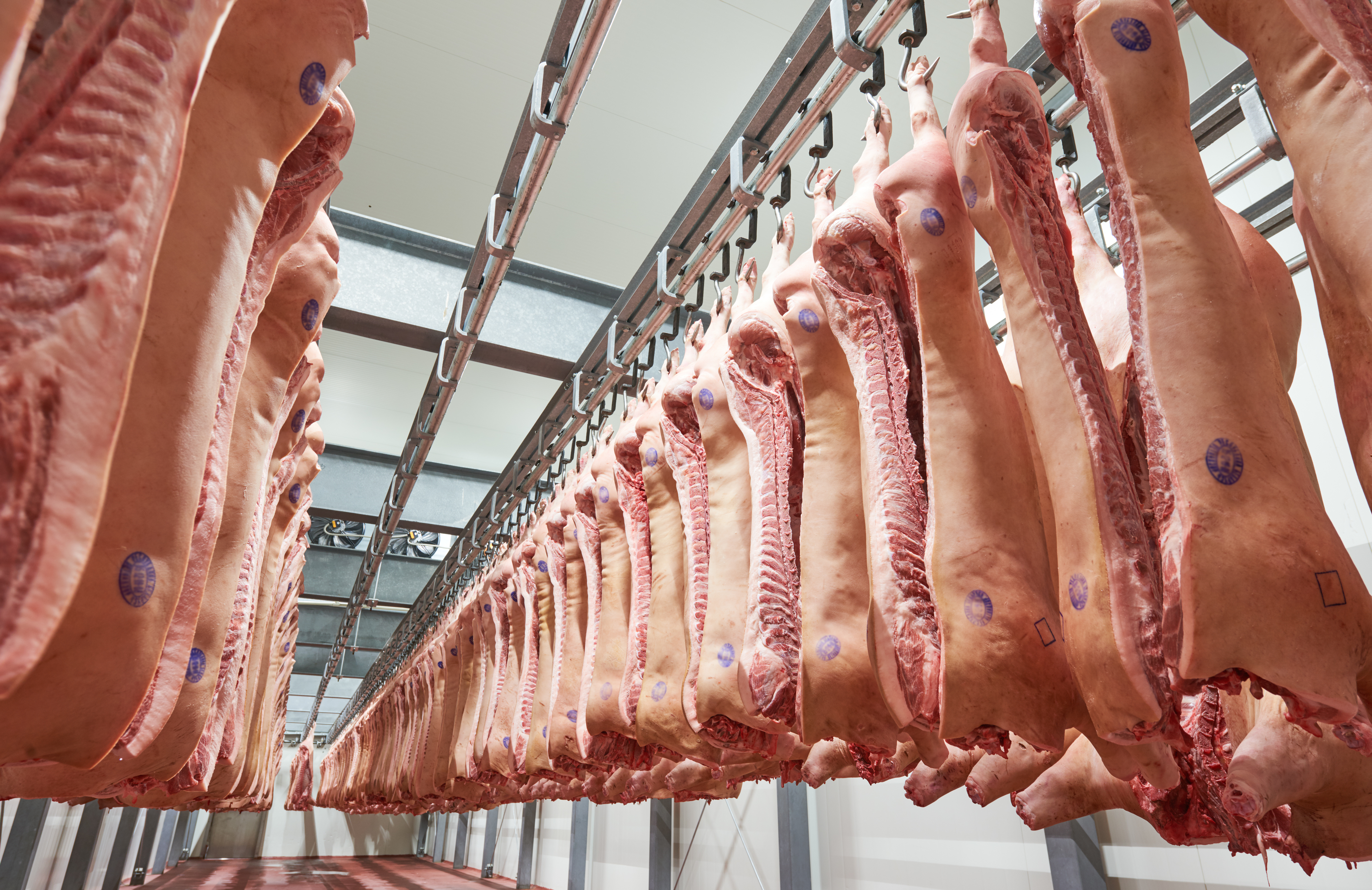 Exports of 38,600 MT were unchanged from the previous week, but down 2% from the prior four-week average. The destinations were primarily to China (12,500 MT), Mexico (9,900 MT), Japan (5,000 MT), South Korea (2,300 MT), and the Philippines (1,900 MT).
Industry updates from Asia and Europe
China informs USDA of more ASF-infected pigs
China has notified USDA that new African swine fever (ASF) cases were detected in live hogs, making it the fourth notification since the end of January, according to a report from a US ag attaché.
"Authorities indicated the detection occurred when authorities found the illegal transportation of live hogs from outside of Hunan Province," the attaché said.

"There were 61 susceptible animals, of which three were sick and three died. The remaining animals were culled and disposed."
China is widely expected to be underreporting its latest outbreak, with private industry reports signaling at least 20% of northern China's herd has been affected.
Chinese pork prices drop in latest week
From April 6 to April 9 the average pork price index tracked by China's ag ministry dropped 13.1% to 27.05 yuan ($4.10) per kilogram. The index is down 37.8% from year-ago levels. Given renewed reports of ASF and global inflation concerns, Chinese pork prices are again being scrutinized.
ASF still impacting Romanian hog sector
The number of active African swine fever (ASF) outbreaks in Romania continues to trend downward. As of mid-March 2021, Romania saw a 24% drop in the number of outbreaks from same time in 2020.
However, the number of ASF outbreaks on commercial farms during the first quarter of 2021 increased over last year. A draft ASF surveillance and control action plan is currently being considered by the Romanian government.
Read Jim Wyckoff's analysis of the poultry sector on The Poultry Site and see his updates on the global beef and dairy industries on The Cattle Site.