Pig outlook: Chart consolidation in lean hog futures this week is not bearish
US lean hog futures remained choppy this week and Asia's potential pork consumption is in the spotlight.
The pig traders' perspective
The US lean hog futures market this week saw choppy and sideways price action but the near-term uptrend remains in place on the daily bar chart and bulls continue to enjoy the technical advantage. US hog slaughter and pork production hit records last week, with processors ramping up production after two weeks of holiday-interrupted schedules and the reopening of a Columbus Junction, Iowa pork plant after repairs. Aggressive kills helped the cash market to strengthen. Attention will be on whether demand is there to meet the record-setting US pork production.
Pork exports have also been a bright spot, with USDA data showing US pork exports have already registered annual records in terms of both volume and value, with one month yet to be reported for 2020. And the US Meat Export Federation noted an uptick in demand from countries outside of China. That will be important considering Chinese buying is expected to fade in 2021.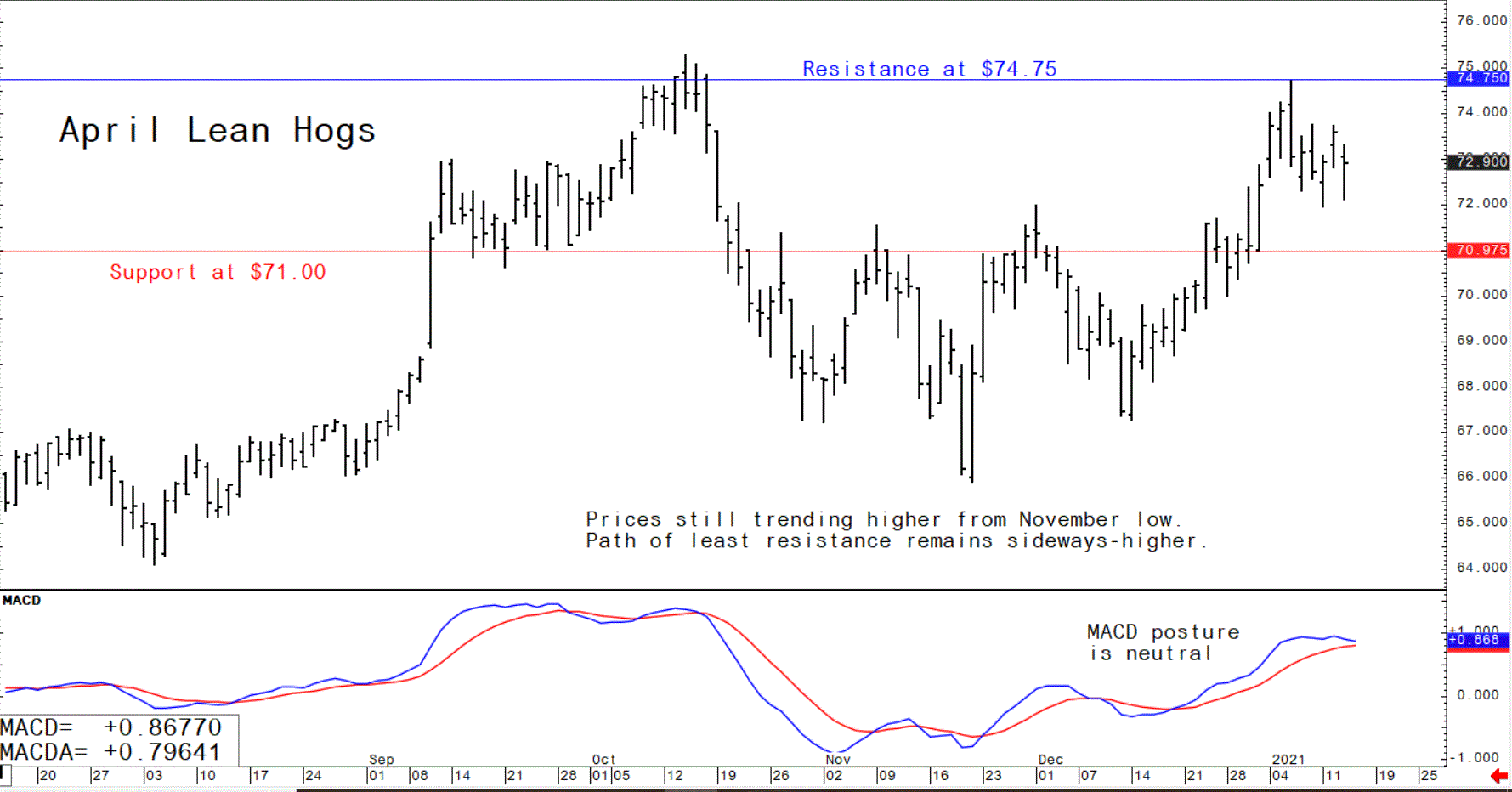 The next week's likely high-low price trading ranges

April lean hog futures--$71.00 to $74.75, and with a sideways-higher bias
March soybean meal futures--$440.00 to $470.00, and with a sideways-higher bias
March corn futures--$5.00 to $5.41 1/2, and a sideways bias
Latest US Department of Agriculture (USDA) reports
USDA's adjustments to pork balance sheet a bit bearish
USDA this week boosted total pork supplies by 40 million lbs on a rise in production and cutting its pork export forecast by 175 million lbs, with exports now expected to slide 1.9 percent from 2020's high levels. But USDA raised its average hog price projection for 2021 by $2.50 from last month to $49.50 per hundredweight, which would be a $6.32 from 2020.

USDA weekly US pork exports totals
USDA's weekly export sales report on 14 January showed US pork net sales of 23,800 metric tonnes (MT) reported for 2021, with increases primarily for Mexico (6,600 MT, including decreases of 700 MT), Japan (3,400 MT, including decreases of 200 MT), South Korea (3,300 MT, including decreases of 500 MT), the Philippines (2,400 MT), and Colombia (2,400 MT, including decreases of 100 MT), were offset by reductions primarily for Australia (100 MT). Exports of 30,000 MT were primarily to China (11,500 MT), Mexico (6,900 MT), Japan (3,300 MT), South Korea (2,300 MT), and Canada (1,500 MT).
Pork news from Asia

China imported record amounts of meat in 2020
Chinese customs data shows the country imported a record-setting 100.33 MMT of soybeans in 2020, an 11.82 MMT (13.3 percent) jump from 2019. China's efforts to rebuild its hog herd and the Phase 1 trade deal helped fuel the surge. In December, China imported 7.52 MMT of the oilseed, which was down 2.02 MMT from year-ago. Analysts said shipping delays were likely to blame. A soybean crusher cited by Reuters said, "Imports in the New Year are expected to hit a new record high," noting that demand remains very strong.
China also imported a record-high 9.91 MMT of meat in 2020, a 60.4 percent surge from last year. December imports climbed 24.4 percent from November to 964,000 MT. Of note, a Chinese customs spokesman indicated Chinese imports of US ag products surged 66.9 percent in 2020 in yuan terms, with bean imports from the US up 56.3 percent, cotton imports up 121.7 percent, pork imports up 223.8 percent and crude oil imports up 88.0 percent.
USDA expects China's meat consumption to rebound in 2021
Driven by higher estimates for pork, the China total meat import forecasts for both 2020 and 2021 are revised 4 and 1 percent higher, respectively, said USDA in a report this week. While pork import growth slowed in the fourth quarter of 2020, it nevertheless exceeded expectations and results in a more bullish outlook for 2021.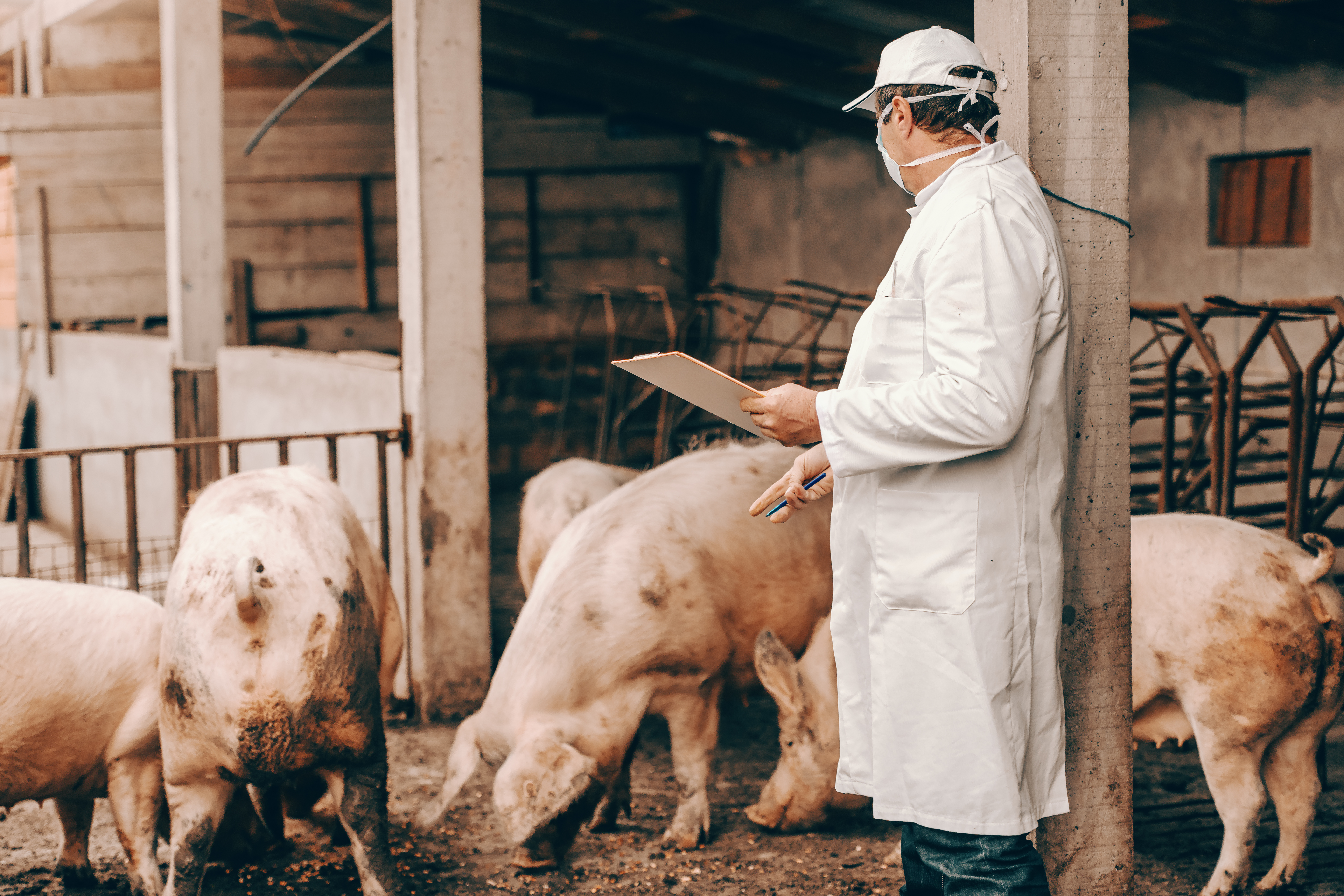 The impact of African swine fever (ASF) is expected to have reached its zenith in 2020, pressuring consumption and increasing the country's reliance on meat imports. Despite the elevated pace of trade, China meat consumption in 2020 fell to its lowest level in more than a decade. In 2021, higher estimates for both China pork production and imports lead total meat consumption up 2 percent from the prior forecast. However, total meat consumption is still expected to be below pre-ASF levels.
Global pork production for 2021 is revised up nearly 2 percent to 103.8 million tons due to the Chinese hog sector's ongoing recovery from ASF. Elevated prices continue to incentivize producers to expand their herds, resulting in the production forecast for China being revised 5 percent higher. However, despite upward revisions, China production is still expected to remain below pre-ASF levels as rising costs and animal management challenges generate headwinds. Higher China production more than offsets sharply lower Philippines production, where ASF continues to spread in key regions.
Global pork exports for 2021 are revised up nearly 3 percent to 11.1 million tonnes on China import demand that, while lower year-over-year, is expected to remain elevated by historical standards. Abundant exportable supplies around the world are expected to find a home in China as consumption in this key market continues to be well below pre-ASF levels. Meanwhile, a weak peso and sluggish domestic economy lead to lower import expectations for Mexico.
China to auction more frozen pork this week
China will sell 30,000 MT of frozen pork from its state reserves on 15 January, the country's merchandise reserve management centre said earlier this week. After a break for several months, China has renewed these auctions to boost supplies ahead of the Lunar New Year holiday in February.
Pork prices climb in Taiwan after shoppers reject US imports
Taiwanese consumers are turning away from imported pork, driving up prices and frustrating meat producers' hopes that the liberalisation of the country's pork market would offer new opportunities for US suppliers, the Financial Times reported.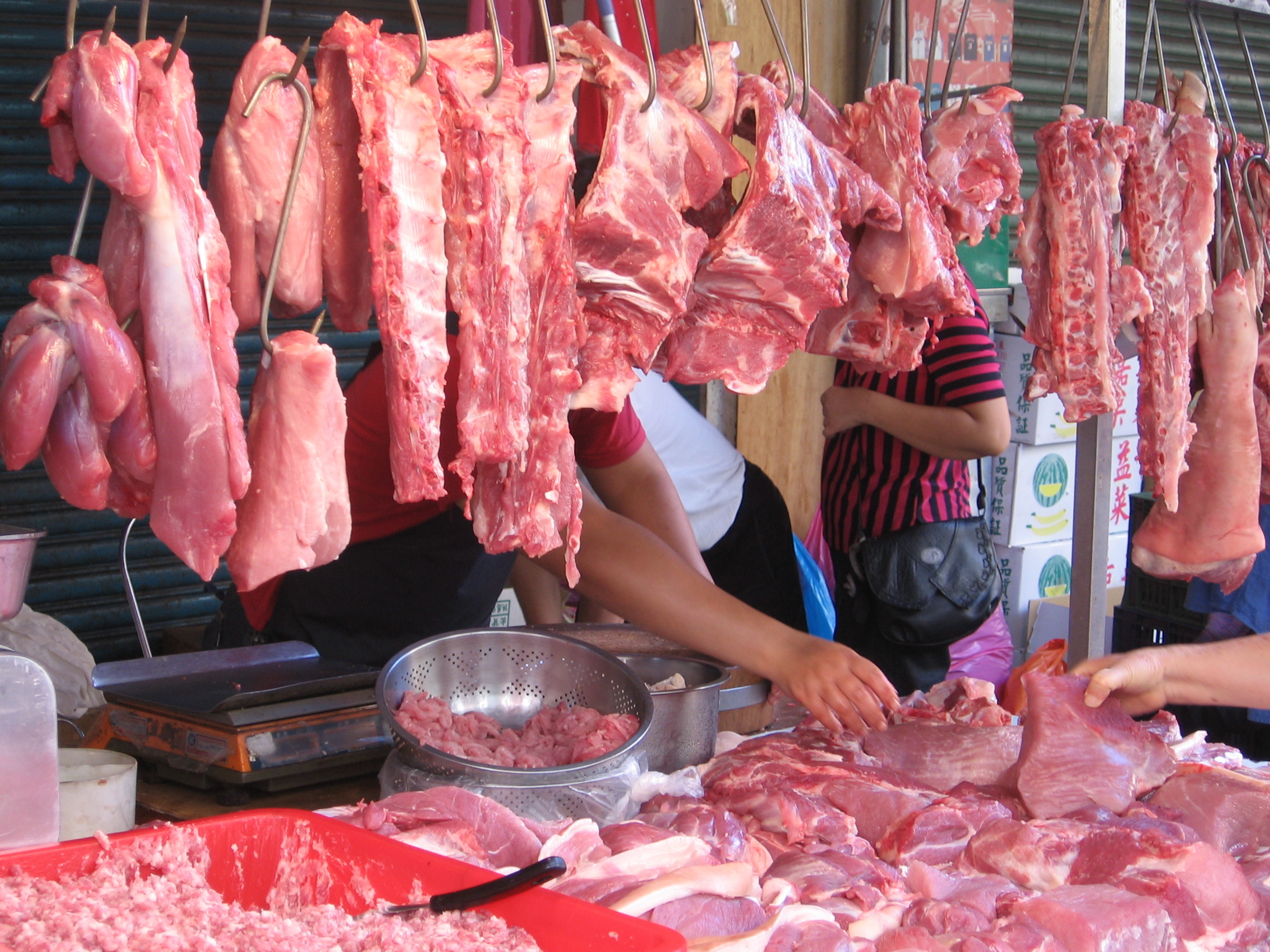 On 1 January, Taiwan lifted a ban on US pork containing ractopamine, the feed additive. Taipei hoped the decision would build support in Washington for a bilateral trade deal. Pork is the main source of protein for Taiwan's population.
Pork imports from the US cratered since Taiwan President Tsai Ing-wen announced the liberalisation, and demand for other imported pork is now also being hit. Tsai pleaded with the public that, because Taiwan was a country reliant on trade for survival, she had no choice but to allow imports of ractopamine pork.
FT reports that "observers believe the Taiwanese opposition's campaign against the market reform and the government's pledges to protect food safety have triggered consumer fears that any pork other than local produce is harmful." More than 150 Taiwanese pork importers signed a pledge last month not to import US pork. Some retailers have cut back on all imported pork.
Read Jim Wyckoff's analysis of the beef and dairy industry on The Cattle Site and see his updates on the global bird flu cases on The Poultry Site.