Pig outlook: Hogs resilient despite big supplies coming to market
US hog markets remain resilient this week as demand and exports remain steady.
The pig traders' perspective
Lean hog futures posted slight to moderate losses at midweek, signalling a pause in the recent rally could be in the works. Still, February lean hog futures are trending higher on the daily chart and the bulls have the overall near-term technical advantage.
The pork market has been a bit nervous that China's heightened scrutiny of imported meat and seafood could compromise strong US shipments of the meat there. The CME cash hog index is declining. Cash hog prices have generally been softening amid readily available supplies, lifting US packer profit margins.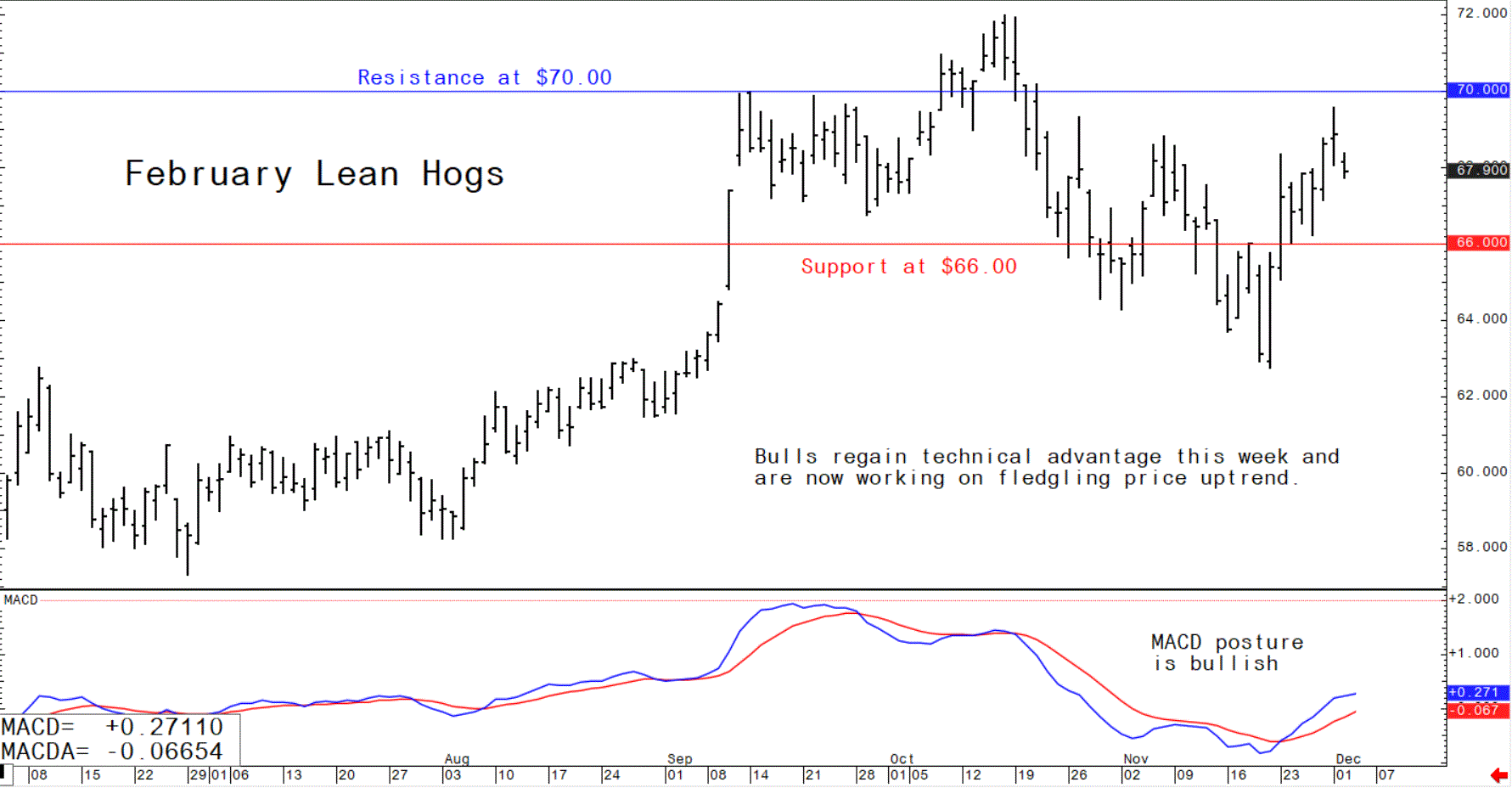 The biggest slaughters of the year typically come in the weeks ahead. Of note, average hog weights in the central US market jumped 2 lbs. the week ending 28 November to 290.7 lbs., which is up 3.7 lbs. from year-ago levels.
The next week's likely high-low price trading ranges
February lean hog futures--$65.00 to $72.00, and with a sideways-higher bias
March soybean meal futures--$375.00 to $398.80, and with a sideways bias
March corn futures--$4.10 to $4.30, and a sideways bias
Latest US Department of Agriculture (USDA) reports
Solid US pork exports in latest week
USDA's weekly export sales report on Thursday 3 December showed US pork net sales of 31,300 metric tonnes (MT) reported for 2020 were up 66 percent from the previous week, but down 6 percent from the prior 4-week average.
Increases primarily for Mexico (12,900 MT, including decreases of 1,000 MT), China (7,400 MT, including decreases of 1,300 MT), Japan (4,200 MT, including decreases of 300 MT), Canada (1,700 MT, including decreases of 400 MT), and South Korea (1,500 MT, including decreases of 300 MT), were offset by reductions for Vietnam (100 MT) and Costa Rica (100 MT).

For 2021, net sales of 4,200 MT were primarily for China (1,400 MT), Colombia (700 MT), Australia (600 MT), Canada (400 MT), and Mexico (300 MT). Exports of 34,100 MT were down 17 percent from the previous week and 12 percent from the prior 4-week average.
The destinations were primarily to Mexico (11,500 MT), China (9,000 MT), Japan (4,700 MT), South Korea (3,000 MT), and Canada (2,000 MT).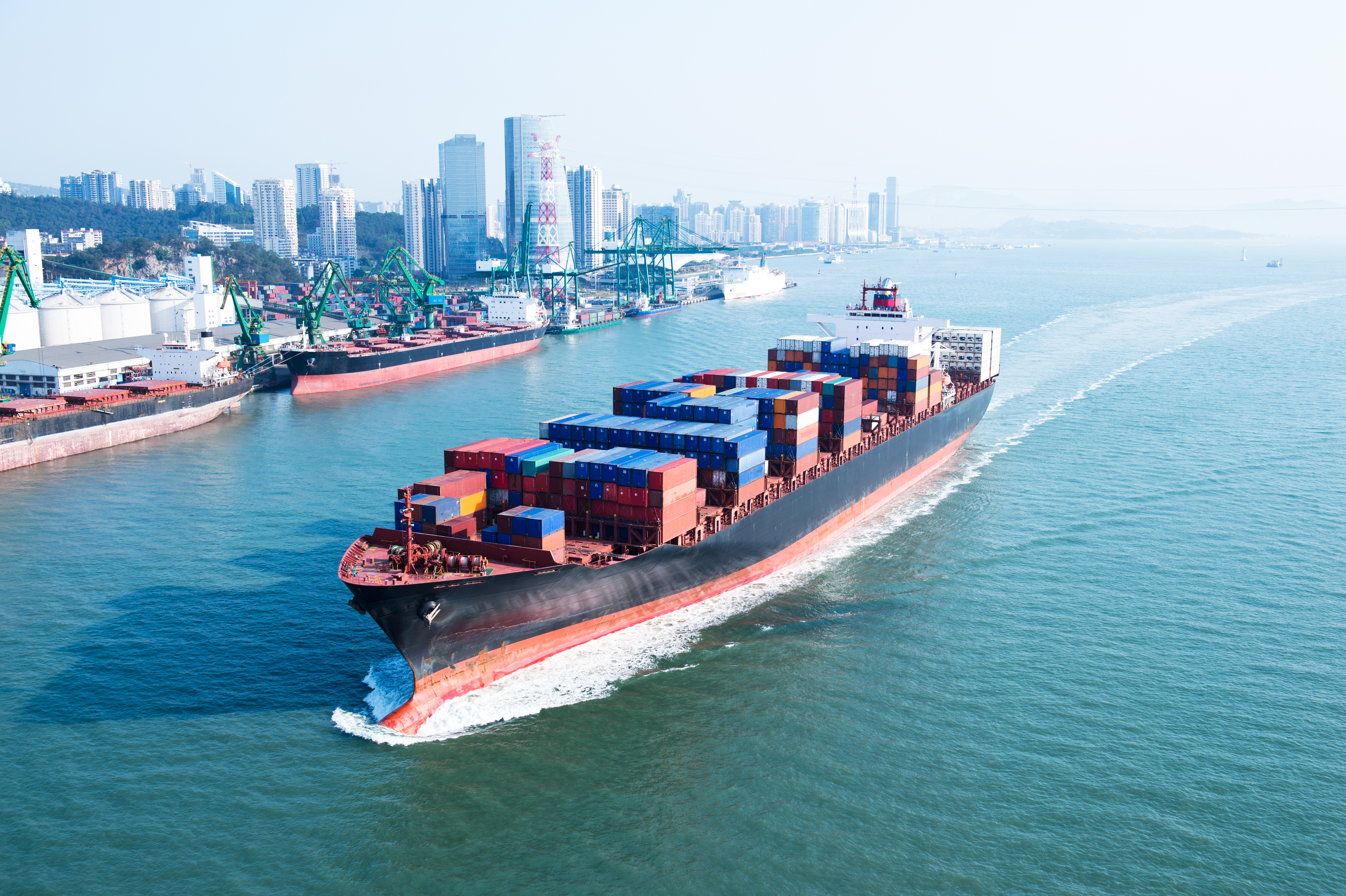 USDA: Belgium free of African swine fever
On 20 November 2020, the European Commission declared Belgium free of African swine fever (ASF), one year after the last finding of an ASF infection.
Belgium becomes only the second EU Member States (MS), after the Czech Republic in 2019, to eradicate the disease and regain export eligibility, while eleven other EU MS continue to fight the disease.
This EU decision opens the door for Belgian pork exporters to seek export approval to overseas markets, especially China and other Asian countries.
The Belgian pork industry faced severe losses over the last year years after suffering from its own ASF outbreak, the arrival of the COVID-19 crisis, and the outbreak of ASF in its first export market, Germany
Pig industry headlines from around the world
Update on Germany's ASF situation
Germany has confirmed 240 cases of African swine fever (ASF) in wild boar since the initial case on 10 September, with the majority of the cases being in the eastern German state of Brandenburg.
No farm animals have been affected, but China, south Korea and Japan have all banned imports of German pork.
Global food prices hit highest level in nearly six years
Global food prices climbed 3.9 percent from October to November, with prices now 6.5 percent above year-ago levels, according to the Food and Agriculture Organisation of the United Nations' (FAO's) Food Price Index.
The 4-point November rise marked the biggest month-to-month climb since July 2012, and the index hit its highest level since December 2014 at 105 points.
FAO reports, "All sub-indices of the FFPI registered gains in November, with the vegetable oil sub-index rising the most, followed by those of sugar, cereals, dairy and meat." This comes as the pandemic and responses to it have heightened concerns about food security and inflation.
China heightens scrutiny of cold chain foods
"The current epidemic prevention and control situation is still complex and austere, and the risk of the disease entering through imported cold chain links is continuously rising as the exchange of international personnel and goods increases," China's market regulator said in a statement on its website.
Beijing has increased inspections of food importers, supermarkets e-commerce platforms and restaurants relative to cold chain products. The administration will require authorities to have all cold storages registered by year-end, and it reiterated that cold-chain food products cannot be sold within China without a report showing they have undergone a nucleic acid test for the virus.
This has driven up costs, upended trade and trimmed consumer demand. Global health authorities say the risk of getting COVID-19 from food is very low.

Biden will not immediately end China tariffs
Joe Biden told the New York Times he will seek to review the existing Phase 1 agreement between the US and China and would not immediately remove the tariffs the Trump administration put in place on China.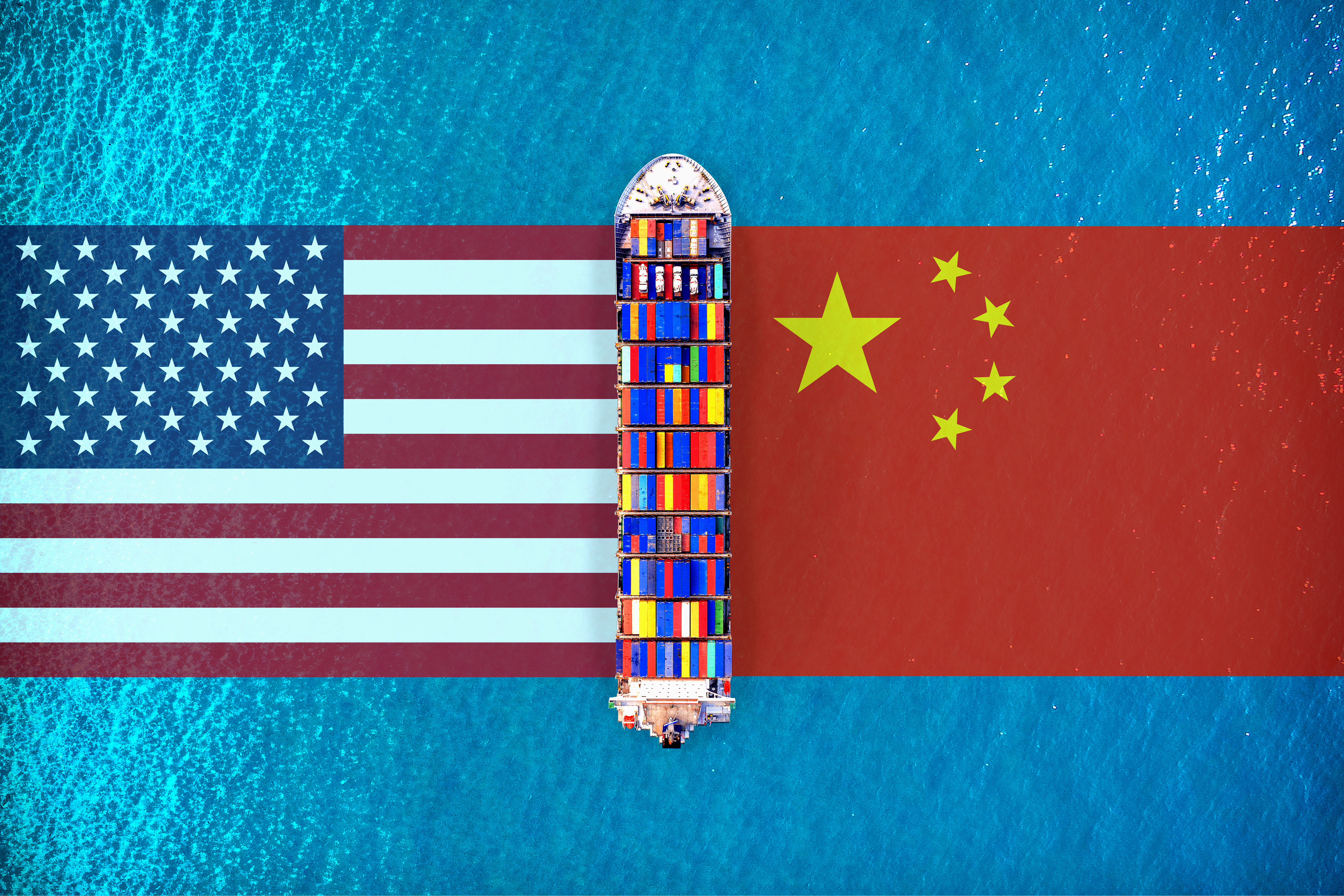 While Trump was focused on the trade deficit with China, Biden says his "goal would be to pursue trade policies that actually produce progress on China's abusive practices — that's stealing intellectual property, dumping products, illegal subsidies to corporations" and forcing "tech transfers" from American companies to their Chinese counterparts.
He also indicated, as expected, that his strategy will be to enlist US allies in taking on China. "The best China strategy, I think, is one which gets every one of our — or at least what used to be our — allies on the same page. It's going to be a major priority for me in the opening weeks of my presidency to try to get us back on the same page with our allies," Biden said.
Getting bipartisan consensus in the US relative to China is another tack Biden will take, seeking to build "leverage" over China. "I want to make sure we're going to fight like hell by investing in America first," Biden said. He also confirmed what has been an expectation on new trade deals — they will not be a priority. "I'm not going to enter any new trade agreement with anybody until we have made major investments here at home and in our workers," Biden told the Times, with those investments also to include education.
Read Jim Wyckoff's latest analysis of the global poultry market on The Poultry Site and see updates on the cattle industry on The Cattle Site.