Pig outlook: Lean hog futures bulls maintaining price uptrend amid choppy action
Read Jim Wyckoff's latest analysis of the global hog market.
The pig traders' perspective
The lean hog futures charts remain bullish as prices have been trending up since late July. US cash hog bids have risen this week, easing concerns that the cash market may be near a top. Average hog weights are 0.1 pound under year-ago levels. If weights continue to climb, it could renew concerns about how current US marketings are and backlogs of animals.
This week's hog slaughter is running in line with year-ago levels. The slowdown in processing paired with cash market strength in recent weeks has traders' questioning USDA's recent Quarterly hogs and pigs report numbers. October is US "National Pork Month," which suggests retailers will be featuring pork more than normal.
The next week's likely high-low price trading ranges
December lean hog futures--$61.25 to $67.10, and with a sideways-higher bias
December soybean meal futures--$335.00 to $360.00, and with a sideways-higher bias
December corn futures--$3.70 to $3.90, and a sideways-higher bias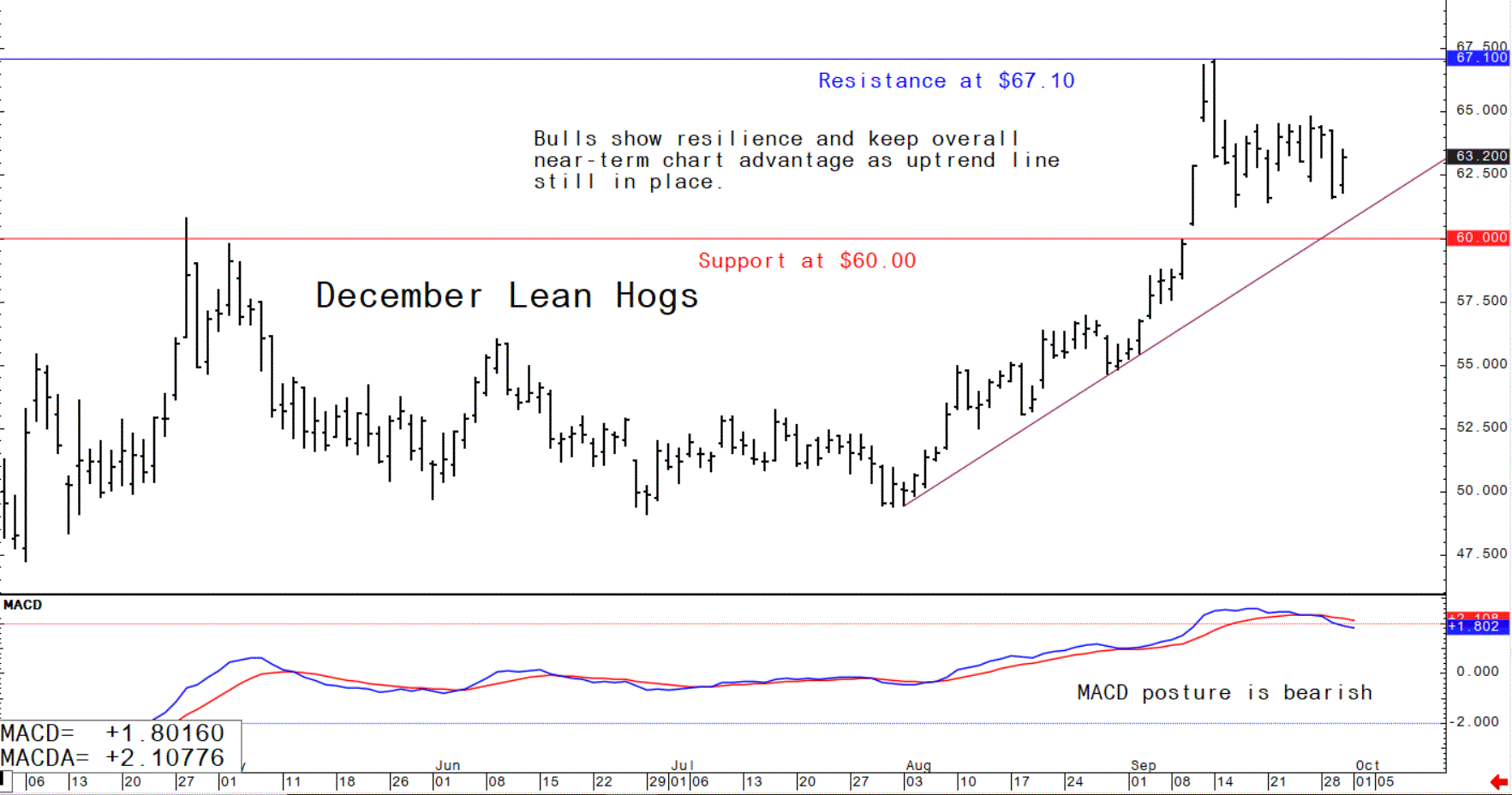 Latest US Department of Agriculture (USDA) reports, and other news
US pork exports level off
The latest weekly USDA export sales report out Thursday 1 October showed US pork net sales of 39,500 metric tonnes (MT) reported for 2020 were up 5 percent from the previous week, but down 8 percent from the prior 4-week average.
Increases were primarily for Mexico (17,900 MT, including decreases of 1,000 MT), China (6,500 MT, including decreases of 1,100 MT), Canada (4,400 MT, including decreases of 400 MT), South Korea (4,000 MT, including decreases of 600 MT), and Japan (2,800 MT, including decreases of 100 MT).
For 2021, net sales of 1,300 MT were for Chile (1,100 MT) and Australia (200 MT). Exports of 32,600 MT were down 9 percent from the previous week, but unchanged from the prior 4-week average. The destinations were primarily to Mexico (10,500 MT), China (9,500 MT), Japan (4,400 MT), Canada (2,400 MT), and South Korea (1,800 MT).
Rise in Chinese sow herd suggests lower quality animals
China has recently noted its quick rebound in its pig herd after African swine fever wiped out around half of its herd and possibly as much as 60 percent of its breeding sows.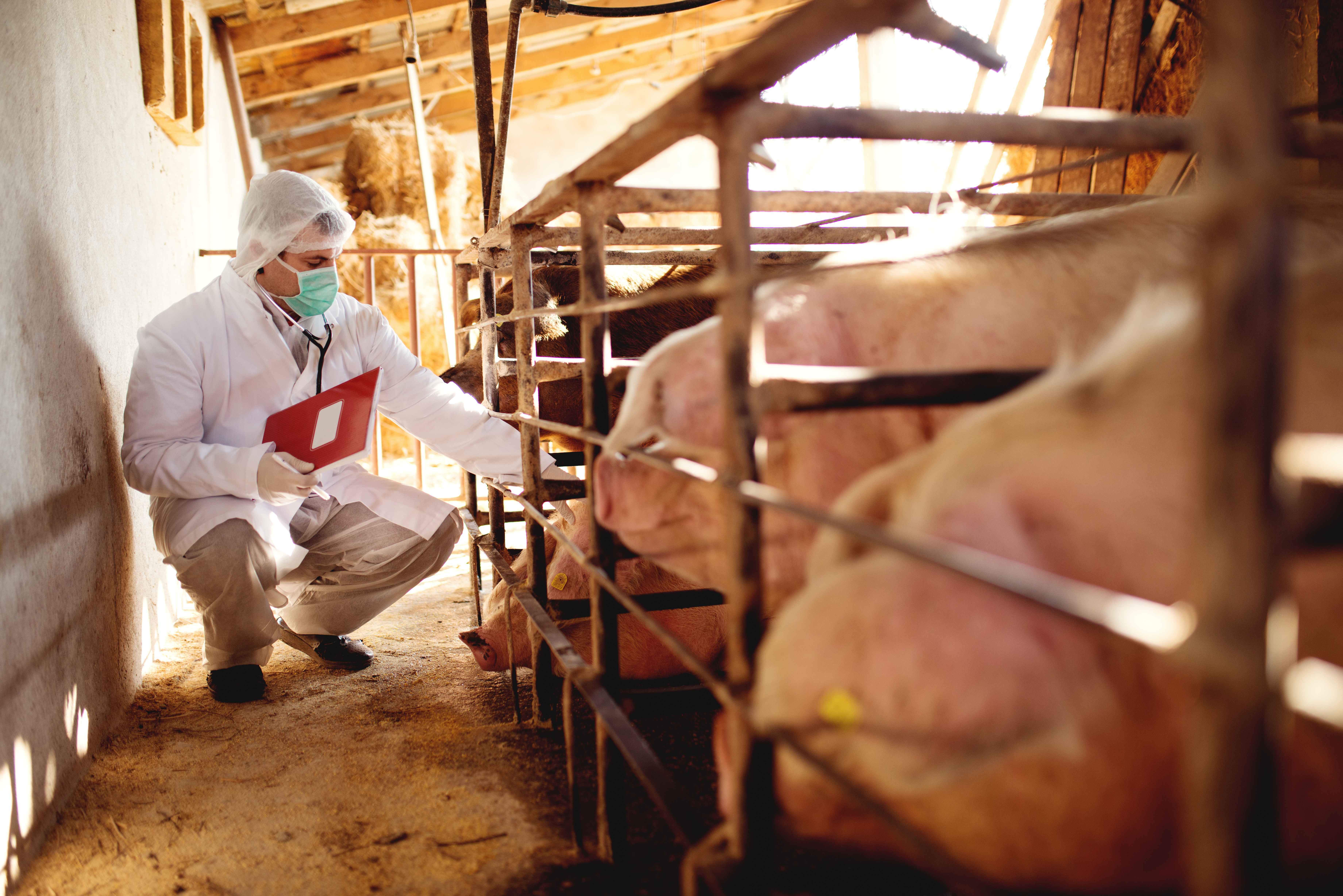 Chinese data show China's hog herd rose 31 percent in August from the previous year, with the sow herd rising 37 percent. But some are sceptical about the rebuilding due to the big numbers meaning a less productive herd.
Given the severe shortage in breeding stock, many new farms are keeping back three-way cross females as breeders that are normally slaughtered, according to a report on Reuters. The sows that have different genetics produce much smaller litters. Three-way cross females typically have around two fewer pigs per litter versus typical breeder sows.
Also, this type of pig does not have as much fat as regular sows, which can be problematic when it comes to producing milk for piglets. This means more attention must be paid to their feeding. Eventually, these lower-quality sows will be replaced, but that will take time.
Pan Chenjun, senior analyst at Rabobank, reports that around 50 percent of China's breeding herd is three-way cross females. She expects it to take another three years before Chinese pork production is sufficient for the market.
Germany finds two more cases of ASF in wild boars
Germany has confirmed two more cases of African swine fever (ASF) in wild boars in the state of Brandenburg, including one outside the area where the first cases were found.
This brings the total ASF cases to 38, all in wild boars and none in the domestic hog herd. "The state of Brandenburg must now undertake an appropriate adaptation of the existing protection zones and protection measures to prevent a further expansion of the disease," the German Ag Ministry said.
CME Group plans launch of pork cutout futures, options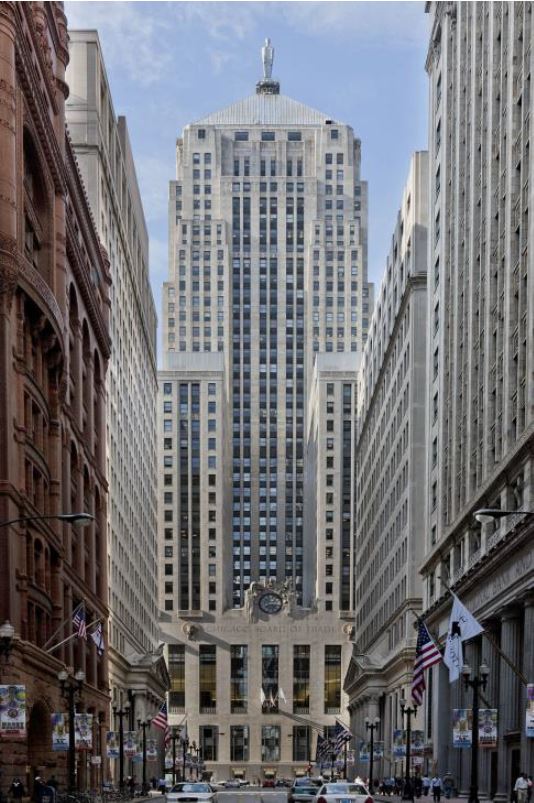 The CME Group said Tuesday 29 September it will launch Pork Cutout futures and options contracts on 9 November, pending regulatory approval.
"Once based almost exclusively on the value of live hogs, many agreements now pay greater attention on prices further down the value chain, particularly the pork cutout," the CME Group said, with an aim of providing the US pork industry and export markets "tailored risk-management tools on the cutout."
The contracts will be cash-settled to the CME Pork Cutout Index and "will complement CME Lean Hog futures and options," the exchange said. The Pork Cutout futures contract months will match those for lean hog futures and be based on a contract unit of 40,000 pounds and be quoted in cents per pound.
"The contract settles directly to the CME Pork Cutout Index, which tracks prices of pork cutout values," the exchange said. "That provides the tight price correlation needed to better manage exposure."
Read Jim Wyckoff's analysis of the global cattle market on The Cattle Site.