Pig outlook: lean hog futures prices stabilize after sell off
The US hog market begins to slow as China's efforts to restructure its swine industry take effect.
The pig trader's perspective
Lean hog futures prices have faced selling pressure recently on rising feed costs. The market is also on edge after another USDA update on weekly pork exports showed declining purchases, particularly to China.
On the positive side for lean hog futures, cash hog and fresh pork prices are on the rise this week. Weekly US hog slaughter rates are struggling to reach 2.5 million head and may fall below 2.4 million by the middle of next month. Pork production rates will trend similarly, and supplies in cold storage are down from recent years to provide a buffer for reduced numbers this summer.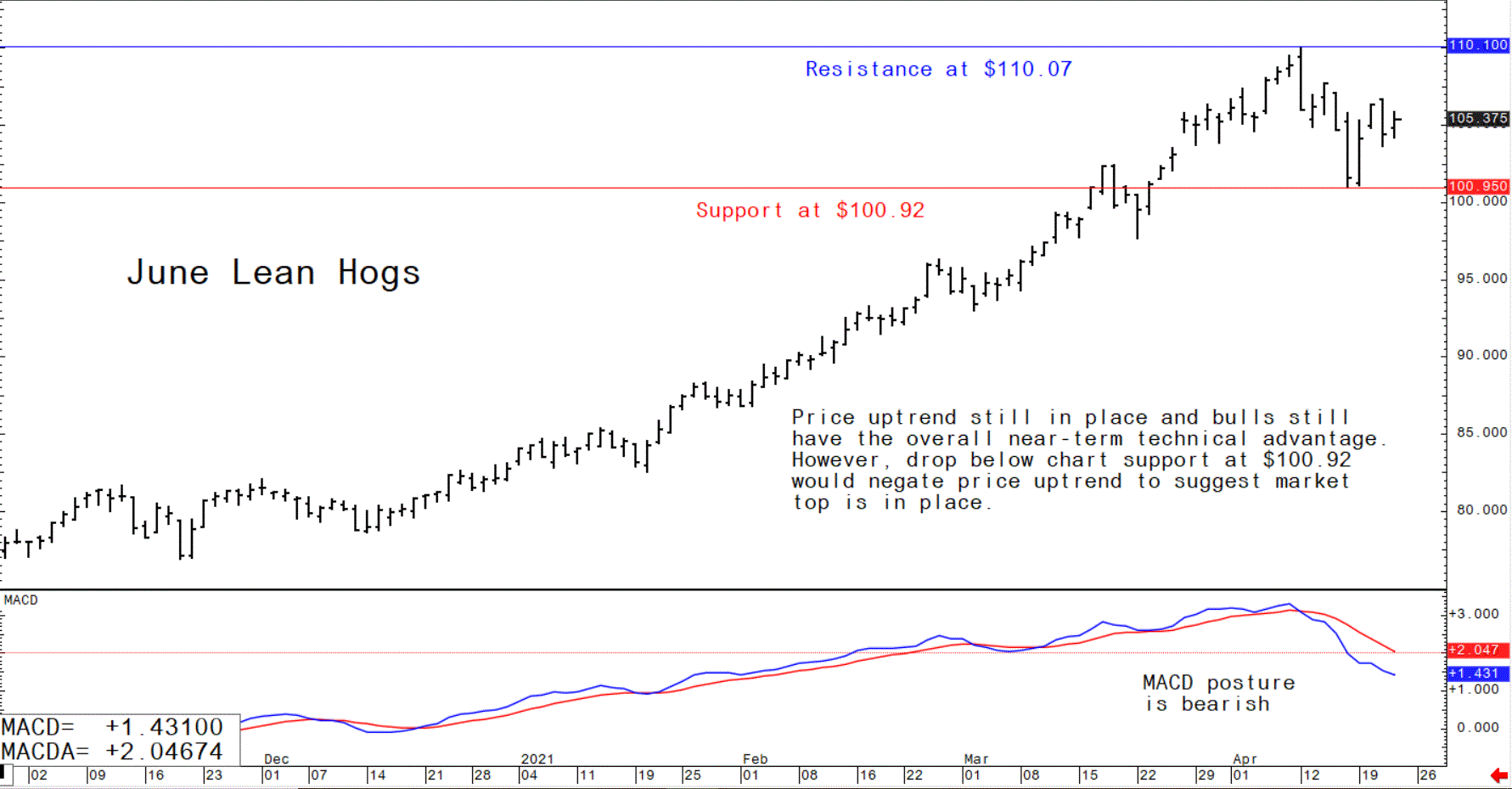 The next week's likely high-low price trading ranges
June lean hog futures: $100.92 to $110.07 and with a sideways bias
July soybean meal futures: $410.00 to $433.60, and with a higher bias
July corn futures: $5.80 to $6.30, and a higher bias
Latest USDA export news
US pork export sales continue to slide
USDA Thursday reported weekly US pork net sales reductions of 22,100 metric tonnes (MT) reported for 2021 - a marketing-year low - were down noticeably from the previous week and from the prior four-week average.
Increases were primarily for China (13,100 MT, including decreases of 1,700 MT), Japan (2,700 MT, including decreases of 100 MT), South Korea (1,500 MT, including decreases of 200 MT), Australia (1,500 MT, including decreases of 700 MT), and Canada (1,100 MT, including decreases of 800 MT), were offset by reductions for Mexico (45,100 MT – including 54,476 MT canceled).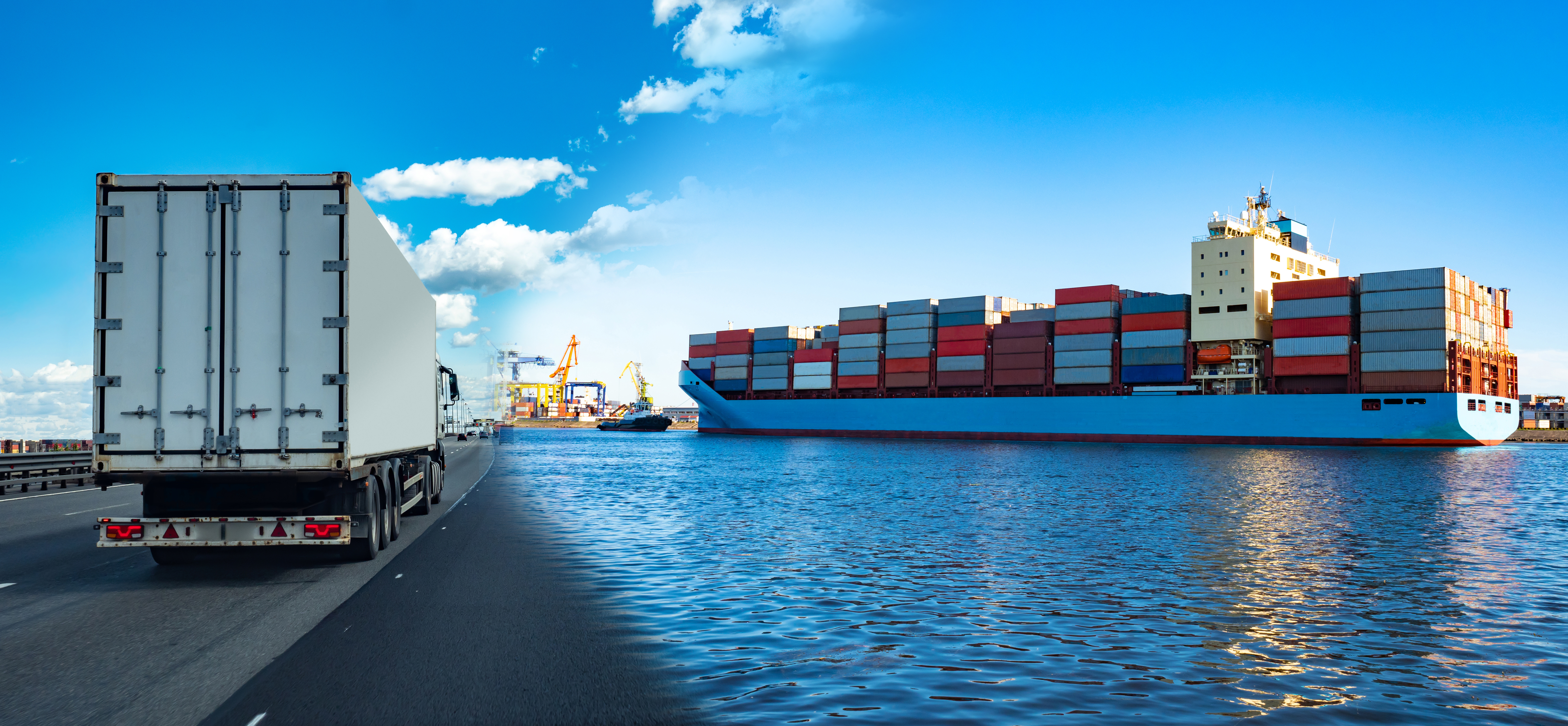 Exports of 43,900 MT - a marketing-year high - were up 14% from the previous week and 13% from the prior four-week average. The destinations were primarily to Mexico (13,800 MT), China (13,400 MT), Japan (3,900 MT), South Korea (2,900 MT), and the Philippines (2,000 MT).
News from China's hog industry
China first-quarter pork production up more than 31%
First-quarter 2021 pork production in China reached 13.69 million tonnes, up 31.9% from year ago, according to the National Bureau of Statistics.
Reuters reported their calculations put that as the highest production since the first quarter of 2019. The agency said the pig herd was at 415.95 million at the end of March, up 29.5% from year ago and up from 406.5 million head as of 31 December. However, reports of African swine fever (ASF) in the country have continued to temper expectations on the speed that the Chinese hog herd is being rebuilt from the big reductions caused by ASF.
Pan Chenjun, senior analyst at Rabobank, comments that the average weights of pigs slaughtered are under year-ago, signaling the increase is driven by liquidation by farmers. Also of note, the major producers New Hope Liuhe, Jiangxi Zhengbang and Tech bank Food Co Ltd said they culled several hundred inefficient sows during the quarter, pushing up the meat production.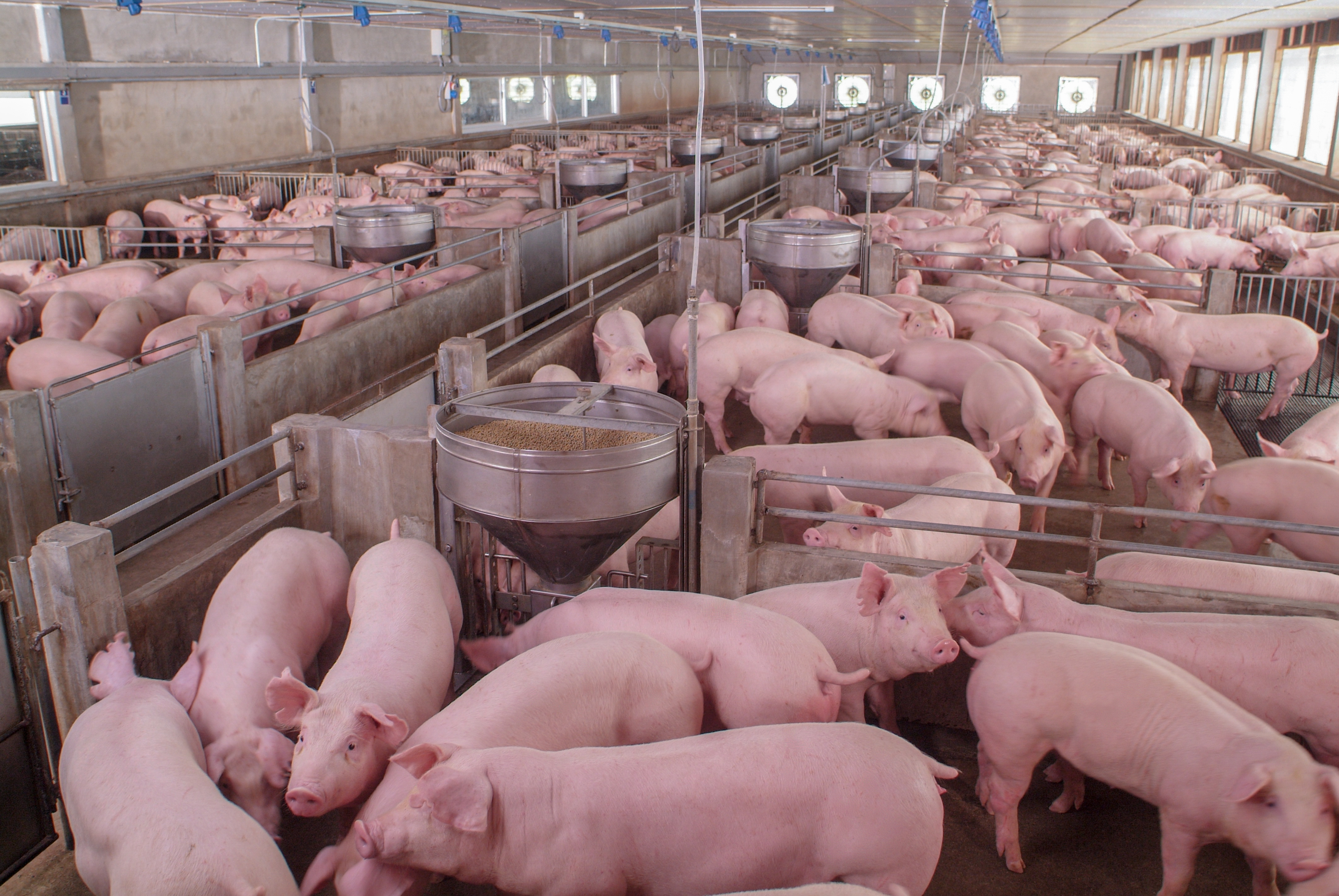 Chinese feed grain and pork imports sharply up in first quarter
Data released by China's Customs Administration on 18 April shows the country imported 460,000 MT of pork during March, a 16.1% jump from year-ago levels. So far this year, it has brought in 1.16 million metric tonnes (MMT) of the meat, a 22% year-over-year gain.
China had been reporting meat imports on a combined basis. The customs data also showed the country imported 1.93 MMT of corn during March, a 506.8% surge from year-ago, pushing year-to-date purchases to 6.73 MMT, a 437.8% jump from year-ago. Its imports of other feed grains have also soared for the first quarter of 2021, with wheat imports of 2.92 MMT up 131.2% from year-ago, barley imports of 2.39 MMT up 135.2% and sorghum imports of 2.04 MMT up 22.3% from year-ago.
China issues guidelines to lower corn, soymeal in feed rations
China's Ministry of Agriculture and Rural Affairs has released guidelines on reducing the use of corn and soymeal in hog and poultry feed rations, a move seen accelerating what market forces have already started relative to the use of alternatives to corn such as wheat as corn prices have risen.
The ministry indicated the new guidelines were aimed at improving the use of available materials and setting a formula that better suits conditions within China.
The guidelines listed rice, cassava, rice bran, barley and sorghum as good alternatives to corn and noted that rapeseed meal, cottonseed meal, peanut meal, sunflower meal, distillers dried grains, palm meal, flaxmeal, sesame meal and corn processing byproducts were soymeal alternatives.

There were also suggested feed formulations that differed depending on the region of the country. Those feed formulations include recommendations that distillers' dried grains (DDGs) could be used as a substitute. That is an interesting recommendation given trade restrictions on DDGs and a lack of major ethanol production within China.
China compartmentalizes country to control ASF
China's ag ministry issued a plan to divide the country into five regions tasked with greater responsibility to prevent and control African swine fever and other animal diseases. This comes amid a resurgence of the virus in northern regions.
Each of the designated regions will be in charge of reporting disease outbreaks in a timely manner, assessing risks, and issuing control policies. The country will also create disease-free zones meant to ensure no pigs asides from breeding pigs and piglets are moved in and out, according to the ag ministry.

Chinese hog producers warn drop in quarterly earnings likely
Chinese hog producer Wens Foodstuff Group yesterday reported a 71% dive in first quarter earnings, despite gains from the poultry side of its business. And the country's number-two hog producer Jiangxi Zhengbang Technology Co Ltd and its number-four producer New Hope Liuhe issued profit warnings last week.

Hog prices have fallen, feed costs are rising, sows are not performing well and African swine fever is again causing problems. During the first quarter of 2021, hog prices dived 40% as farmers rushed to liquidate herds as ASF spread and the government pledged to crack down on the disease. Pork demand during the Lunar New Year was also disappointing.
New Hope is calling for 93% plunge in first quarter profits vs year-ago and told investors ASF had a major impact in the north, reducing its sow herd by 90,000 pigs (7.5%) with precautions against the virus adding expense.
Zhengbang said quarterly profits will likely slide 77% from year-ago, saying the slaughter of 350,000 low-efficiency sows during the quarter had a "relatively big impact." It also slaughtered 450,000 sows in the fourth quarter of 2020.
Read Jim Wyckoff's analysis of the global beef and dairy industries on The Cattle Site.