Pig outlook: Technical charts mixed; global pork demand remains solid
Read Jim Wyckoff's latest insights from the global hog market.
The pig traders' perspective
A tale of two charts: The December lean hog futures chart continues to favour the bulls as a price uptrend remains in place despite prices backing down from the October high. However, February lean hog futures have seen choppy to lower price action and a price uptrend has been negated on the daily chart.
Global demand for pork remains solid, which should put a floor under the pork market. Rallying stock markets this week are also bullish for the livestock sector, suggesting better consumer demand. However, rising COVID-19 cases in the US and Europe are already prompting business lockdowns in Europe, with the US also facing a "dark winter" of the pandemic. Such will likely cap gains in hog futures in the near term. Pork producers are also dealing with rising feed costs this week.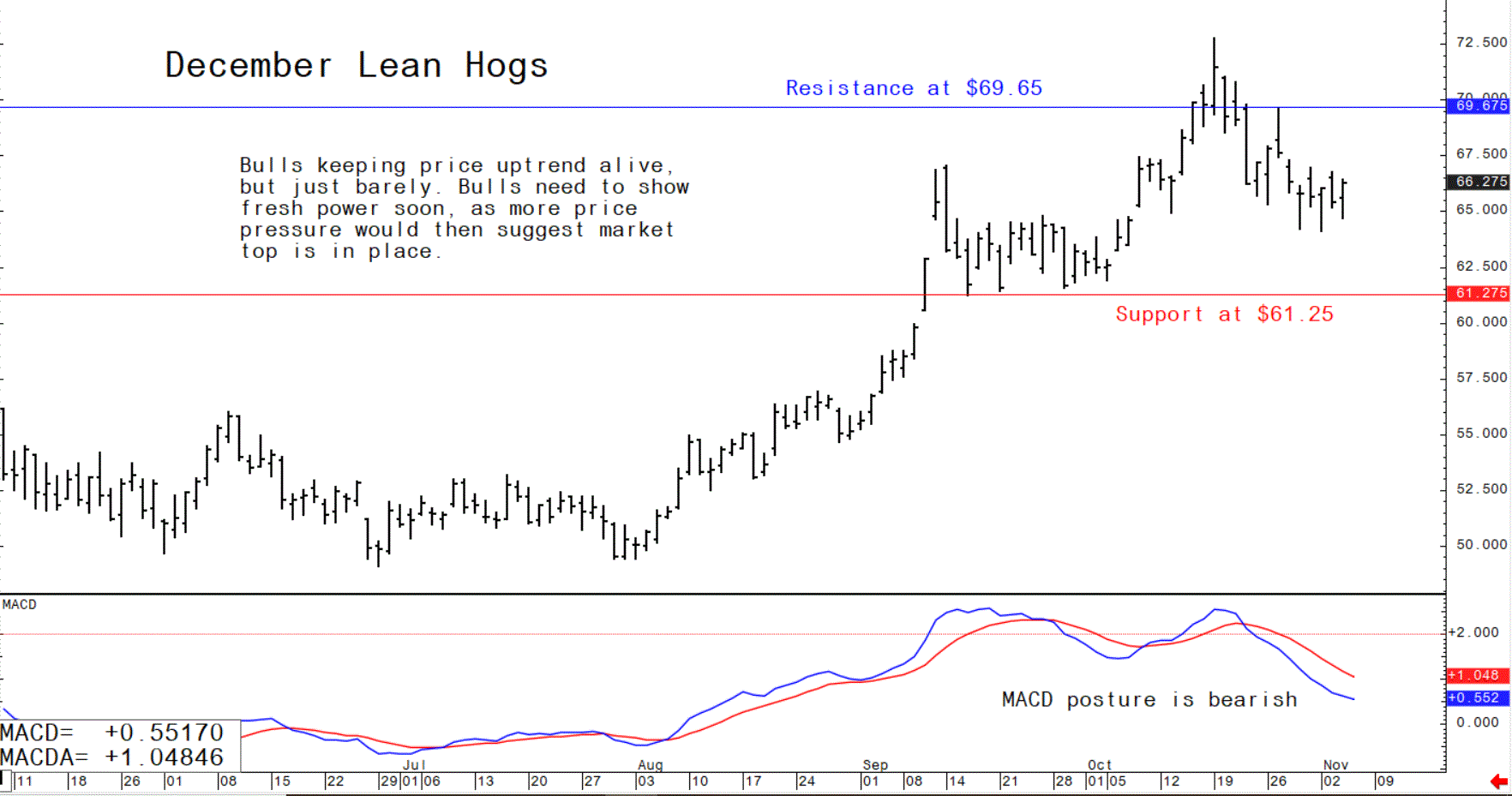 Latest US Department of Agriculture (USDA) reports, and other news
Strong US pork sales abroad in latest week
The weekly USDA export sales report on Thursday 5 November showed US pork net sales of 42,200 metric tonnes (MT) reported for 2020 were up 46 percent from the previous week and 18 percent from the prior 4-week average.
Increases were primarily for Mexico (14,700 MT, including decreases of 700 MT), China (10,300 MT, including decreases of 1,400 MT), South Korea (5,100 MT, including decreases of 100 MT), Japan (3,300 MT, including decreases of 100 MT), and Colombia (2,400 MT).
For 2021, net sales of 800 MT were primarily for Chile (400 MT), Australia (200 MT), and Japan (100 MT). Exports of 37,700 MT were up 1 percent from the previous week and 3 percent from the prior 4-week average. The destinations were primarily to China (14,600 MT), Mexico (10,000 MT), Japan (4,500 MT), Canada (2,100 MT), and South Korea (1,600 MT).
Global food prices highest since January
Global food prices climbed for the fifth month in a row during October, according to the Food and Agriculture Organisation's food price index. The index climbed from 97.8 points in September (revised) to 100.9 points last month, the highest level since January—before the pandemic struck.
"Much firmer prices of sugar, dairy, cereals and vegetable oils were behind the latest rise in the FFPI, while the meat sub-index fell slightly for the second consecutive month," FAO explained. The organisation also lowered its global wheat crop forecast by 2.3 MMT to 762.7 MMT, just shy of the 2016 record. FAO says the cut was driven by lower production expectations for Ukraine and Argentina where dry weather clipped yield prospects.