Proceedings of 6th International Symposium on Emerging and Re-Emerging Pig Diseases
The conference was held in Barcelona, Spain, from 12 to 15 June 2011.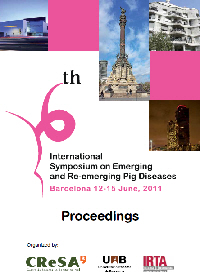 Below is a list of the paper presented at the symposium. To view the papers or the full proceedings, click on the link given at the end.
Lectures
L.01 One World – One Health. The Threat of Emerging Pig Diseases: a European Perspective – Thomas Blaha


L.02 One World – One Health. The Threat of Emerging Pig Diseases: an American Perspective – John Deen


L.03 One World – One Health. The Threat of Emerging Pig Diseases: an Asian Perspective – Suparlark Nantawan Na Ayudhaya, Roongroje Thanawongnuwech


L.04 Epidemiology and control of porcine circovirus diseases with focus on postweaning multisystemic wasting syndrome – Poul Baekbo, Charlotte Sonne Kristensen, Lars Erik Larsen


L.05 Emerging and re-emerging viruses in swine – X.J. Meng


L.06 Swine-infecting torque teno sus viruses – Tuija Kekarainen


L.07 Better molecular insights in the pathogenesis of PRRSV infections and immune response show the way for more efficient PRRSV vaccines – H.J. Nauwynck, W. Van Breedam, H. Van Gorp, U. Karniychuk, M. Geldhof, A. Cao, M. Verbeeck and M. Vanhee


L.08 The PRRS Coordinated Agricultural Project (CAP): the control and elimination of PRRS – Raymond Rowland


L.09 African swine fever update – J.M. Sánchez-Vizcaíno, L. Mur, B. Martínez-López


L.10 Foot-and-mouth disease in pigs: current epidemiological situation – Emilio A. León


L.11 Influenza A virus in swine: moving beyond 2009 – A.L. Vincent, A. Lorusso, K.M. Lager, P.C. Gauger, M.R. Gramer, J.R. Ciacci-Zanella
Oral Communications
Porcine circovirus
0.01 Outcome of porcine circovirus type 1 (PCV1) in mid-gestational porcine foetuses – D. Saha, D. Lefebvre, U. Karniychuk, M. Geldhof, R. Ducatelle, J. Doorsselaere, H. Nauwynck
O.02 PRRSV enhances PCV2a and PCV2b replication and duration of shedding – T. Opriessnig, A. Sinha, N. Beach, Y. Huang, X.J. Meng, P. Halbur
O.03 Development of a new marker ELISA (BacucheckTM) for compliance testing following the vaccination of piglets against PCV-2 – T. Kuehn, P. Sondermeijer, A. Eggen, K. Fiebig, S. Von Rueden
O.04 Quantification of porcine circovirus type 2 (PCV2) transmission between pen-mates in vaccinated and non-vaccinated pigs – N. Rose, B. Grasland, L. Bigault, R. Cariolet, A. Keranflec'h, A. Jestin, F. Madec.
O.05 A study in Spain of the age at onset of PCV2 infection detected by antibody response to PCV2 virus – M. Jiménez), T. Tejedor, R. Menjón, J.M. Bollo, J.V. López
O.06 PCV2 maternal antibody, not viraemia, is associated with average daily gain in an unvaccinated farm with moderate porcine circoviral disease (PCVD) – J. Harding, C. Auckland, S. Siddiqi, C. Billard, M. Phipps, J. Phipps
O.07 Impact of maternally derived immunity and early PCV2 viraemia in a UK commercial herd – J. Hayden, R. Neto, B. Rice
O.08 Impact of sow vaccination regime on the maternally derived antibody titres in three-week-old piglets – R. Raue, R. White, N. Wuyts, Z. Abdulla, I.A. Nanjiani
O.09 First reported efficacy of a sub-unit PCV-2 vaccine in Australia – G. Pollock, D. Walsh, R. Lising
Emerging viruses
O.10 Peri-weaning failure to thrive syndrome (PFTS): diagnostic investigation to identify possible infective aetiologies – J. Harding, Y. Huang, C. Auckland, B. O'Connor, H. Gauvreau
O.11 Globalisation, global trade and potential emerging pathogens: an example of torque teno sus virus 1 and 2 – M. Cortey, E. Pileri, J. Segalés, T. Kekarainen
O.12 Identification of an antigenically different porcine parvovirus (PPV) isolate in Denmark – S.Ø. Breum, C.K. Hjulsager, C. Shangjin, K.V. Larsen, L.E. Larsen
O.13 Investigation of the prevalence of hepatitis E virus contamination through the pork food supply chain in England – S. Grierson, F. Martelli, A. Berto, M. Banks
Porcine Reproductive and Respiratory Syndrome (PRRS) Virus
O.14 Novel aspects of PRRSV virion composition relevant to immunity and pathogenesis – M.P. Murtaugh, C. Johnson, J. Li, S. Robinson
O.15 Early control of PRRS virus infection – S. Dotti, E. Razzuoli, M. Ferrari, T. Lombardo, N. Martinelli, R. Villa, M. Amadori
O.16 Porcine reproductive and respiratory disease virus (PRRSV) in serum and oral fluid samples from individual boars: will oral fluid replace serum for PRRSV surveillance? – A. Kittawornrat, M. Engle, W. Chittick, J. Johnson, D. Patnayak, C. Wang, D. Whitney, C. Olsen, J. Prickett, T. Schwartz, K. Schwartz, J. Zimmerman
O.17 Impact of selected parameters on efficacy of pen based oral fluid collection of pigs – A. Jablonski, M. Strawa, T. Stadejek
O.18 Differences in cross-protection between two isolates of porcine reproductive and respiratory syndrome virus that differ in their cross-neutralisation profile in vitro – L. Hornillos Gumiel, F.J. Martínez Lobo, F. Díez Fuertes, I. Simarro, J.M. Castro, C. Prieto
O.19 PRRSV challenge of late pregnant gilts vaccinated with an experimental inactivated vaccine – U. Karniychuk, M. Geldhof, M. Vanhee, D. Saha, H. Nauwynck
O.20 Correlation between genetic and temporal distances, ownership and municipality for porcine reproductive and respiratory syndrome virus strains identified in herds from Quebec, Canada – S. D'Allaire, M.È. Lambert, B. Delisle
O.21 porcine reproductive and respiratory syndrome virus: area regional control and elimination, the next level – L. Batista, J.P. Cano, E. Mondaca, E. Diaz, R. Philips, D. Polson
O.22 Use of air filtration as a means for reducing the frequency of PRRSV infections in large breeding herds in swine-dense regions – S. Dee, G. Spronk, D. Reicks, P. Ruen, J. Deen
Re-emerging viruses
O.23 Towards a DNA-vaccine against African swine fever: an ongoing effort – A. Lacasta, M. Ballester, F. Accensi, J.M. Argilaguet, E. Pérez-Martín, M. Mora, P.L. Monteagudo, J. Pujols, M. Nofrarías, S. López, I. Galindo, J. Segalés, E. Blanco, C. Gallardo, J. Escribano, M. Salas, J. Rodríguez
O.24 Claasical swine fever virus resists IFN-beta-mediated priming of conventional dendritic cells for enhanced IFN-alpha response – L. Hüsser, L. Guzylack-Piriou, A. Summerfield
O.25 Improved tools and strategies for the prevention and control of classical swine fever using a live recombinant vaccine (DIVA) – S. Juanola, B. Alberca, A. Uttenthal, M.F. Le Potier, G. Kulcsár, W. Loeffen, G.M. De Mia, M. Hofmann, S. Rossi, R. Gao, S. Belák, V. Moennig, M. Sánchez-Vizcaíno, T. Hans-Hermann, P. Calistri, F. Koenen, M. Beer, J. Plana-Durán
O.26 Experimental infection of warthogs (Phacocherus africanus) and bushpigs (Potamochoerus karvatus) with classical swine fever – T. Drew, H. Crooke, R. Gurrala, R. Dwarka, J. Kim, B. Botha, A. Lubisi, A. Pardini, S. Gers, W. Vosloo, H. Everett
Influenza virus
O.27 Swine influenza H1N2 reassortant with the pandemic H1N1 (2009) virus in South Korea – J.Y. Han, S.J. Park, H.K. Kim, S. Rho, V.G. Nguyen.
O.28 Pandemic influenza A H1N1V circulates in Danish pigs – C.K. Hjulsager, S.Ø. Breum, L.P. Nielsen, R. Trebbien, L.E. Larsen
O.29 Pandemic influenza virus outbreaks in Norway 2009 and 2010: a case-control study in swine nucleus and multiplier herds: preliminary findings – C.A. Grøntvedt, C. Er, B. Gjerset, A. Germundsson, T. Framstad, E. Brun, A. Jørgensen, B. Lium
O.30 Swine influenza active surveillance in the United States – C. Corzo, M. Gramer, J. Lowe, R. Webby
O.31 Genetic diversity among swine influenza A virus isolates from herds with clinical diseases in Argentina between 2008 and 2010 – A. Pereda, A. Rimondi, J. Cappuccio, R. Sanguinetti, A. Matthew, Y. Jianqiang, T. Sutton, M. Dibarbora, V. Olivera, M.I. Craig, M.A. Quiroga, M. Machuca, H. Barrales, H. Barrales, L. Insarralde, C. Perfumo, D. Perez
O.32 Longitudinal study of swine influenza virus infection and phylogenetic analysis of H1N1 isolated in a farrow to finish farm – M. Simon-Grifé, G.E. Martín-Valls, M.J. Vilar, M. Mora, M. Martín, N. Busquets, E. Mateu, J. Casal
O.33 Dynamics of influenza transmission in vaccinated and non-vaccinated pig populations – M. Torremorell, A. Romagosa, M. Gramer, H.S. Joo, J. Deen
O.34 Distribution of influenza A viruses of avian and swine origin and their sialic acid receptors in experimentally infected pigs – R. Trebbien, L.E. Larsen, B.M. Viuff
O.35 Comparison on immune responses generated and protection to challenge in pigs vaccinated with current adjuvenated and non-adjuvenated pandemic H1N1 influenza vaccines – E.A. Lefevre, B.V. Carr, C.F. Inman, H. Prentice, I.H. Brown, S.S. Brookes, F. Garcon, M.L. Hill, M. Iqbal, R.A. Elderfield, W.S. Barclay, M. Bailey, B. Charleston, COSI Combating Swine Influenza
Posters
A one-page summary of each of the 257 posters is included in the proceedings.
Further Reading
Further Reading
| | | |
| --- | --- | --- |
| | - | Find out more information on the diseases mentioned in this article by clicking here. |
updated April 2012