Seven Key 'Risk Drivers' Pork Players Should Watch
Business today moves at a high rate of speed. Fittingly, so did the detailed analysis of Richard Shanks, national managing director for Aon Risk Solutions – a top risk advisor to many of the world's leading companies – who downloaded a wealth of thoughts and advice in a talk on risk management at the 2012 Banff Pork Seminar.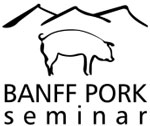 "Managing risk today is more complex than ever," said Mr Shanks. In a dynamic, fast-changing, globally connected world, brands and even industries can rise and fall dramatically in response to events both within and outside their control.

"One of the biggest mistakes you can make is thinking 'it won't happen to us.'" he said. "Look at BP. Look at Toyota. Look at what something like a foot and mouth outbreak could do if it happened here. The key thing is to understand risks and manage them. You can't guarantee to avoid them, but you can mitigate them."

One key concept Mr Shanks shared was his take on 'seven industry risk profile drivers' that livestock industries, including the pork industry, should be aware of today.
Richard Shanks
Growing consumer food safety concern. Fringe groups, the media and the fact one in six people will develop a foodborne illness every year are all factors behind data showing about half of people in the US are not confident about the food system.


Increased supply system complexity. With a 'logo salad' of food brands on his presentation slide, Mr Shanks drove home the point that all represent complex, independent, yet widely overlapping food systems – ones where it is easy for negative events to spread quickly and damage many.


Global sourcing risk increases. Global connections can undermine domestic food security, he said. A product while branded Canadian or American may be sourced through dozens of parts of the world, some of which may not have the same standards or oversight.


Regulatory changes. These come and go but always carry the potential to send waves of shake-up throughout an industry. Country of origin labelling (COOL) is one recent threat the Canadian pork industry knows well that stands as a good example.


Increasing product recall events and costs. "The expectations are higher than ever and that can mean huge costs that can cripple or even bankrupt a company or industry," Mr Shanks said.


The media multiplier effect. "Media coverage has today has a tremendous impact on how quick things can turn," he said. "It makes crisis management more important than ever. Maple Leaf in Canada is an example of how to do it right, under intense media pressure."


Greater pressure for sustainability. "We all know this is raising expectations across the board. One thing for sure is it's not going away. There will continue to be greater pressure for sustainability. One factor under this umbrella he sees as a potential game-changer is pressure around water use. "Water is going to be a major stress factor through 2050. It's an issue as a pork industry you need to be on top of," Mr Shanks concluded.
Further Reading
| | | |
| --- | --- | --- |
| | - | You can view other articles from the Banff Pork Seminar 2012 by clicking here. |
March 2012