Supplying iron safely to pigs
Choosing the right iron programme makes a big difference to the health and performance of the herd.
The iron dilemma
Piglets are born with low iron reserves of around 50mg. This disadvantage is coupled with the fact that sows' milk is low in iron. Depending on rate of gain, piglets need at least 7 to 16 mg of iron a day – but suckling only provides them with 1 mg per day. In the wild pigs would acquire a small amount of iron from the soil during rooting behaviour, however, modern piglets have very fast growth rates – in the first 60 days of life they increase their body weight 10-fold. This means that high levels of supplementary iron are required.
Iron requirements
Iron is essential for optimal health and growth of pigs. Adequate levels of iron are needed to produce haemoglobin and myoglobin - proteins that enable red blood cells to carry oxygen around the body. Adequate levels of iron are also required to produce essential proteins and enzymes. Over their lifetime, much of a pig's iron requirements will be met by its diet of both from raw materials and feed additives, however, in the first weeks of a piglet's life, when feed intake is very low, they need a supplemental supply of iron.
Worldwide piglets are commonly injected with a 200 milligram dose of iron shortly after birth. This amount is sufficient to support four kilograms of weight gain. Due to ever increasing growth rates, a young piglet's iron stores are quickly depleted. Therefore, a second dose is often needed 7 to 14 days later, before the pig is weaned. Trials have shown this strategy to improve piglet weight gain by 17-20 grams per day, during the first three weeks post-weaning.
Iron deficiency vs anaemia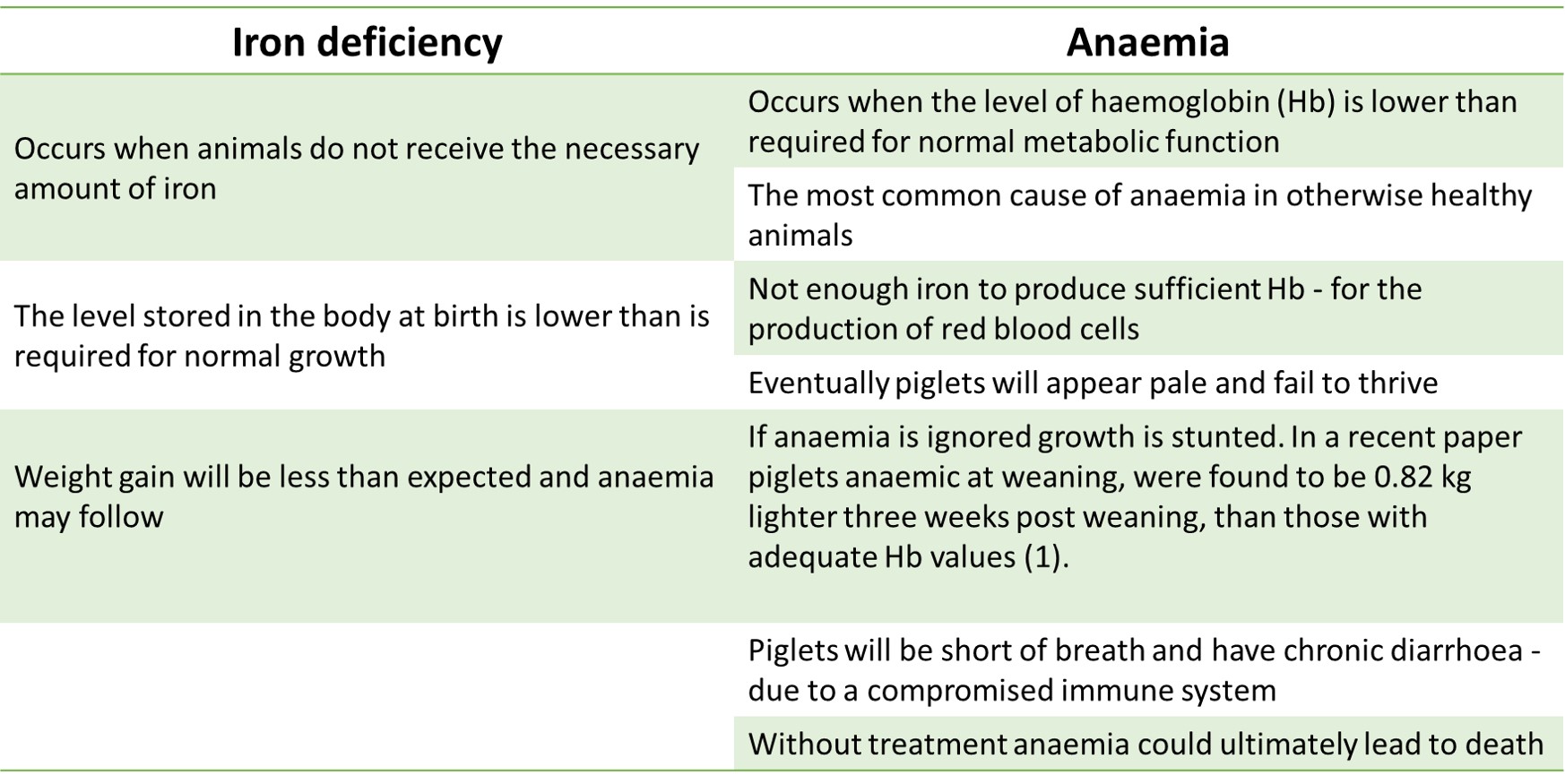 New scientific findings
An FDA-certified independent laboratory (Lab 2) and the Iowa State University Veterinary Diagnostic Lab (ISU) analysed 16 iron injectable products (Table 1). They were blind tested to discover the level of arsenic, cadmium, chromium, cobalt, lead and mercury. An inductively coupled plasma mass spectrometry method was used. All of the products were approved for use in pigs, by the authorities in the countries where they were sold.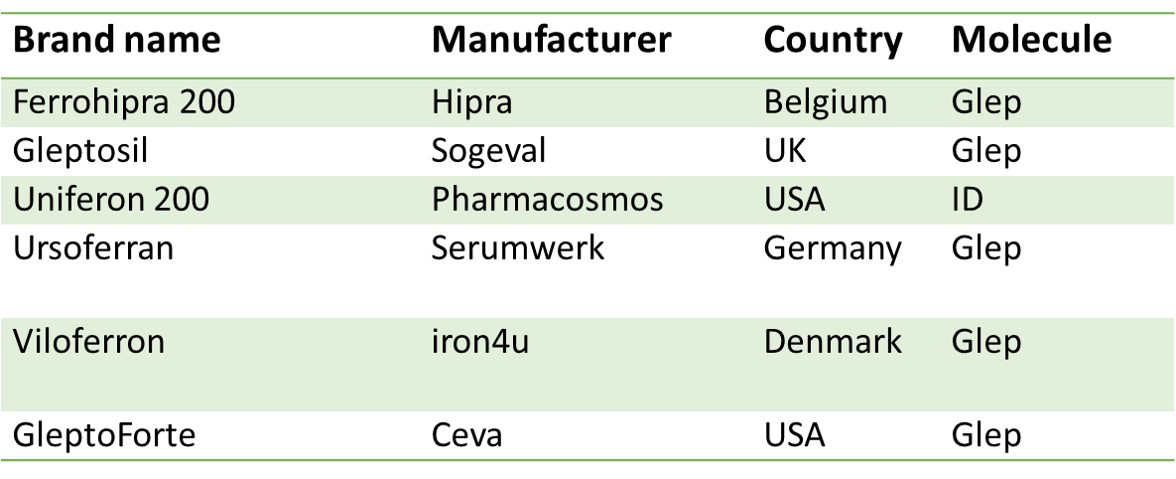 The levels of heavy metals found were weight adjusted to compare with doses given to piglets. In 15 of the products the concentration of arsenic, chromium and/or lead exceeded the permitted daily exposure (PDE) limits for human drugs. Cadmium, cobalt and mercury were either at non-detectable levels, or at a concentration well below PDE limits, in all of the products tested. Figures 1a-c detail the results, for a selection of the products, sold in Europe and North America.
The study, published in the Journal of Swine Health and Production (JSHAP), concluded that arsenic, chromium and lead could inadvertently be administered to pigs receiving iron injections. Only one product, Uniferon (Pharmacosmos Inc, Watchung, New Jersey), had levels of chromium, lead and arsenic below PDE limits. However, more than half of the other products were found to contain levels of chromium, arsenic and lead that exceeded PDE limits by more than 25 percent.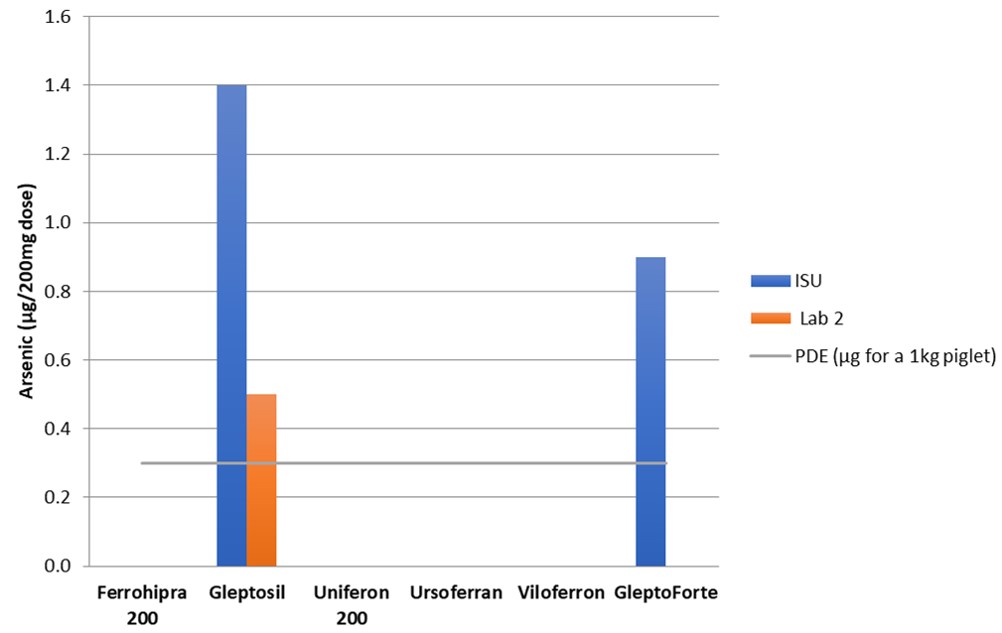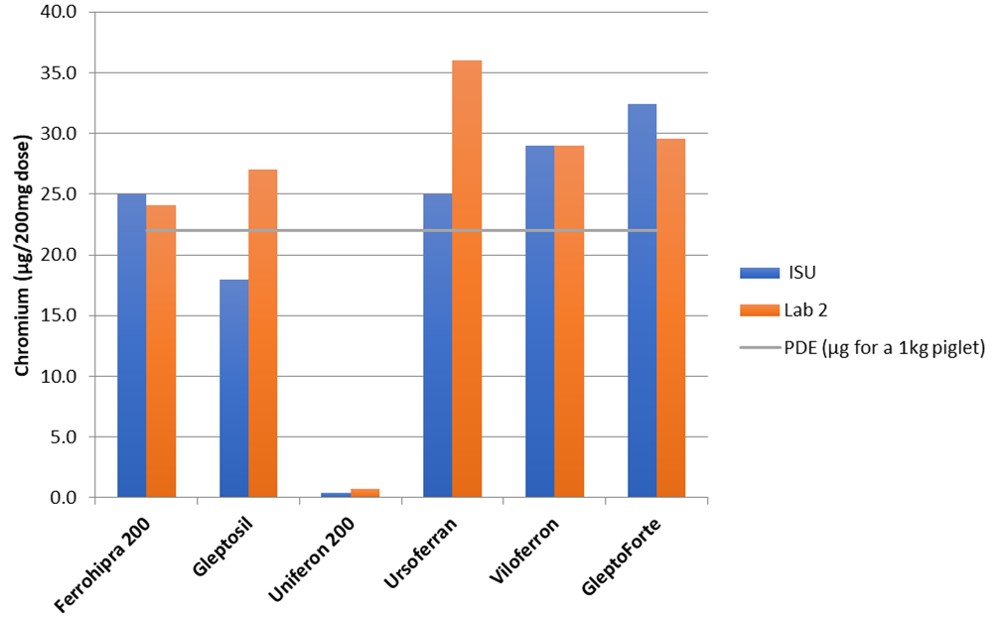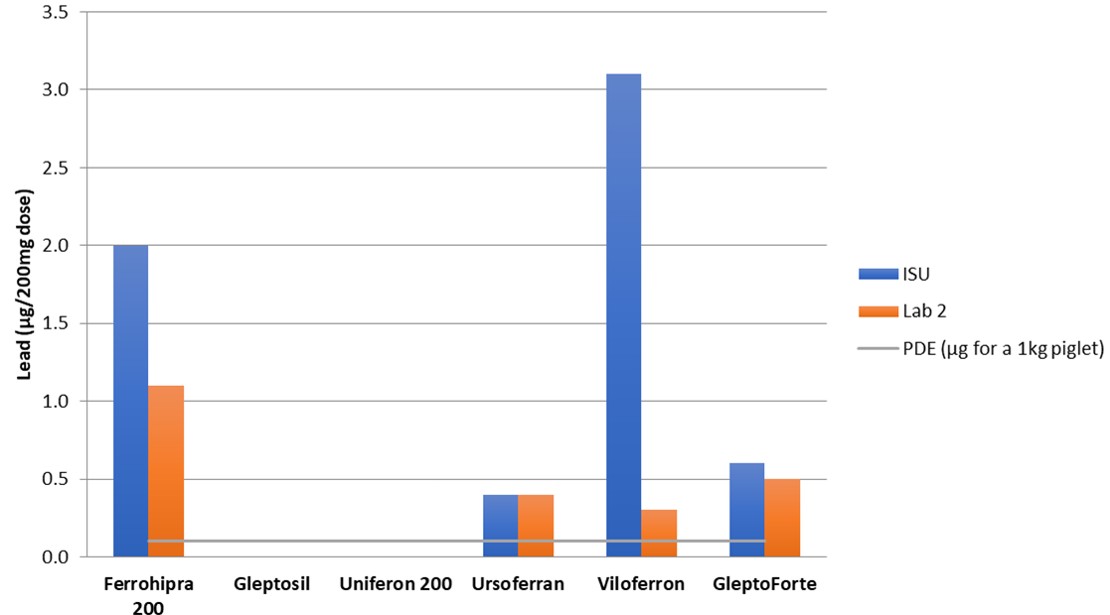 Choosing a suitable product
As this new study shows, iron is not just iron. The purity of injectable products depends on the steps employed to avoid and remove impurities introduced during manufacture. The fact that one brand of injectable iron met human pharmaceutical standards demonstrates this goal is achievable and reinforces the need for PDE limits to be set for veterinary products.
Iron supplementation of pigs is undeniably important. To maintain health and profitability of the herd, the industry needs iron injectable products. Producers and veterinarians need to be aware that heavy metals don't belong in these products. Not only should the product consistently deliver the correct amount of iron, it shouldn't be contaminated. The potential for iron products to deliver elevated levels of heavy metals to very young piglets is of grave concern. There is no need to compromise – pig producers can now make an educated choice on how to safely and effectively prevent iron deficiency and anaemia.
References
References
[1] Perri AM, Friendship RM, Harding JSC, et al.
(2015)
An investigation of iron deficiency and anemia in piglets and the effect of iron status at weaning on post-weaning performance. J Swine Health Prod
24(1):10-20
[2] Radke SL, Olsen CW, Ensley SM.
(2018)
Elemental impurities in injectable iron products for swine. J Swine Health Prod
26(3):142-145