Training gilts for electronic sow feeding: the fundamentals of success and pitfalls to avoid
The transition to group housing during gestation in North America requires many adjustments. Best practices continue to be developed as the number of group-housed sows steadily grows. In a 2016 survey, PIC found that around one third of the US pig herd is now housed in some type of group housing.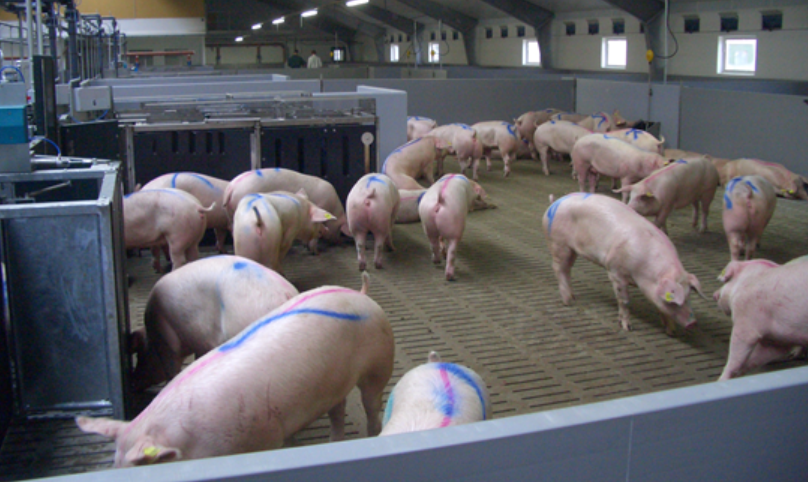 "We believe that over the next five years that figure will continue to increase significantly as a response to market demand," notes Dr. Pedro Mosqueira, technical services manager at PIC North America. "There are many aspects of group housing that farm staff need to be aware of and prepared for, such as the use of electronic sow feeders (ESF). This way of feeding is foreign to gilts, and therefore training is not only necessary but fundamental to the success of ESF use."
Gilt training for ESFs can be achieved in different ways, but Mosqueira notes that all methods should have three aspects in common. "Consistency, discipline and planning are critical," he explains. "If the sows aren't trained properly with these aspects in mind, it could result in feed disruptions during the critical early gestation period, lower reproductive performance, higher culling rates and higher mortality. It can also create frustration and anxiety among staff."
Both owners and employees of the operation should be well prepared ahead of the gilt training. They should understand that training will take extra time and therefore requires extra resources.
Mosqueira adds that it's important to put a specific person in charge of the training procedures, and for all trainers to demonstrate consistency when training begins (when gilts are between 20 to 24 weeks old). A practical tip is to start training on a Monday to get the first part of the training done before the weekend begins.
Staffing, training and attitude
Part of trainer preparation should include a visit to farms that use ESFs today. "This will help trainers immensely," Mosqueira explains. "They will observe first-hand how it all works. Seeing it with their own eyes will give them the confidence to believe they can be successful in training their own gilts. I can't stress how critical it is that employees cultivate a positive attitude. If people think it won't work, there is a large chance it won't work. I've seen many times that employees coming from traditional individual-housed farms can quite easily set themselves up for failure with negative beliefs."
While some farms achieve almost 100 percent trained gilts, trainers should understand that in the early days of training, some gilts won't eat all the feed and other gilts won't eat at all. An un-trainability rate of up to 3 percent is acceptable. A higher rate indicates an adjustment to the training approach may be needed.
Mosqueira has found that the most successful gilt trainers possess not only confidence, but also patience, and a good understanding of animal behaviour. These successful trainers effectively use the computer to look up information on individual females that are having trouble.
PIC North America estimates that three extra full-time employees are needed on a 5,000 ESF group-housed sow farm during stocking, and that afterwards, one additional person per 5,000 inventoried sows is likely to be needed to manage the ESF-related activities. This could include checking on sows that are not eating, conducting basic maintenance of the system, and training replacement gilts.
Training basics
Mosqueira stresses that ESF training must be a positive experience for each gilt. Adequate time must be provided for each of them to become comfortable with entering the feeding station. "Use feed at the entrance to get her curious and help her understand that this experience is about feeding," he says. "Once a gilt is in and finds the feed, the procedure is complete. Let the gilt eat inside the feed station for at least ten minutes. If you are using two training pens at the same time, you can work with a gilt in one station, while a gilt in the other station is eating. Never chase the gilt, but let her enter the feeding station by herself." Chasing gilts can stress them and can decrease the probability of having a successful training outcome. However, there are times when employees may have to move gilts along; for example, if they don't want to leave the feeding station after feeding, or if they are having difficulties entering the feed station with half of their bodies inside and half out.
Training usually lasts from two to three weeks. "Training longer than two weeks can be beneficial to imprint a more solid intake behaviour," Mosqueira notes, "but keep in mind that longer training implies longer feed restriction, which could have negative effects for the gilt."
Best practice is to aim for 30 to 40 gilts per pen. Mosqueira strongly advises against more than that. If there are more than 40 gilts, it is likely that at the end of the day not all of the gilts have entered the feeding station, which can result in stress and poorer training results. Mosqueira recommends a minimum of two weeks of full feed prior to breeding to maximize the first litter size.
Tracking results
After every group goes through the process, Mosqueira recommends that they record the percentage of gilts that are successfully trained. "Monitor the percentage of un-trainable gilts every week, and consider changes in training protocol and/or employees if it's consistently higher than 3 percent," says Mosqueira. "Groups of gilts where the percentage is higher could be given another training session or un-trainable gilts could be culled. It is recommended to cull gestating sows that frequently fail at utilizing the ESF system."
Mosqueira concludes that group housing is here to stay and that ESF systems will become more popular. ESF and other electronic/computer-based systems will create new opportunities to access real-time information for better management decision-making. "With the proper preparation and mindset," he concludes, "success with ESF gilt training is achievable and can improve the overall performance of the sow farm."