Transdermal devices for swine: innovation or gimmick?
Despite transdermal devices (TDs) having advantages in delivering vaccines and medicines in swine, training and maintenance could slow their wide adoption in the industry.
According to a paper by Christopher Chase in National Hog Farmer, vaccine technology has improved. Vaccines are safer, more compliant with international standards, and have higher rates of efficacy than previous versions. In the veterinary sector, newer vaccines cause less stress for animals than their predecessors. Many of the innovations in veterinary vaccines are focused on transitioning away from the needle and syringe delivery system to needle-free versions. This transition could be a tremendous boon to disease control in the swine industry
Needle and syringe vaccines are still the most common method used by swine veterinarians: it's inexpensive and easily adaptable to different settings. However, there are notable advantages to needle-free methods.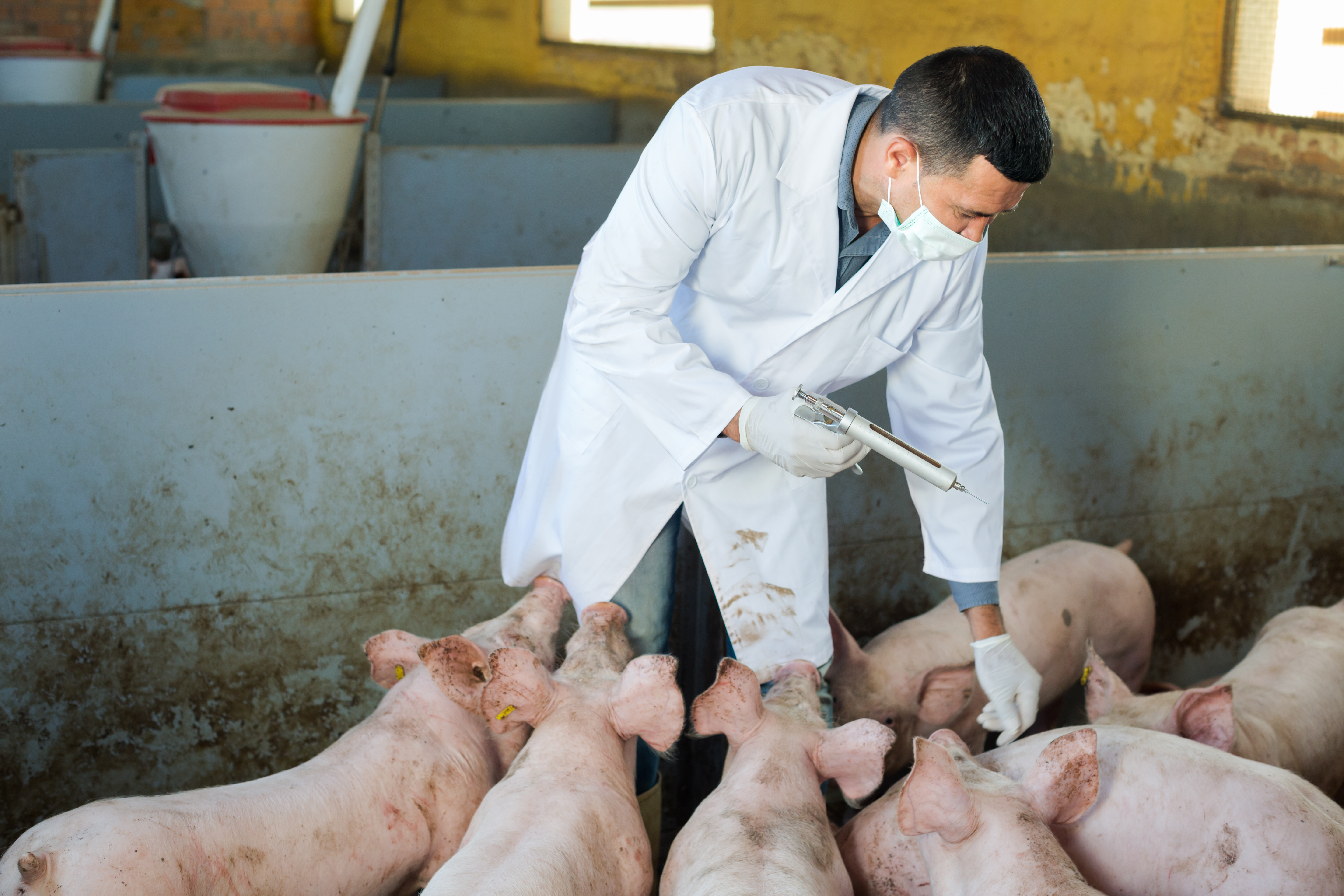 By adopting a needle-free transdermal device (TD), vets can eliminate the risk of broken needles, accidental needle sticks, and needle disposal infrastructure. From an industry perspective, eliminating broken needles and accidental needle sticks are important health and safety goals. When it comes to the vaccine itself, delivering it by needle-free methods can ensure consistent vaccine delivery and that a reduced volume of the active agent is used. It is also associated with higher antigen dispersion after delivery. From a welfare perspective, using a TD can limit the pain and distress associated with traditional needle and syringe administration.
There are some disadvantages with needle-free vaccines. The start-up costs associated with the equipment can be prohibitive. Many of the needle-free systems are complex mechanical systems and can only be operated by technicians with a high level of expertise. There are also regional variations in the TDs available to vets. The maintenance costs for these systems may also keep them out of reach for certain practices. In many cases, it isn't possible to completely replace needle and syringe.
From a user perspective, transdermal and needle-free vaccines can present some challenges when compared to traditional needle and syringe systems. TDs are calibrated to deliver vaccine when the device is perpendicular to the skin. This means that if a vaccine is delivered at an acute or oblique angle, it may not distribute within the tissue properly, and not yield good results.
Users may also be uncertain as to whether or not the needle-free device vaccinated the animal. The animal would not react to the "stick" associated with needle and syringe vaccines. In addition, there would be no "wet" appearance at the injection site. This lack of user feedback may lead to uneven vaccination rates, and potentially limit the benefits of vaccines.
One of the potential benefits of using transdermal devices to deliver vaccines is that it would limit the animal-to-animal spread of diseases when compared to needle administration. Though certain case studies have demonstrated that TDs have decreased rates of disease transmission when compared to needle and syringe vaccines, transmission did occur. An improvement in this area should not be conflated with animal-to-animal transmission being eliminated.
In general, the advantages of TDs will mean that more vets will adopt the technology. However, the training and maintenance requirements of TDs may keep them from being widely adopted in the foreseeable future.
You can read the full article here.