USDA Livestock & Poultry Report: China in focus for pork industry
Major pork exporters look to markets outside China.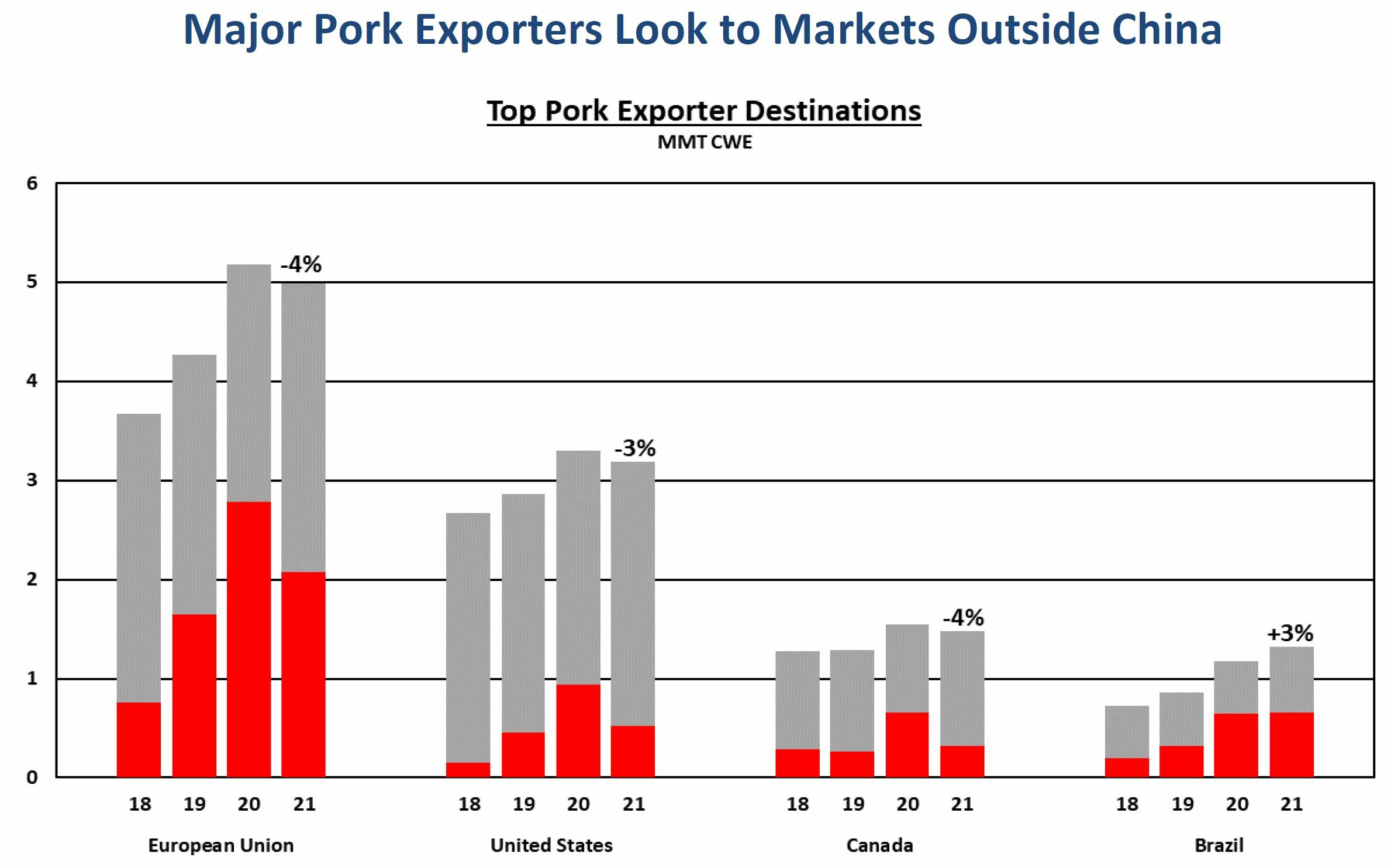 China's import demand for pork surged in the wake of supply deficits caused by African swine fever. As pork production declined by nearly a third in 2020, imports nearly quadrupled and China accounted for more than 40 percent of global trade to satiate the world's largest consumer of pork. Hog sectors around the world – spurred on by sky-high prices in China – expanded production, shifted product out of their domestic markets, and redirected pork from other destinations. Among the four largest exporters in 2020, the share of exports destined for China ranged between 29 and 55 percent on a volume basis.
Pork trade with China remained firm in early 2021 and grew 20 percent year-over-year in the first quarter. However, by May, imports slipped below year-earlier levels and by December, imports were more than 60 percent or 300,000 tons lower than the same month in 2020. Recovery in China domestic pork output as well as greater supplies of other meat weighed on pork prices and disincentivized trade, pushing 2021 imports nearly 20 percent or about 1 million tons lower than the record levels of the prior year.
As China imports eased in 2021, major exporters sought alternative markets – though most, with the notable exception of Brazil, were unable to reallocate such large supplies and trade declined. China pork imports are forecast to decline nearly 20 percent and push global trade lower, more than offsetting a recovery in demand among other major importing countries as they recover from COVID-related disruptions.
As growth in other markets will again not offset the decline in China, most major pork exporters will experience a second consecutive year of contracting shipments. The European Union (EU), the top pork supplier to China and the world's largest exporter, is forecast to see exports decline 5 percent to just under 4.8 million tons this year. Exporters in the EU are expected to find some relief from lower China demand in the form of stronger demand in the United Kingdom, where imports are projected 7 percent higher in 2022.
The EU will also boost shipments to Japan, South Korea, and Australia, countries to which EU exports declined in recent years as sales shifted to China. Competitive EU carcass prices compared to U.S. and firm demand will propel higher shipments to these markets in 2022.
Meanwhile, U.S. pork exports are forecast 6 percent lower year-over-year. China demand for U.S. product was among the first to come under pressure, with U.S. shipments to this important market falling during every month of 2021 compared to the previous year due to high U.S. prices and retaliatory tariffs. These factors are expected to persist in 2022 causing further declines in U.S. market share.
Partially offsetting losses in China, demand for U.S. pork is expected to grow in Mexico, the world's third largest pork importer, where U.S. market share has been consistently higher than 80 percent. Tight labor availability in the United States should continue to spur shipments of bone-in hams to Mexico, which grew 27 percent year-over-year in 2021 and have shown similar strength this year.
Additionally, Mexico is well positioned to supply Japan with the labor-intensive cuts it demands, keeping exports as a share of production above 20 percent for the third consecutive year and creating an opportunity for U.S. product to augment domestic consumption. Plus, limitations on Mexico turkey meat imports due to Highly Pathogenic Avian Influenza discoveries in the United States may also support increased pork imports.
The United States continues to maintain a position as the dominant supplier to a variety of markets in Latin America that experienced growth in import demand during 2021. Going forward, Colombia and the Dominican Republic are expected to grow further, although more slowly than last year as high U.S. prices create headwinds.
Canada exports are expected to decline modestly in 2022, sliding 1 percent year over year. Like the United States, Canada faces headwinds in China. Currently, the majority of Canada pork production remains suspended from China due to reported COVID cases at several plants; however, most cases occurred months ago and do not necessarily represent active outbreaks. Tight supplies in the United States – Canada's top export market– will help offset declines to China.
Of the four largest exporters, only Brazil saw overall shipments grow in 2021 on strong production gains, competitive prices, and a weak real. Even exports to China increased year over year as Brazil boosted its share in that market to 16 percent. In 2022, Brazil is expected to sustain aggregate exports, seeing modest growth of less than 1 percent. In China, Brazil will likely capture a larger portion of a shrinking pie due to more competitive pricing than other major exporters. Meanwhile, Brazil continues to perform well in Vietnam and the Philippines and demand is growing in neighboring Argentina and Uruguay.