The Reshaped Competitive Landscape of China's Pork Import Market by German ASF
Angela Zhang, Head of Business Intelligence Division at IQC Insights, outlines the new competitive landscape created by the introduction of African swine fever (ASF) virus in wild boar in Germany.
The flap of a butterfly's wing in Brazil could set off a cascade of atmospheric events which further spurs the formation of a tornado in Texas. This chaos theory of butterfly effect might help us better understand to what extent the German African Swine Fever (ASF) confirmation can influence the global trade market, especially for China's pork import.

German fattening pig price steeply dived by 13.6% the next day after the ASF virus was detected on a wild boar carcass on September 10, 2020 in Brandenburg state, Germany. Meanwhile, the lean hog futures opened limit up in USA. Obviously, the global market speculators have picked out for us the most potentially benefiting country.
As the largest pork producer and exporter in Europe, Germany ranked the 2nd both in pigmeat (16.3%) and offal (16.8%) exporting to China last year, next to Spain and USA respectively. In 2019, China totally imported 491,932 tons of pigmeat and offal from Germany. When it comes to 2020, stimulated by the domestic slumping pork production and soaring price, the import volume of pork from Germany to China increased by 80.5% in the first seven months, compared with the same period of last year. The total seven-month volume of 471,945 tons was also close to its full year level in 2019. Nevertheless, it was still overtaken by the USA and Spain both in pigmeat and offal by this July.
This now begs the question: which exporters could fill the gap caused by the German absence in China's pork import market?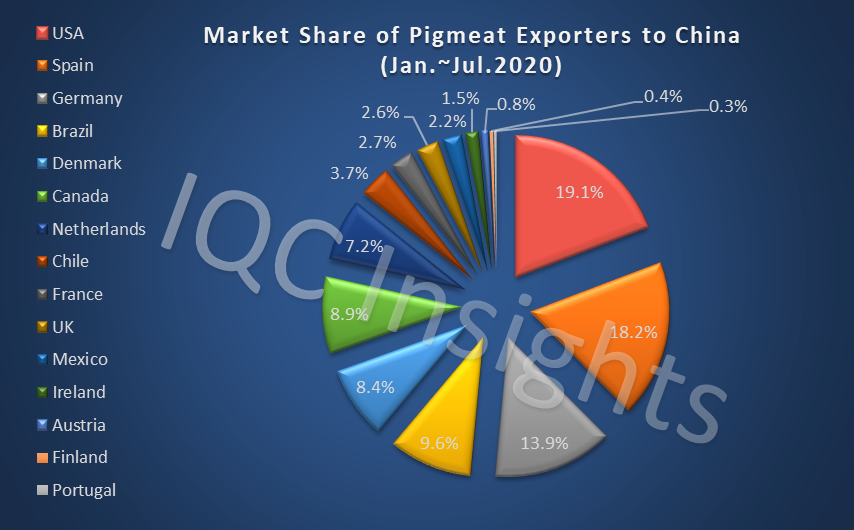 The above chart tells us that the most potential candidates to take the market share of German pork: USA, Spain, Brazil, Denmark, Canada and Netherlands. These exporters, together with Germany, occupied 85.2% of China's pork import market in the first seven months of this year. But that does not mean they are equally competitive in replacing Germany.

Among these European exporters, Spain is undoubtedly the most potential candidate, supported by its growing pork production capacity and weak domestic consumption this year. As an export-oriented country, Spain exported 1.2 million tons of pork to EU countries (including the UK) and 1.1 million tons to non-EU countries in 2019, occupying 26.1% and 23.9% among its domestic pork production during the same period, while its export volume to China only accounted for 13.8%. Driven by idling pork demand and higher profit margins from China market, it can be expected that Spanish suppliers would move their focus more on China. Furthermore, its increased sow inventory (up 3% y-o-y last December) and more investment in slaughter and cutting facilities would also provide strong backup for booming export.
Denmark and Netherlands are less competitive, not only because they have lower pork production capacity than Spain and Germany, but more specifically, Denmark and Netherlands export over 10 million weaners each year to Germany. Considering the ASF risks, the transport for the weaners could be stopped to some extent, while there should not be enough capacity to finish these pigs in Denmark and Netherlands, first leading to a surplus and then a shortage.
In terms of the three American countries of USA, Canada and Brazil, as shown in the following chart, Canada highly relies on pork export, with 63.6% of its pork exporting to other countries in 2019. It indicates that Canada has much less growth space than the EU, USA or Brazil.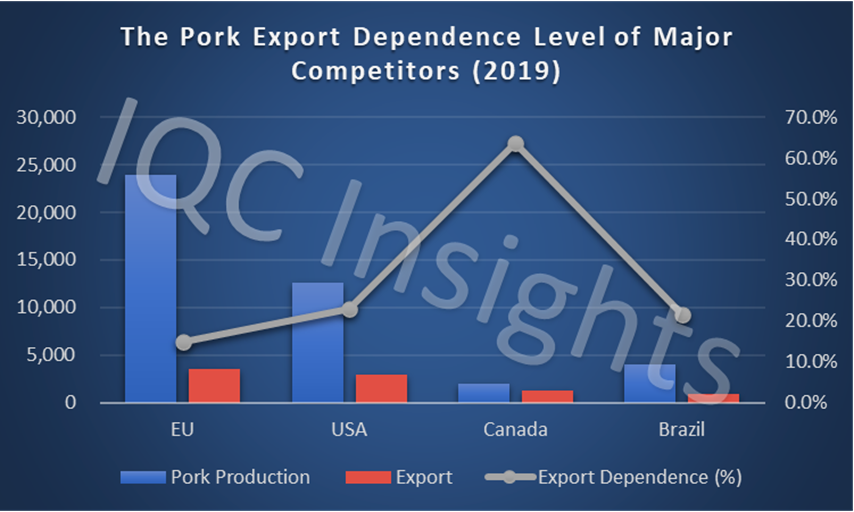 For USA and Brazil, their export dependence rate is close to each other, but the USA obviously takes the advantage of larger pork production and slaughtering capacities, even more competitive than Spain in this aspect. From this January to July, USA has already achieved the largest market share both in pigmeat and offal export to China, while the current market share of Brazilian offal to China is negligible. Nevertheless, the disadvantages of USA in the competitive landscape should also not be overlooked.
Different product specifications - On one hand, German products are popular in China's pork import market thanks to their large and stable supply as well as good quality reputation built up over the past years. USA can take the place of Germany with some products, but not all, especially for those products with different cutting specifications.
EU's approach on regionalization - On the other hand, according to the relevant regulations by the EU, pork from unaffected German regions can continue to be traded within EU member countries. Driven by the higher margins of China's pork market, major European exporters from Spain, Denmark, Netherlands and France are more likely to import German pork for their domestic consumption while exporting those pork products originally designated for domestic sale. Under such circumstances, the total pork export volume, available for all EU countries as a whole to China, would not be greatly influenced.
Three important wildcards
Besides the above-analyzed scenarios for the potential competitive landscape in China's pork import market, there are three important wild cards to take into account:
Regional ban for German pork products from China – It is said that despite the current full ban on German pork products, German authorities are still negotiating with their Chinese counterparts and striving for a regional ban only for pork products from those infected areas. Since European countries are close to each other geographically, the remaining ones are also at risks of ASF more or less. In view of its domestic tight supply-demand situation for pork and the currently unstable Sino-US relations, it is possible that China would consider such options to ensure enough pork supply before the domestic pig industry is fully recovered.
Belgian pork ban to be lifted – It has been nearly two years since Belgium reported its first ASF case in September 2018. In case there are no more infected pigs or wild boars, Belgium could regain its ASF-free status this autumn. Accordingly, there is market speculation that China could lift the ban on Belgian pork at that time.
The second wave of COVID-19 globally – After successfully surrendering COVID-19 early this year, major exporting countries are witnessing a resurgence recently. Especially for France, Spain, Netherlands and Canada, cases of COVID-19 are spiking again and they have started to tackle the much-feared second wave, not to mention the USA with the most cases confirmed in the world. Even if in China where COVID-19 has been well under control, local experts are also warning and pushing people to remain cautious for the highly possible second wave in winter. The resurgence would make huge impacts not only on pork consumption (especially for the foodservice industry) but also on the pork supply, such as slaughtering and processing capacities as well as cross-border logistics.
All in all, as the most important target market for global pork traders, China's domestic pork supply-demand situation determines how many containers of pork are really needed to purchase from overseas exporters. On the supply side, the domestic sow inventory achieved a y-o-y increase rate of 37% and the live hog inventory 31.3% by this August, indicating that the tight supply situation could ease up in Q4 2020; on the consumption side, the forthcoming three traditional holidays (Mid-Autumn Festival & National Day in September and October, Spring Festival in December and next January) would greatly stimulate domestic pork consumption demand, together with the recovering foodservice industry.
We can come to the same conclusion as I have stated in my previous article H1 2020 Review: China's rapidly shifting pork import market under COVID-19. It is the best of times for those correctly appraising the situation; it is the worst of times for those missing the boat.
As reported by Angela Zhang
Seeking more in-depth analysis and supply chain insights and investigative research into China's animal protein markets?
Please contact [email protected] and visit our affiliate website www.iqc-insights.com for more information and to schedule a call with our analyst.
September 2020 - December 2018
---