What does 2019 hold for China's pork import market?
Angela Zhang, Head of Business Intelligence Division at IQC Insights, provides an in-depth analysis of China's pork import market over the last 12 months and adds her predictions for the industry in 2019.
China's pork import market 2018: a slight decrease in pork and a slump in offal
Throughout 2018, China imported a total of 1,192,828 tonnes of pigmeat and 946,730 tonnes of offal, declining by 2.0 percent and 23.4 percent respectively on a y-o-y basis. The Sino-US trade war and imposed two-round additional tariff on USA's pork and offal could explain the sharp drop in offal import volume. In 2018, despite retaining its top importer position, the USA's offal export volume to China plummeted by 57.5 percent on a y-o-y basis to 177,041 tonnes, occupying 82.8 percent of the totally decreased offal volume from all exporters to China in 2018.
As shown in the following chart, China's pork import market exhibited movement in 2018 similar to that of 2017, excluding February which saw a y-o-y decrease rate of 35.0 percent between 2017 and 2018. This can be primarily attributed to the high prices being demanded by overseas pork suppliers.
The stable monthly pork import trend in 2018 also indicates that the outbreaks of ASF in China since 3 August, 2018, did not pragmatically stimulate the increase in pork volume in the months following, primarily because the national average pork price remained gloomy during the same period.
Among all pork exporters to China in 2018, Germany ranked top with a market share of 19.1 percent and a y-o-y growth rate of 7.8 percent. However, when it comes to offal, with a market share of 14.0 percent and a y-o-y decrease rate of 10.1 percent in 2018, Germany was surpassed by Denmark last year and dropped to third place.
In the past year, Brazil benefitted greatly from the Sino-US trade war and the outbreak of ASF in China. Its pork export volume to China rose by 208.1 percent on a y-o-y basis and reached 150,091 tonnes. Accordingly, its market share also increased from 4.0 percent in 2017 to 12.6 percent in 2018, ranking fourth in 2018 and exceeding competitors, such as the USA, Denmark, Netherlands and France.
The continuous spread of ASF has enlarged the price gap of live pigs between those typical production-surplus and consumption-heavy provinces in China. However, when it comes to imports, these provinces have remained largely unaffected by ASF. Excluding the exchanged ranking between Hunan and Henan before and after the disease outbreak, other key Chinese provinces have remained relatively stable in the market share of pigmeat import.
The evolution of China's pork import volume and price gap: more complicated in 2019
Profits will always be of the utmost importance and China's pork import volume depends largely on the gap between domestic and imported pork CIF prices.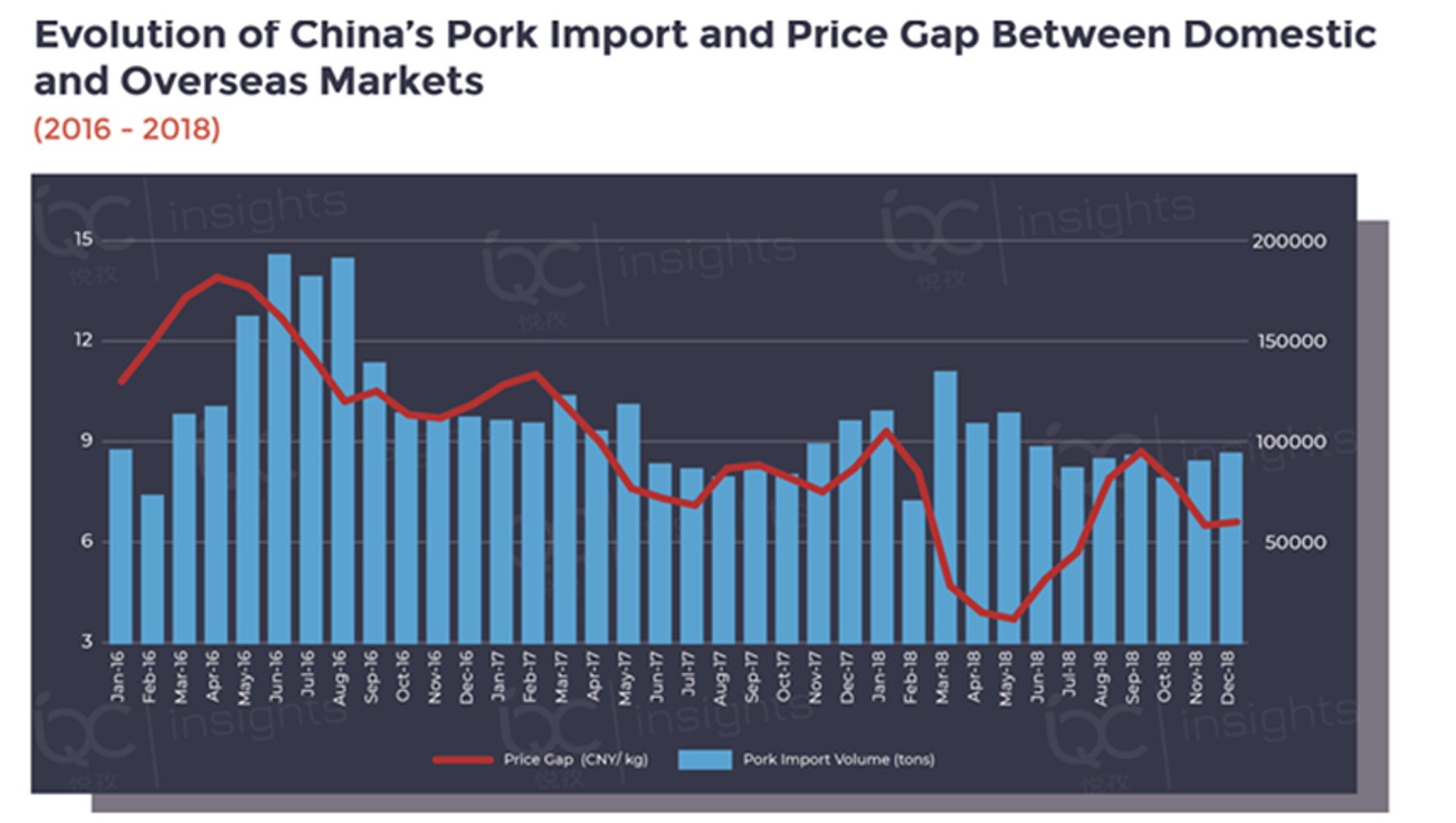 As shown in the above chart, the price gap was greatly narrowed during the three months from March to May 2018, mainly because of the slumping domestic pork price at that time. Considering the ordering and shipping time of imported pork, China's pork import volume remained week from June 2018 onwards.
This said, besides the domestic and overseas price gap, there could be other influencing factors to consider when predicting China's pork import in 2019, for example, the spread of ASF and ban policy on live pig transport in China. (See more details in IQC's The development and impacts of ASF in China.) With the development of ASF across the country, live pigs are banned from being transported out of infected areas. As a result, local slaughterhouses have needed to store surplus pork in cold stores.
Imported frozen pork is associated with lower risks of being infected by ASF which may mean pork buyers, such as packing houses and restaurants, could be more likely to choose imported pork to avoid risks in the future market, especially after ASF was found in dumplings produced by Sanquan Foods (one of China's top frozen food companies) in February 2019.
China's major pig breeding companies: cash is King in 2019
Throughout 2018, the total number of pigs sold by the top 7 domestic companies was 44.9 million heads, only occupying 6.5 percent of the national market. It indicates that China's pork industry is huge but still dispersed. There is great potential for such companies to grow and expand in the future. The industry concentration is also expected to be accelerated by the impacts of ASF on the pork market.
According to a pre-announcement of earnings by key companies in January 2019, Wens would continue to rank first among all domestic pig breeding companies, with an estimated annual revenue of CNY57 billion in 2018. However, due to the negative influence of ASF, most of the companies have lowered their prospective revenues in 2018, compared with their earlier estimation made in the first half of 2018. For example, MuYuan, the second largest company in the industry, estimates that its annual revenue in 2018 could decline by 76.8 percent, ~78.9 percent on a y-o-y basis, while Wens has also assumed a y-o-y decrease rate of 37.8 percent, ~41.5 percent in 2018.
As a heavy-asset industry, China's production capacity expansion mainly depends on capital reserves and financing capability. According to its latest announcement, ChuYing reported its highest asset-liability ratio of 74.4 percent, together with the most negative operating cash flow of CNY697 million among domestic major players. This indicates that the company is suffering from more severe financial strain than its peers, with a greater negative impact on its future restocking of pigs.
ASF impacts on domestic chicken and beef: both price and volume rising
As the largest pork consumer in the world, China's per capita pork consumption reached 39.9 kg in 2018, while for chicken and beef, it was 8.3 kg and 6.1 kg respectively. The numerous outbreaks of ASF throughout the country not only caused a sharp drop in domestic sow and live pig inventories, but has also greatly dampened pork consumption in China.
For the total consumption of different meat categories, it is a reciprocal relationship. When domestic consumers are purchasing less pork, they are more likely to turn to other alternative meat, such as chicken and beef. This is verified by the domestic soaring chicken and beef prices recently. The wholesale chicken and beef prices have increased by 17.4 percent and 9.0 percent respectively from last August to the end of this February.
In addition, China's chicken and beef import also benefits from the domestic bull market. Throughout the year of 2018, China imported 502,691 tonnes of chicken and offal, with a y-o-y growth rate of 11.5 percent. Brazil overtook all chicken exporters by 83.8 percent.
For beef and offal, the total import volume reached 1,062,830 tonnes in 2018, greatly increasing by 48.7 percent compared to that of 2017. Brazil came out first again with a market share of 30.4 percent among all beef exporters to China. However, it is worth noting that besides the impacts of ASF, the rising beef import volume could also be attributable to the banned export of Brazilian beef to Russia since 1 December, 2017. The ban was lifted in November 2018 and its influence on China's beef import market will be gradually shown in 2019.
To sum up, the year of 2019 is expected to be a genuine Year of The Pig. The wide spread of ASF across the country cuts both ways. On one hand, it has caused the domestic sow and live pig inventories plunge to a historical low in January of this year, indicating a short supply of live pigs for sale in later 2019. On the other hand, ASF is showing to dampen pork consumption especially in those heavily-infected areas.
This said, the extent of reduced supply is estimated to be larger than that of consumption, so the domestic pork price is expected to continue to show an upward tendency especially from June 2019 onwards. The recently booming imported pork price also verifies that the import market is on a rising trend.
By Angela Zhang
For more insights about China's pork market, please contact the author [email protected] or register at IQC Insights here
September 2020 - December 2018
---