AASV: Lessons learned on Chinese sow farm amid a PEDV outbreak
A biosecure farrow-to-finish facility in China breaks with PEDV - what happened?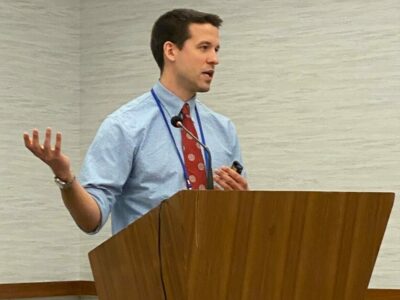 Dr. Joseph Yaros, international business lead with Pipestone Veterinary Services, describes his team's experience with a China swine production system during the American Association of Swine Veterinarians (AASV) meeting on Saturday in Indianapolis, Indiana, USA.

At the time of the outbreak, the operation housed 20,000 sows – two 6,000 sow units (sow farm A and B) and an 8,000 sow unit (sow farm C). The farrow-to-finish operation also includes three nursery farms and eight wean-to-finish farms located within about 15 km (9.3 miles) radius. The production site is located in the Shandong Province in eastern China which is a high pig density region. Based on their latitude, this system is roughly located in a region similar to Missouri, USA, thus it gets cold in the winter but not as cold as Minnesota or Canada would see.
Biosecurity prior to the outbreak
The site is surrounded by a 10-foot brick fence. Each sow farm has its own truck wash.
There are specific guidelines for staff coming into the sites – employees and visitors must shower-in and sample hands and boots for biosecurity records. The staff live onsite in a dormitory for a minimum of three weeks up to two months maximum during the high-risk disease season. Only essential personal belongings are allowed in the living dormitory. Staff must quarantine in the dormitory for two nights before entering the production area.
A unique biosecurity concern in China is that almost all vegetables and meat come from a wet market that could be contaminated or infected with disease. So kitchens have been moved off site and after meals are cooked and free of potential disease, they are brought in for the staff to eat.
The farm internally produces replacement gilts and an on-site boar stud prevents outside semen from being delivered.

Feed bins, also called transition bins, are used to hold feed for seven days after being delivered from the feed mill. The Pipestone team believes that the feed mitigants being used need contact time to allow for the maximum effect. Feed for all of the sow farms is supplied by a single feed mill located about 35 km away from the site.
The feed mill is also biosecure, being located within a concrete fenced area. Trucks are cleaned and disinfected prior to mill entrance and the mill is disinfected daily. All feed in China is pelleted and this mill uses a conditioning temperature of 85C for three minutes. In addition, an organic based feed additive is included at 0.9% inclusion rate. Feed is delivered to the farm in designated feed trucks.
PEDV outbreak on Christmas Day 2020
On December 25, 2020, farm A broke with clinical signs of severe diarrhea, and on December 29 farm B experienced the the same clinical signs. Porcine epidemic diarrhea virus (PEDV) was confirmed using PCR testing. Farm C had pigs test positive, but never experienced any clinical symptoms. It is believed that the use of a PED vaccine essentially maintained their immunity for several years and prevented an outbreak in that facility. The 10-week preweaning mortality on farm A went from 2.5% to 87%. And on farm B it went from 7.1% to 50%. Thus, biosecurity interventions were in place, but a classic PEDV outbreak occurred. So what happened?
Feed and environmental sampling
Immediately after the outbreak, extensive sampling and testing for PEDV occurred at the farm and feed mill to try to identify the source of infection. Samples included swabs from personnel hands and footwear of staff and feed trucks to dust samples from bins and feed trucks. Samples were also taken from feed ingredients at the feed mill. Biosecurity investigations were conducted revealing no onfarm breaches in the last 30 days.
Samples from transition bins for farms A and C tested positive for PEDV. The team did notice that the transition bin feed did not sit for the full seven days of storage time, rather it was delivered after only three full days of storage time and then fed to pigs shortly thereafter. So this shortened storage time became a concern.
New interventions implemented
The testing identified a number of different PEDV-positive feed ingredient samples. To ensure this wouldn't be a problem moving forward, they reviewed and simplified sow farm diets by removing several grain byproducts.
Since there's no replacement for soybean meal, they had the feed mill increase the pelleting time from three minutes to four minutes to enhance pathogen deactivation. Yaros said there was some obvious concern about cooking feed to that time and temperature as it might decrease the availability of some amino acids, but the farm has continued to have good outcomes.
They also wanted to make sure there was a full seven-day transition in storage time. This required purchasing more feed trucks and transportation capacity to prevent transition bins from being loaded at maximum volume.
A new medium chain fatty acid product replaced 50% of the acidifier product
By the end of January, the new interventions were in place. Since additional interventions have been implemented only one positive feed mill sample has been identified.
To learn more about the case study, https://aasv.org/library/swineinfo/item.php?26161 or https://doi.org/10.54846/am2022/s5-06.