How is China's catering industry evolving under the impacts of COVID-19?
According to the latest data from China's National Bureau of Statistics, the total revenue of the catering industry decreased by 44.3 percent to CNY602.6 billion in the first quarter of this 2020. But is the industry showing signs of recovery?
The Spring Festival holiday has traditionally been a high season for China's catering industry. In 2019, the total operating revenue of the industry reached CNY4.67 trillion, increasing by 9.4 percent on a y-o-y basis. Moreover, it has kept a stable CAGR of 10.8 percent as a whole over the past nine years. However, when it comes to individual players in this industry, the narrow margin and high elimination rate are still the mainstream. Such a trend is greatly aggravated by the outbreak and spreading of unprecedented COVID-19.
According to the latest data from China's National Bureau of Statistics, the total revenue of the catering industry decreased by 44.3 percent to CNY602.6 billion in the first quarter of this year. It's worth noting that the traditional Spring Festival peak period occupies around 16 percent of the annual operating revenue for the catering industry. In other words, it can be estimated that the epidemic situation has caused a loss of at least CNY500 billion during the golden week of Spring Festival this year. As a result, many catering enterprises are faced with severe strain on their cash flow.
"1 February 2020 - Our cash flow can only sustain operation for three months at most."

-Chairman of Xibei Oat Noodle Village Restaurant-
Xibei Oat Noodle Village Restaurant, China's largest northwestern cuisine restaurant chain, operates more than 400 offline restaurants across over 60 Chinese cities. Due to the negative impacts of COVID-19, the company has suspended all offline business since January 26, 2020, and only maintained the take-out business of around 100 restaurants. Considering its monthly loss of CNY700~800 million for operating revenue during the Spring Festival period plus the salary expenditure of its 20,000 employees, Xibei estimates that the total cash in its accounts can last for three months at most.
And Xibei is a typical example to illustrate the dilemma faced by China's catering industry. As per a survey by China Cuisine Association, about 79 percent of surveyed restaurants reflected that their cash flow can only last for two or three months, while only 16 percent restaurants were confident that their cash in accounts can support them for six months.
To get out of such a jam, many restaurants started to take action, such as developing and expanding take-out business, launching semi-finished dishes and distributing on e-commerce platforms and reselling raw materials to neighbouring residents. Among these self-rescue measures, more than 91 percent of restaurants have now launched take-out businesses. Nevertheless, the revenue generated by take-out businesses are still limited. It's usually a slack season for take-out business during the Spring Festival period, despite the contactless delivery innovated to handle the epidemic situation.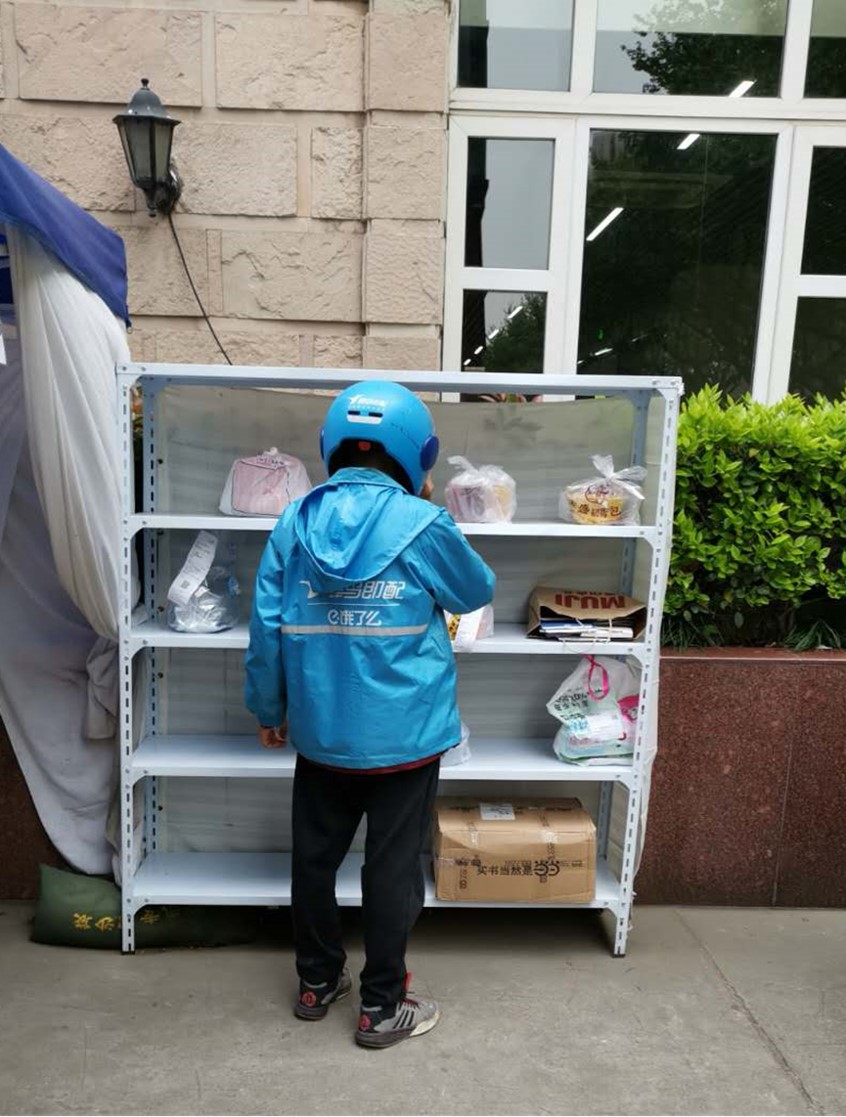 As notified by China's State Council, this year's Spring Festival holiday was extended to 2 February to curb the spread of COVID-19 nationwide. However, when it came to provinces and cities, such as Shanghai, Zhejiang and Sichuan, most local governments required their citizens not to resume work before 10 February as a precaution.
As per the survey by China Cuisine Association, 54.1 percent catering enterprises planned to reopen between 11 and 29 February, while 40.4 percent restaurants chose to resume work no earlier than March.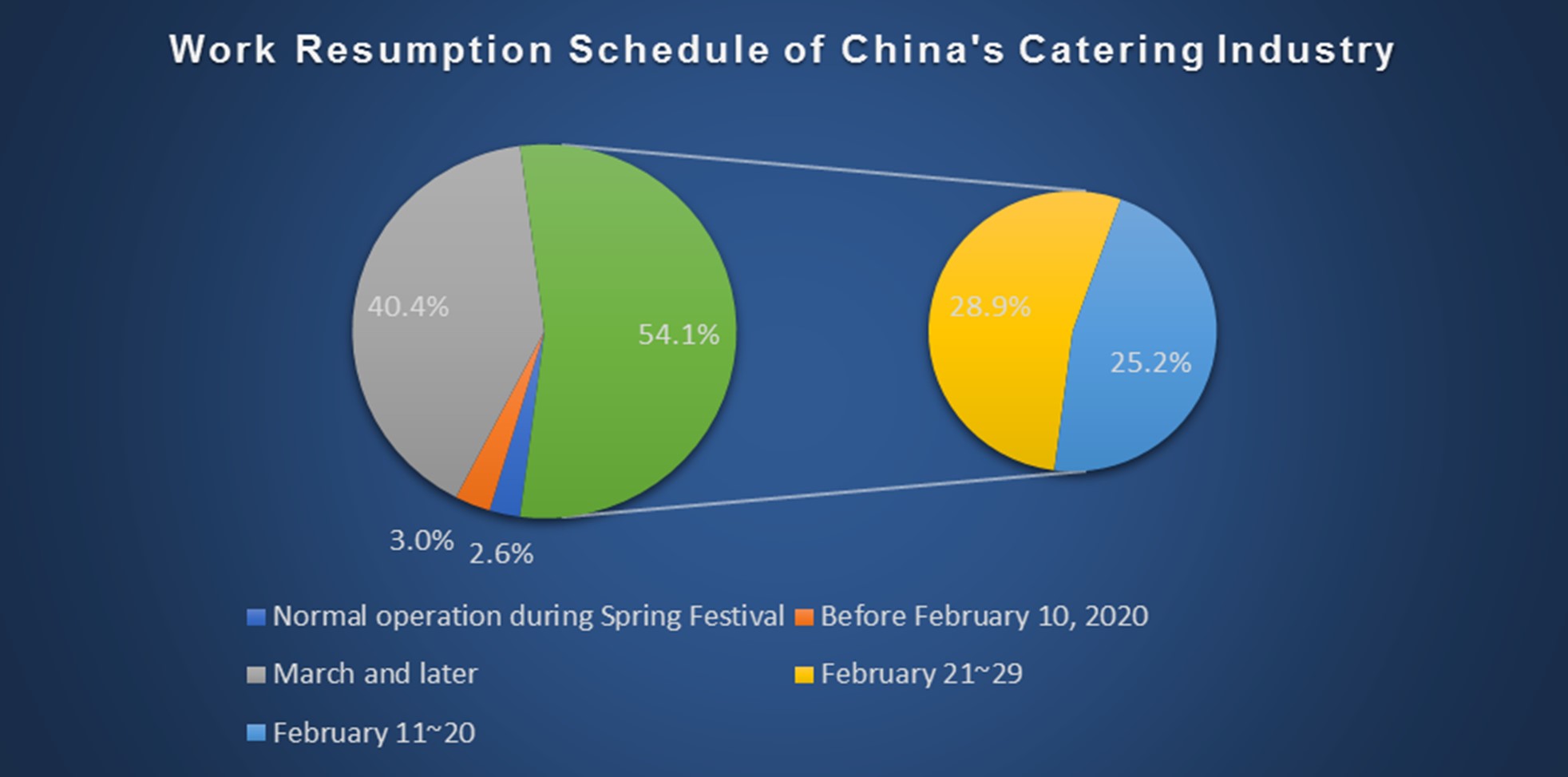 This indicates that there could be a work-resumption wave for China's catering industry in mid to late February 2020.
At the same time, a survey by Jiangsu Consumers Association shows that around 90 percent respondents said they would splurge in dining out, shopping and seeing movies after the lockdown is ended.
A popular phrase is: "When COVID-19 ends, the person who I firstly and mostly want to meet is the waiter/ waitress of Haidilao" – a globally leading Chinese restaurant brand focusing on hot pot cuisine.
This is being coined as "retaliatory consumption".
"5 April 2020 - Considering the epidemic situation and corresponding costs increase in raw materials and additional sterilisation, we would raise the dish price by 6 percent on average."

-Spokesman from Haidilao-
Contrary to expectations, the price increase in dishes by restaurants came before the so-called retaliatory consumption by food aficionados. As lockdown is gradually ended and local people return to work in some areas, more and more consumers go to restaurants after a long absence. However, they soon found that there was a large price increase on the menu. Taking Haidilao's popular dish, Fried Crispy Pork Sticks, as an example, its price was raised by 83 percent from CNY24 before the lockdown to CNY44 per dish early this April, when most of its restaurants were reopened.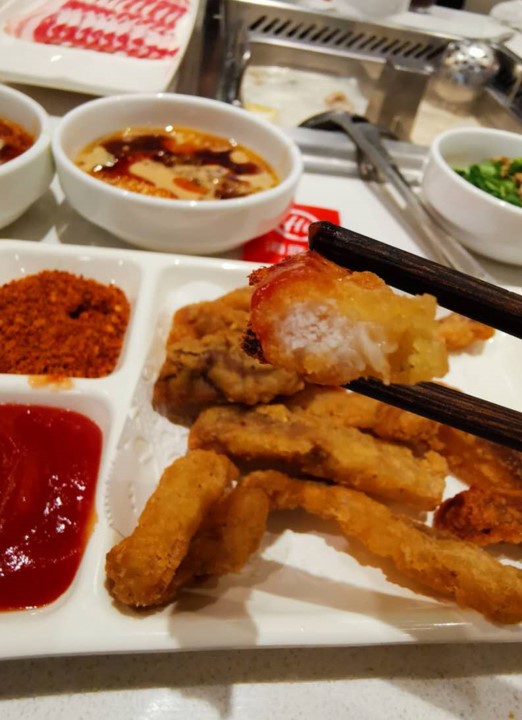 Although a spokesman from Haidilao soon clarified that they control the price increase rate within 6 percent on average. He also admitted that they implemented a differential pricing policy among different cities across China. Similarly, the prices of most dishes served in Xibei Oat Noodle Village Restaurant rose by a large extent during the same period.
Now the question here is, are the "hungry" consumers happy with these price increases after a long-time lockdown?
"6 April 2020 - You (the restaurant) can choose to increase prices, and I can choose not to come."

-Comments from a local citizen-
As one of China's most popular restaurant chain, Haidilao's brand is synonymous with an unparalleled level of service and dining experience. The complaints from its consumers even became a trending hashtag on Weibo (China's Twitter), which brought great pressure on Haidilao to retain its customers and, importantly, its brand reputation.
"10 April 2020 - We apologise for making the wrong decision to increase prices and damage the interests of our customers. We will restore the original prices to those in January 26, 2020 (before the lockdown)."

-spokesman from Haidilao-
Following Haidilao's apology, the Chairman of Xibei Restaurant – whose prices increased between CNY1 and CNY10 for each of 25 dishes – also posted an apology letter on Weibo. The company acknowledged that it was not acceptable to raise prices when everyone, including its customers, are experiencing a tough economic period due to the epidemic situation.
The above price-increasing stories by Haidilao and Xibei, full of twists and turns, are a nutshell of the dilemma which China's catering industry is faced with recently. On one hand, there are generally three major fixed costs for each restaurant: raw materials (41 percent), rent (10 percent) and labour (22 percent) costs. Chinese restaurants usually stock one-month raw material before and after the Spring Festival. The outbreak of COVID-19 and subsequent lockdown has resulted in the deterioration of most fresh raw materials, meanwhile restaurants still have to pay rent and salaries. As a result, many small restaurants are choosing to shut down and cut their losses, while those large ones are still struggling.
On the other hand, a great expectation for the catering industry is the potential retaliatory consumption when the lockdown is ended. This said, due to the unprecedented impacts of the epidemic situation, China recorded the first contraction for its GDP shrinking by 6.8 percent in the first quarter from a year ago, the worst performance since at least 1992. In addition, there have also been great changes in consumer habits during the lockdown period. Many consumers have been used to ordering take-out delivery, purchasing fresh food via e-commerce platforms and simply cooking semi-finished food at home. Therefore, it will take more time to motivate these consumers to dine out.
The good news is, the national work-resumption rate for small and medium-sized enterprises has reached 84 percent and more than 35 million students had returned to school by the middle of this April. In addition, to stimulate economic recovery, many local governments are releasing consumer vouchers by cooperating with retail, catering and tourism industries. All these measures would greatly boost domestic consumer demand, especially for meat consumption in offline restaurants, schools and various agencies, and the photo below vigorously verifies such a signal.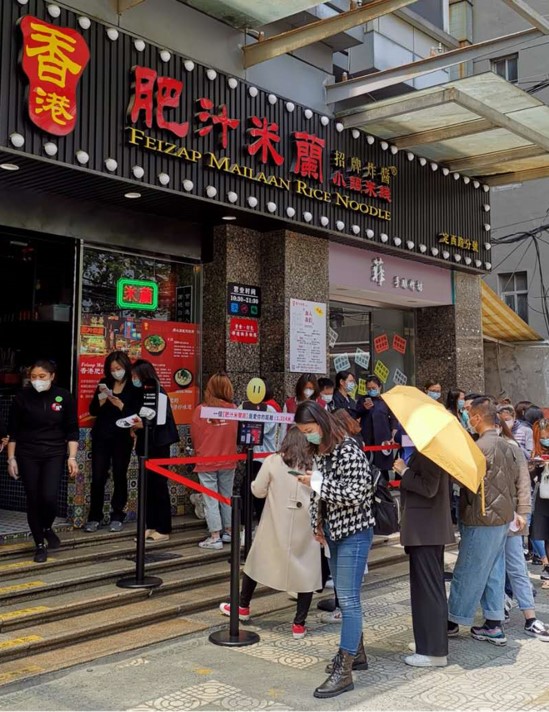 September 2020 - December 2018
---