Leptospira Pomona Infection of Likely Wildlife Origin on a Pig Unit
Information for farmers and vets in Great Britain on the clinical signs, diagnosis and prevention/treatment from the AHVLA Pig Expert Group. Leptospira interrogans serovar Pomona (L.Pomona) was identified in wildlife on a pig unit during an investigation in 2011 into leptospirosis in sows on a breeder-finisher with reproductive disease. This is the first isolation of L.Pomona in Great Britain.
Background
One pig unit was affected and disease has been controlled by vaccination and treatment.
Wildlife-adapted Pomona strains exist and wildlife were the likely source of infection for pigs.
Leptospira Pomona causes reproductive disease in pigs in many other parts of the world, with significant numbers of abortions, stillbirths and weak neonatal piglets.
Investigation of suspect disease is best achieved by submission of sera from affected sows and aborted, stillborn or weak neonatal pigs to your local AHVLA Laboratory.
L.Pomona is different from L.Bratislava, which regularly causes infection in UK pigs.
L.Pomona is a zoonosis and strict hygiene measures are important to prevent human infection.
Details of Disease Outbreak
There was an increasing problem on one pig unit since the end of 2010 with sows found not in pig, and mummified piglets, stillbirths and weakly piglets mainly from older sows. In May 2011, kidney from a jaundiced neonatal pig tested positive in the pathogenic leptospire PCR and most sows tested had antibody titres to L. Pomona.

Leptospires were successfully cultured from wild rodents and insectivores living around the pig buildings and fields and two serovars were identified; L.Pomona and L.Canicola. Culture from pigs was not attempted as they had been treated.

The unit buys in replacement breeding pigs and a cohort of gilts and boars tested on entry were sero-negative, supporting the likelihood that infection was acquired on the unit. The unit farrows indoors with dry sows run outside during the day in warmer months and housed at night in large yards, thus there was opportunity for contact with wildlife.

Control measures were put in place on the unit and included antimicrobial treatment and vaccination. An improvement in reproductive performance in this herd was reported after the treatment and has continued. All pigs leaving the farm go to slaughter.
Significance of Identifying L.Pomona
The epidemiology of this outbreak, and the isolation of L.Pomona from wildlife, makes it very likely that the L.Pomona infection on this unit was due to a wildlife-adapted L.Pomona strain. No other units are known to be infected. There have been previous outbreaks involving other leptospires in sows in the region associated with a wildlife source of infection (Pritchard and others, 1987a; Barlow, 2004).

Bill Ellis reviewed leptospirosis in pigs (Ellis, 1992) and described the existence of pig-adapted and wildlife-adapted L.Pomona strains. L.Pomona has never been isolated from GB pigs and would represent a serious potential threat to the pig industry if it became established in the pig population. It is not reportable or notifiable.

L.Pomona infection is widespread in pigs globally and has caused significant reproductive disease in the Americas, parts of Asia, Australia and Central and Eastern Europe. Pig-adapted strains have not been reported in Western Europe. Antibodies to L.Pomona are occasionally detected in dogs and horses tested prior to export from the UK.

L.Canicola is known to be present in the UK. Dogs and possibly foxes are considered main reservoirs of infection in the literature but evidence here indicates a likely significant small rodent/insectivore reservoir. Pigs can be infected as incidental hosts and infection does not establish and spread within in the pig population. L.Canicola is included in some leptospire vaccines for pigs.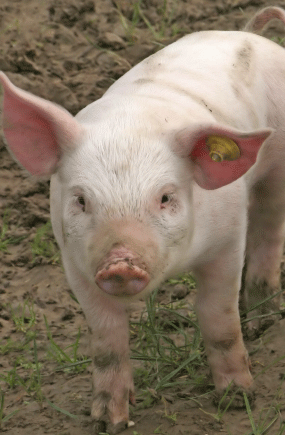 Control of Leptospire Infection
Control of leptospire infection is achieved through the use of antimicrobial treatment, vaccination and management interventions. Leptospires are sensitive to treatment with some licensed antimicrobials and parenteral streptomycin and/or in-feed tetracyclines are recommended in the literature. There are inactivated vaccines but none are currently licensed in the UK and so must be imported into GB under a farm-specific special licence from the Veterinary Medicines Directorate (VMD).

Vaccines are usually multivalent and include several Leptospira serovars, including L.Pomona and L.Bratislava. Pathogenic leptospires can survive outside their hosts, especially under wet conditions, but do not multiply. Management measures include minimising wet conditions, control of rodents, good hygiene at service/ AI, and attention to the quarantine, acclimatisation and integration of replacement stock. Some of these measures are harder to apply effectively in outdoor herds.

Zoonotic Risk
Leptospire bacteria, including Pomona and Canicola, are zoonotic (i.e. can cause disease in humans). Pomona causes 'flu-like illness in humans similar to that caused by L. Hardjo, which is present in GB cattle. The advice is similar to that for any of the zoonotic agents present on pig farms. As a routine, people working with pigs should wear outer clothing and boots dedicated to the pig unit and practise good personal hygiene.

Gloves should be used to handle afterbirths, aborted and stillborn piglets, and when assisting at farrowings; they are also recommended for artificial inseminations and assisted matings. The main concerns relevant to leptospires relate to contamination of people's mouths, noses, eyes or open wounds by pig urine, afterbirth, and aborted and stillborn piglets. Effective rodent control is important as urine from infected rodents also represents a transmission risk to humans.

The investigation was jointly funded by AHVLA's pig disease surveillance project (ED1200) and non-statutory zoonoses project (FZ2100).
Diagnosis of Leptospirosis
Diagnostic tests available at AHVLA for detecting leptospiral infections in pigs include:
Serology (MAT) to detect antibody which indicates exposure. Tests can be requested for individual specific serovars, such as L.Pomona, L. Bratislava; for serovar groups such as Pomona group (pool 2), Australis group (pool 3 which includes Bratislava), each of which include several individual serovars; or for all available serovars. There can be cross reactions between related serovars.


PCR to detect pathogenic leptospires. This test is not serovar-specific. When a positive result is obtained, serology or culture is necessary to identify the serovar. This test is mainly used to test kidneys from aborted, stillborn and weak neonatal pigs, or jaundiced pigs submitted to AHVLA for post-mortem examination.
Further Reading

Find out more information on leptospirosis by clicking here.
November 2012