Pig outlook: Bull market run in lean hog futures accelerates
Positive signals about the US economic recovery and new discoveries about African swine fever influenced the global swine industry this week.
The pig traders' perspective
The lean hog futures market roared to contract highs again this week, with April futures moving up the daily trading limit of $3.00 on Wednesday. Thursday's daily futures trading limits expanded to $4.50. The June pork cut-out futures pushed above the $100 mark this week, with cash hog prices also climbing. That's a positive signal after wintry weather backed up hog marketings last week. Strong pork demand expectations have been supportive and offset the large supply of market-ready hogs.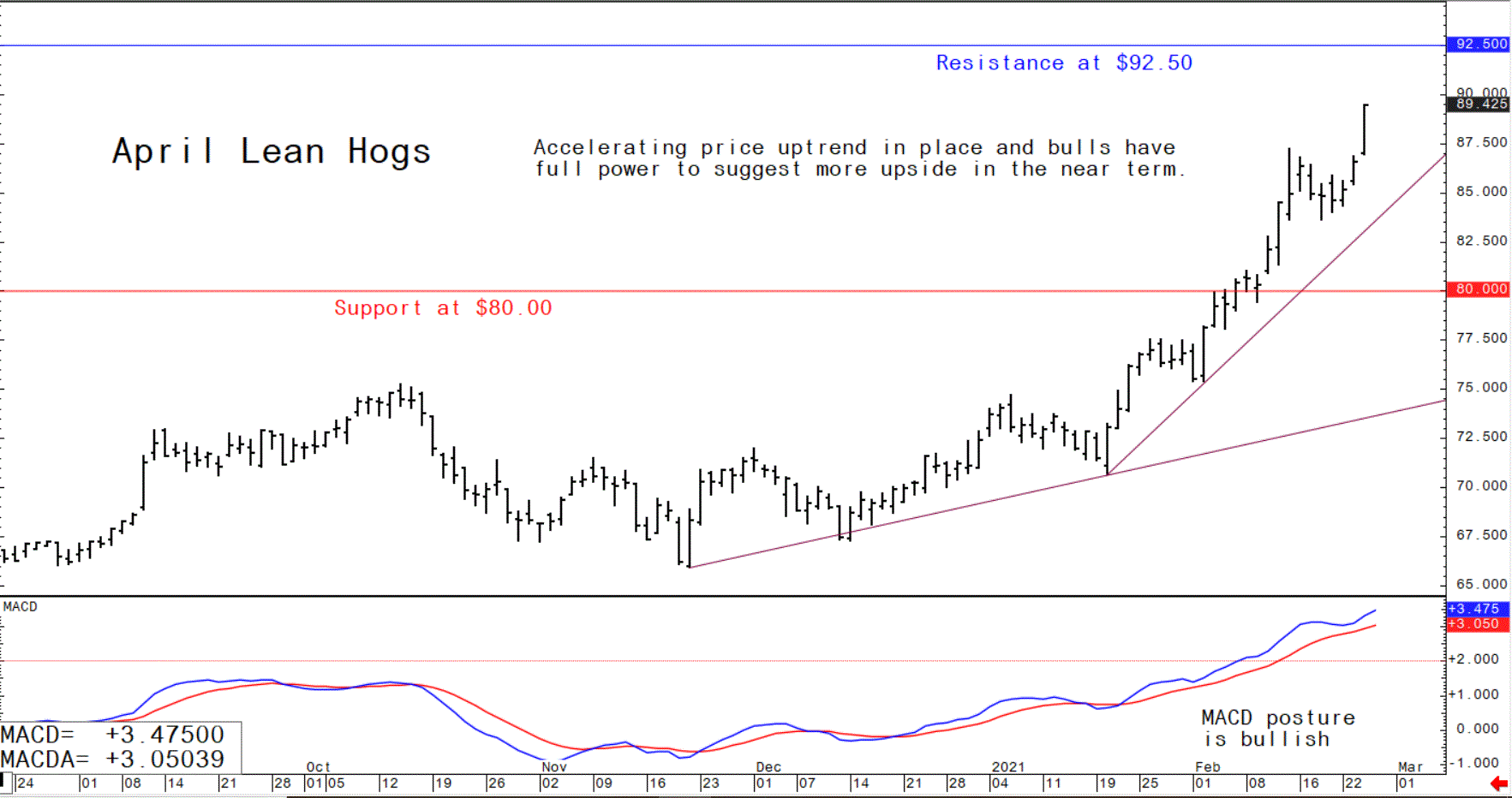 Meantime, USDA reported this week that US pork inventories at the end of January were 459.95 million lbs, up 44.01 million lbs during January, though that was more than 20 million lbs shy of the five-year average increase of 64.3 million lbs for the month.
Stocks were still down 26.5% from last year's record. Traders are looking at rapidly declining COVID-19 numbers, strong economic data, and Friday's US House vote on the $1.95 trillion aid package, with additional support coming from dovish testimony from Fed Chair Jerome Powell this week. An economic reopening will aid in restaurant and food service demand for pork into the summer.
The next week's likely high-low price trading ranges
April lean hog futures--$86.00 to $92.50, and with a higher bias
May soybean meal futures--$418.30 to $442.10, and with a sideways-higher bias
May corn futures--$5.35 to $5.72, and a sideways-higher bias
Latest US Department of Agriculture (USDA) reports
US pork exports slip in latest week
In its weekly export sales report Thursday morning, USDA said US pork net sales of 25,600 metric tonnes (MT) reported for 2021 were down 23% from the previous week and 40% from the prior 4-week average.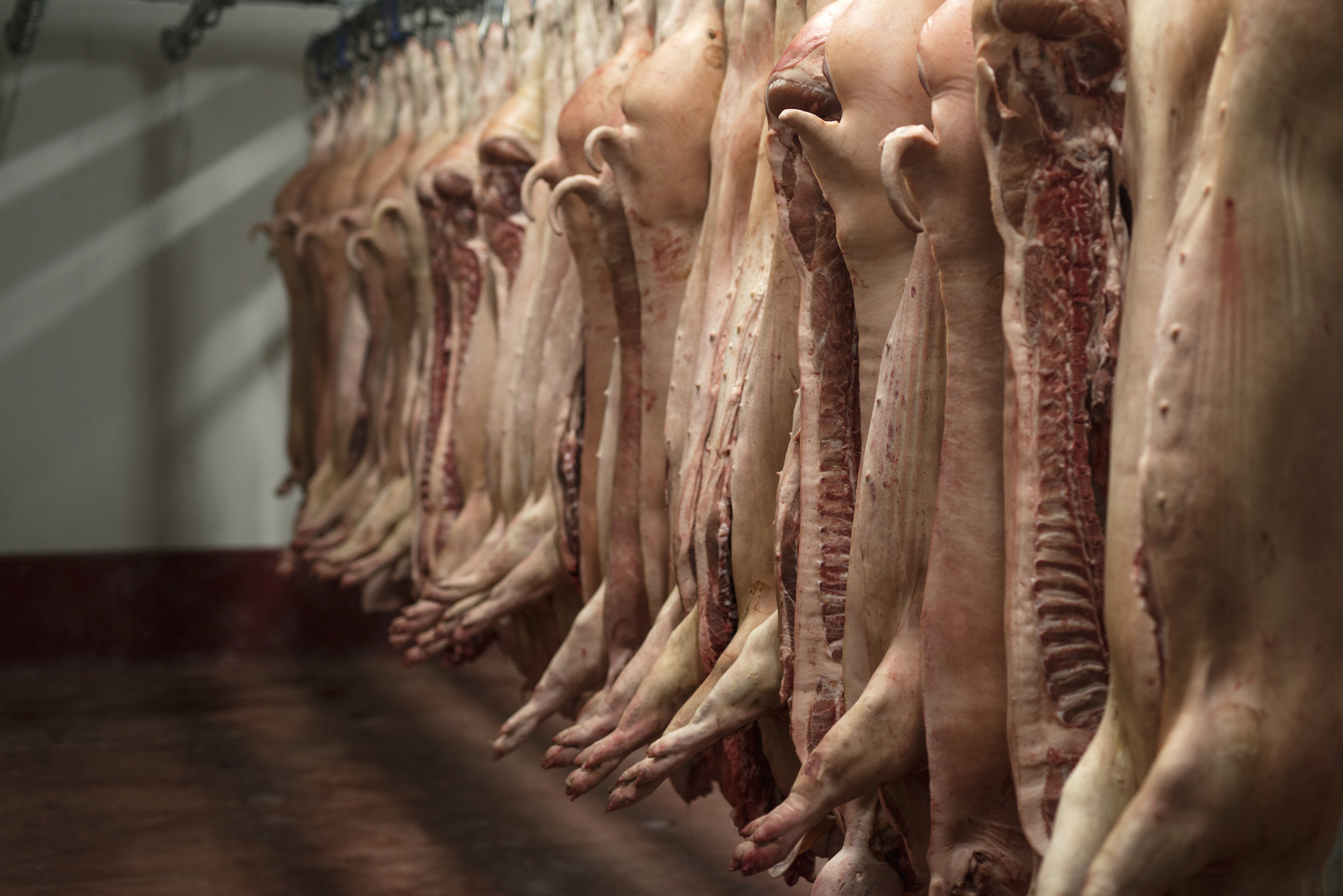 Increases primarily for Mexico (7,300 MT, including decreases of 900 MT), Japan (4,100 MT, including decreases of 100 MT), China (3,700 MT, including decreases of 1,400 MT), South Korea (3,200 MT, including decreases of 1,200 MT), and the Philippines (2,100 MT, including decreases of 100 MT), were offset by reductions for El Salvador (400 MT) and Singapore (100 MT).
Exports of 35,300 MT were down 11% from the previous week and 9% from the prior 4-week average. The destinations were primarily to China (11,900 MT), Mexico (8,900 MT), Japan (4,200 MT), Canada (2,100 MT), and Colombia (1,900 MT).
Pig industry news from China
New study finds natural ASF mutation less deadly, but harder to detect
New variants of African swine fever (ASF) in China seem to cause a milder form of the disease, making it less deadly but also harder to detect and control, according to a paper by Harbin Veterinary Research Institute under the Chinese Academy of Sciences. The team is the second this month to report such findings.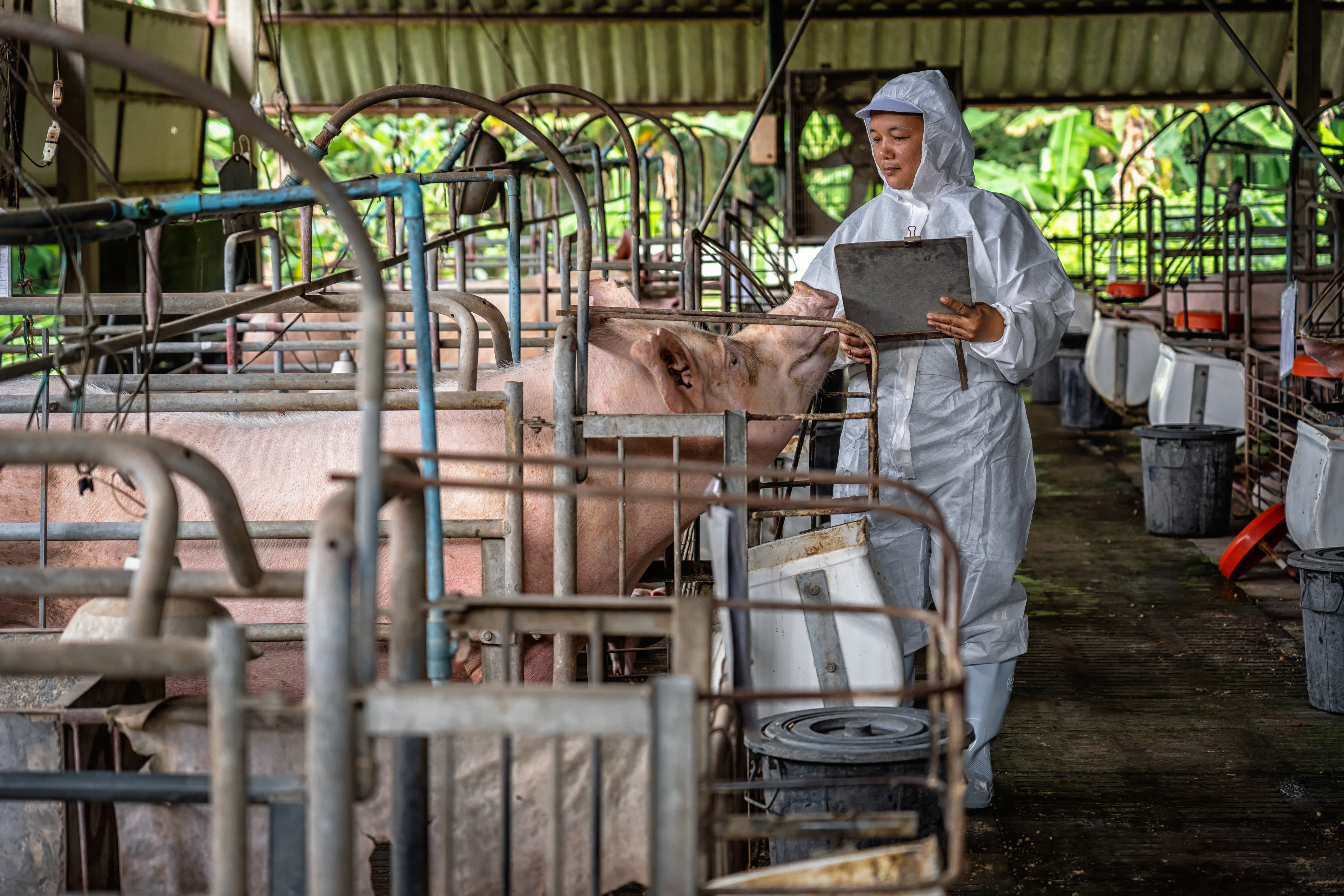 The latest report notes the natural mutants cause a "much more delayed course, and mild, chronic signs, while being continuously shed via the oral and rectal routes." Some analysts say around 20% of sows in northern China have been affected by the disease this winter. The teams said the efficacy of a vaccine that is being developed by Harbin needs to be "urgently evaluated" against the new strain.
China to auction off more pork
China has announced it will auction 20,000 MT of frozen pork from its state reserves on 26 February The post Lunar New Year sale eases fears about a drop off in Chinese demand after the holiday. Since the start of 2021, China has auctioned off 190,000 MT of pork (including the coming sale), according to reports.
Chinese pork prices jump during January
Chinese pork prices climbed 6.1% from December to January to 45.62 yuan ($7.10) per kilogram as demand exceeded supply, according to an index tracked by the country's ag ministry. Last year at this time, the index slid 3.8%.
Read Jim Wyckoff's latest updates on the global poultry industry on The Poultry Site and see his analysis of the beef and dairy industry on The Cattle Site.