Pig outlook: lean hog bulls working on price uptrend
African swine fever detected in farm pigs in Germany and China's efforts to rebuild its swine herd become more promising.
The pig trader's perspective
Lean hog futures prices continue to climb from their June lows and the bulls have the overall near-term technical advantage. Futures remain at a discount to the CME lean hog index, which is bullish for futures. The October futures contract is around $20 under the lean hog index, suggesting a seasonal decline in cash hog prices as supplies build heading into fall. Packer profit margins have strengthened notably over the past week.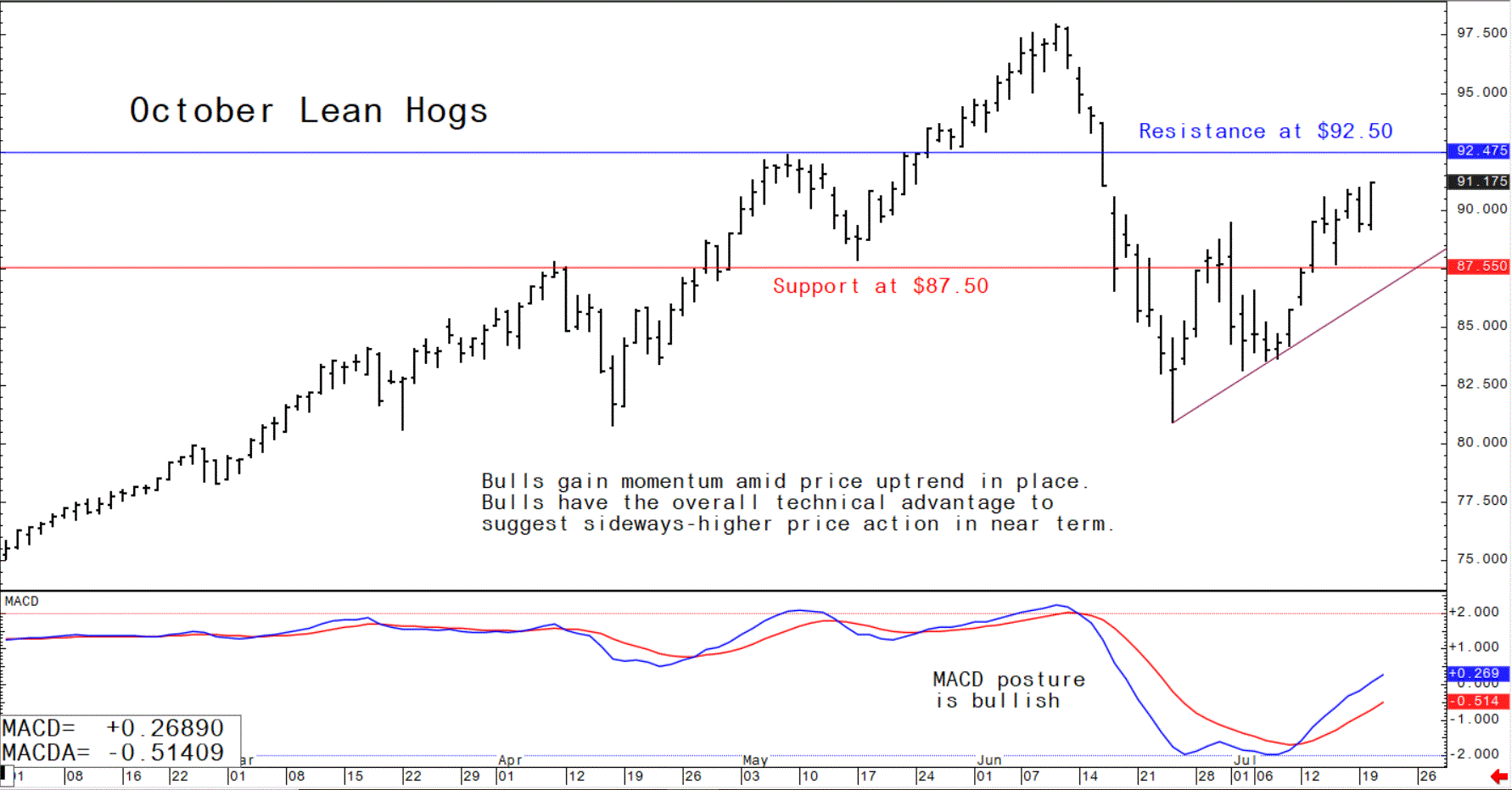 The next week's likely high-low price trading ranges
August lean hog futures-$102.10 to $110.00 and with a sideways-higher bias
December soybean meal futures-$363.10 to $383.50, and with a sideways-higher bias
December corn futures-$5.44 1/2 to $6.00 and a sideways-higher bias
Latest news from the global pork industry
China official expects Chinese hog prices to extend rebound
Chinese live hog prices, "may continue to rebound in stages for a period of time," Wan Jinsong, the head of the price department under the National Development and Reform Commission, told reporters.
Fewer pigs were born in January and February, which should lead to a drop in the number of hogs slaughtered in July and August, according to Wan. Outbreaks of ASF over the winter accelerated slaughter, weighting heavily on prices during the second quarter and in turn triggering panic selling by producers. But prices have risen 15% since the start of June, with China making some domestic pork prices for the first time since 2019. China's National Development and Reform Commission says it will work with related planners to intensify regulatory measures meant to prevent major swings in hog prices as necessary.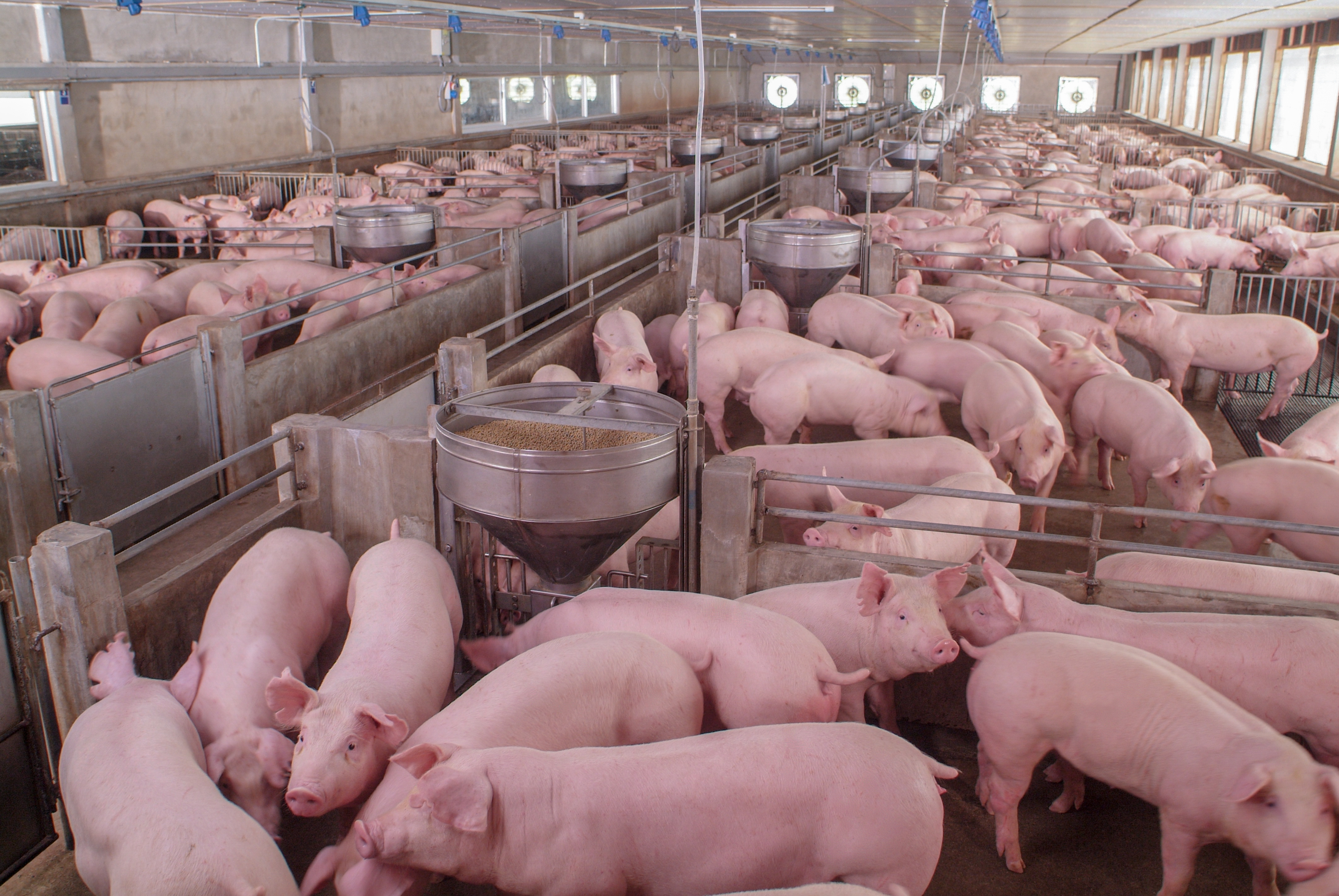 China's ag ministry officials say ASF under control
Controlling and preventing African swine fever in China remains a "complicated" and "severe" task, according to Xin Guochang, an official at the husbandry bureau of the Ministry of Agriculture and Rural Affairs. But Xin says that the country's overall disease situation is stable. Industry sources reported new outbreaks in northern and northeastern China earlier this year, with outbreaks also occurring in China's southwest Sichuan province.
But despite the outbreaks, Zeng Yande, head of development and planning under the ministry, said China's hog herd totaled 439 million pigs at the end of June, representing 99.4% of late 2017 levels (before ASF struck). Zeng detailed that China's sow herd stood at 45.64 million head, up 2% from late 2017 levels. China's use of wheat in feed is expected to remain relatively high given its price advantage over corn, another ag ministry official said at the press briefing.

Third case of ASF on a German farm
Last weekend, Germany confirmed a third case of African swine fever on a farm in the country's eastern state of Brandenburg. The latest case was on a small farm within the restriction zone where the disease is common among wild boar. Late last week, the state confirmed the disease was present in two nearby farms.