Protect Our Pigs: Preventing African swine fever
USDA program to prevent African swine fever
Jack Shere, DVM, associate administrator USDA Animal and Plant Health Inspection Service (APHIS), said that African swine fever (ASF) is a highly contagious, deadly pig disease. It has devastated pork industries around the world and if detected in the US, it could ravage the swine population, he said during a webinar on ASF prevention.

APHIS has launched a new awareness campaign called Protect Our Pigs in support of commercial pork producers, veterinarians, pig owners and hobbyists, Shere said.
The US is one of the world's largest pork producers and the second largest exporter of pork globally, he said. If ASF arrived in the US, it's estimated it would cost the US $50 billion over the course of 10 years to eradicate. As the US moves about a million pigs a day on the road, it's easy to see how rapidly the disease would spread, he said.
The USDA has invested over $500 million to prevent the spread of this disease, and enhance surveillance, testing and response, Shere said.
To further support ASF prevention, APHIS launched the Protect Our Pigs initiative, he noted. The Protect Our Pigs website www.aphis.usda.gov/protectourpigs provides updated information on ASF and disease prevention.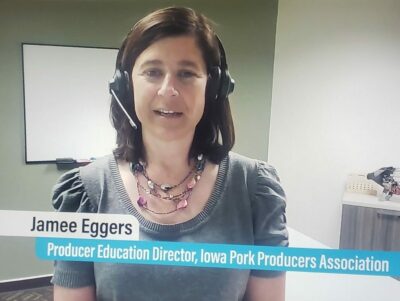 How ASF spreads
Jamee Eggers, Producer Education Director with the Iowa Pork Producers Association said it's important to remember that ASF is a disease of pigs, humans cannot get the disease and pork is safe to eat.
She explained that ASF can spread to pigs in three different ways: Direct contact, indirect contact and via soft ticks.
Direct contact means healthy pigs having nose to nose or other physical contact with infected domestic or wild swine. Pigs could pick up the disease when at a swine show or by interacting with wild pigs outside their pens. Sick may spread the virus to healthy pigs through infected saliva, urine or feces, Eggers said.
Indirect transmission happens when healthy pigs eat contaminated feed or pork products, she said. The USDA is working hard to keep pork products from coming across the border, especially from countries that have ASF. People can also transport the virus from infected pigs through contaminated clothing, shoes, equipment, and vehicles, or if contaminated food waste is fed to pigs, she said.
ASF can also be spread to pigs by some insects. Soft ticks feed on infected pigs, then spread the virus to healthy pigs. Soft ticks are found in the southern United States, Eggers noted.
Knowing how ASF spreads also provides the answers to how producers can protect their pigs from ASF, she said. Limit contact with other pigs, wild or domesticated. If pigs can be housed indoors, it's for the best. But for outdoor housed pigs, ensure that fences are solid so there's no contact with wild pigs, Eggers said.
Don't feed food waste, especially that containing meat, to pigs. Most commercial pigs eat a traditional corn and soybean balanced swine diet, but producers that use alternative feedstuffs must ensure that no food waste, especially meat, is fed to their pigs, she emphasized.
Producers need to practice good biosecurity, such as having a dedicated set of clothing and boots that's only used around those pigs. Pig owners should not share equipment such as buckets and feeders with other pigs and make sure anyone visiting their farm has not been around other pigs and wears coveralls and boots specifically for that farm, she said.
Producers must closely monitor pigs for any signs of sickness, and notify a veterinarian if they have any concerns, Eggers concluded.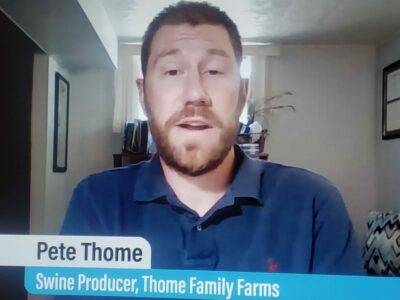 Producer concerns
Pete Thome Is a swine producer in southeastern Minnesota. He said education and awareness are two of the most important messages that need to get across to the public, as well as to producers.
What ASF could do to our industry from a production and economic standpoint could be catastrophic, he said.
Thome noted that biosecurity is standard across the swine industry, but it must be implemented daily, to ensure that diseases aren't transmitted. He particularly emphasized vehicle and transportation biosecurity.
"We do weekly sanitation of our vehicles that we drive to make sure that we sanitize and clean floormats, power wash the outside the tires so we're not dragging things around the countryside". Feed delivery trucks must be washed daily, he said.
Transport trailers for pigs must be cleaned and sanitized each time a load goes out and particularly before it comes back to the farm.
"We tell our employees that safety is number one, safety does not take a day off, Well, neither does biosecurity." Make sure it's correctly implemented, Thome emphasized.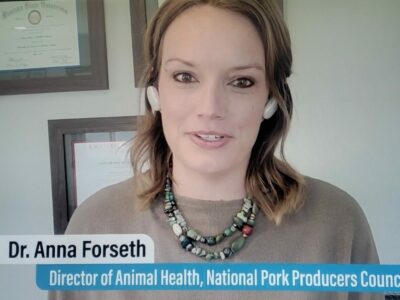 Clinical presentation of ASF
Anna Forseth, DVM, Director of Animal Health with the National Pork Producers Council, said the clinical presentation of ASF can vary and can be influenced by a variety of factors. Some strains can cause more severe disease than other strains. It may not necessarily present as cases of high mortality very quickly, she added.
Clinical signs of ASF include high fever, decreased appetite, weakness, lethargy, red or blotchy skin lesions, gastrointestinal symptoms, such as diarrhea or vomiting, and respiratory issues, including coughing or difficulty breathing. The mortality rate can vary but can be up to 100% of infected animals, she noted.
Necropsy findings may include an enlarged spleen, or varying degrees of hemorrhage in the lymph nodes or the kidneys. ASF can mimic PRRS and salmonella, Forseth said. It's important that pigs with signs consistent to ASF are reported to a veterinarian, even though they're also consistent to domestic diseases. The veterinarian will work with state and federal animal health officials to determine the need for further evaluation and possibly diagnostic testing, she added.
Quick thinking and communication by producers will be required for early detection of the disease, to prevent a large outbreak. "Producers, if you see something, say something, don't just assume it's not a foreign disease, talk with animal health officials and your veterinarian and work with them to determine whether or not a diagnostic plan is needed," Forseth emphasized.
Shere added, "we know that early detection is critical to stop the spread of ASF and to contain it. If you suspect the case of ASF in your pigs, please report the signs immediately. You can do that by contacting your state or federal veterinarian's office, or by calling USDA Hotline at 1-866-536-7593."
ASF notification
How will producers know if ASF is their area? Forseth said state animal health officials and the USDA will be working to notify producers. In many cases while waiting on confirmation of a diagnosis, they will already be identifying producers within the control area, she added.
State animal health officials will provide producers with directions. There will most likely be specific testing surveillance permitting requirements of those who are in proximity to the infected site, Forseth said.
Farms near the infected site will likely be asked to share information with state and or federal officials regarding animal movements, as well as movements of feed or equipment, personnel, and visitors. "If you're not keeping track of this information, you should start, it'll be pretty important for efforts to try to trace where the disease may have come from and where it has gone," she emphasized.
"I'd encourage everyone to get to know your state animal health official, reach out to them, attend conferences or meetings where they may be presenting and ask questions of them. If you haven't registered for a premises ID number, I would strongly encourage you to do so," Forseth concluded.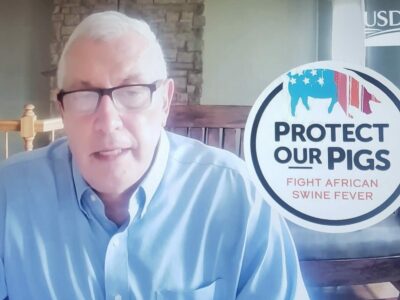 72-hour stop movement
Wrapping up the webinar Shere warned pig producers that when ASF is detected in the United States, there will be an immediate 72-hour stop movement order in place. During this time pigs on their way to slaughter will still be processed, but any pigs still at the farm will not be allowed to move, he said.
On infected farms, movements in out of the farm will be traced to try and determine where the ASF virus came from and where it went, Shere said.
Since pork meat with ASF is perfectly fine for consumption, affected meat will be processed and will be consumed. But if ASF is traced to a slaughter plant, authorities will figure out what where that meat and offal is, to make sure it does not get back into the pig production system.
Shere concluded by saying that the 72-hour stop movement is just the beginning of the process to find out where the disease is and where it isn't. The challenge will be to figure out how far ASF has spread during those 72 hours.
Visit the Protect Our Pigs website: www.aphis.usda.gov/protectourpigs