Steve Meyer: Hogs & Pigs bullish, increased productivity is key
US March Hogs & Pigs report is deemed bullish, with numbers coming in below industry estimates
Steve Meyer, swine economist with Partner for Production Agriculture, spoke at the National Pork Board webinar on Wednesday about the implications of the newly released March 2022 Hogs & Pigs Report.

Following is the data out of the report including pre-report analyst estimates (second column from right).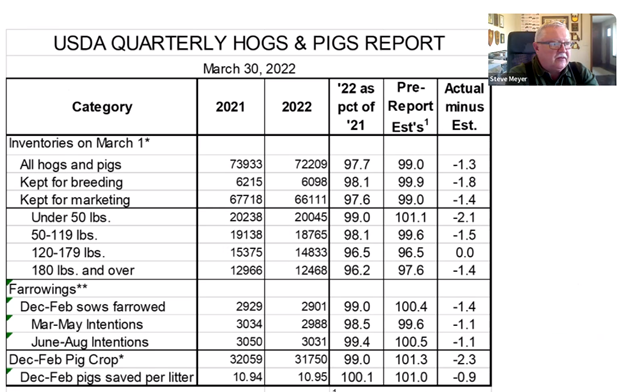 "You can see that all of the numbers [in the right-hand column] are negative, except for one and it's zero," said Meyer. "That is bullish. Clearly the numbers are lower than what we expected going in."
The report shows a declining breeding herd of 6.098 million head, down almost 2% from last year which is a little over 1% lower from the December report.
"The All Hog & Pigs number is 98% of a year ago. Kept for Marketing is about the same number. Notice that in the distribution of weight categories - the large shortfalls (versus year-ago) are in the heavier weight categories, as was expected, and the 180 lbs. and over at -3.8 is within shooting distance of actual slaughter since March 1 which is down 4.4%. I don't think that's enough difference to call anything into question."
The Dec-Feb Sows Farrowed fit the breeding herd quite well, and USDA hasn't been very close on that number in the last couple of reports, Meyer noted. March-May intentions also fit well so do June-August intentions. Those make sense if taking the Dec-Feb Sows Farrowed and the Dec-Feb pigs per litter, you come up with a pig crop that fits together nicely, creating a consistent report, according to Meyer.
"Across the board, this is below what was expected; I would judge it as a bullish report," he said. "I'm not sure it's enough to get a limit move, but it'll be a pretty healthy."
The one number that Meyer pointed out as particularly disappointing is pigs saved per litter at 100.1%.
"We kind of shifted back to growth in the last quarterly report at +1.3%," he said. "We've gone through a period with the Covid shut down to make decisions to not raise as many pigs per litter, but we've got the genetic capability out there, that I think would be better than this. But the USDA is finding that we didn't really improve that much in this quarter relative to a year ago."
Of note, Meyer said there were very few revisions and not large revisions in this report. He said the supply ups and downs due to Covid seem to have been worked through, and the report shows the industry is back to a solid baseline.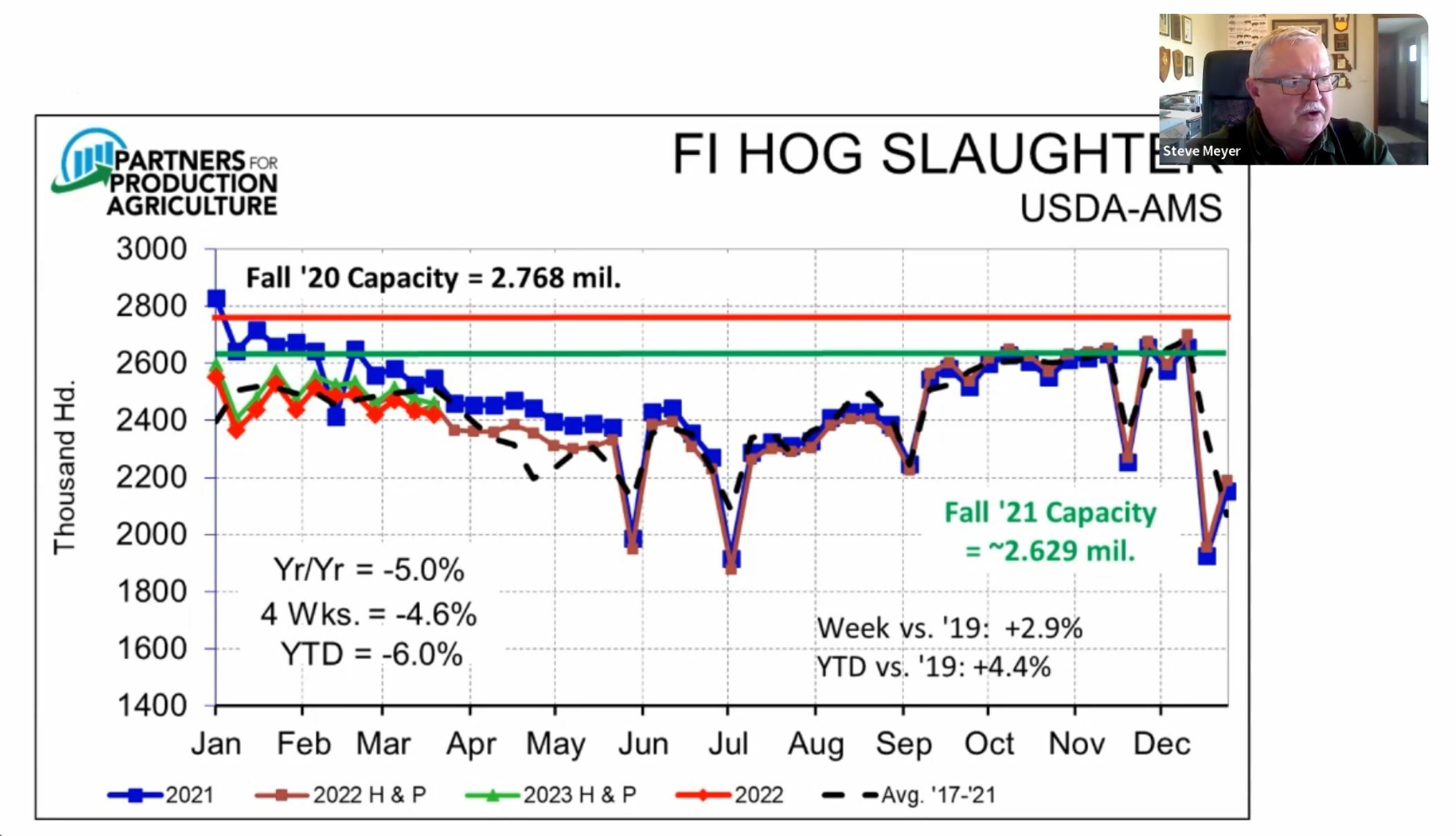 Regarding weekly slaughter, he said a few things jump out on the above chart.
The shortfalls relative to a year ago come to an end in July and return to year-ago numbers. The numbers move slightly above year-ago by the end of the year but not by much.
By September, the slaughter numbers are running into the 2.629 slaughter capacity figure of last fall and could go a bit above.
Meyer said that not a concern because it's possible to run above the rated weekly capacity with large Saturday runs. The data assumes 5.4 workdays per week. Plus, three plants are ramping their line speeds back up to increase capacity back toward 2.768 million head that the industry saw in Fall 2020. He said the industry won't go back to those numbers due to a lost plant in Virginia. However, more plants are expected to receive waivers this spring and summer that could return to pre-court decision line speed levels. Thus, ample slaughter capacity should be a positive market force.
Meyer said this report exhibits lower numbers than expected and is therefore bullish by his calculations. He expected the market to move back to a growth phase in the breeding herd, and substantial growth in pigs per litter and farrowings for breeding animals. Without that growth, he expects numbers to remain tight.
He said weekly he's looking at the status of the cutout value and hog prices relative to a forecasting model and adjusts to represent the strength or weakness of demand.
"In December, I was adjusting showing weakness now I'm adjusting showing strength. When I look at a scatter diagram of per capita availability versus prices for this year, it's along the same representation of demand as we were at one year ago," he said. "That is the highest level of demand at the wholesale and farm level we've ever seen in this business, so demand is excellent."
Supplies are tighter than what the industry expected which will result in stronger prices. The futures market is already very high relative to history.
"I think it's a good thing on the revenue side for pork producers," he said. "The estimate from our model on cost of production is now $90 cwt. and that really represents the low-cost 25% of producers - average producers are going to be up in the $96-$97 cwt. range given where corn and soybean meal futures are as of last Friday. So, a great revenue year and still a great profit year, but costs are certainly a challenge."
During the webinar's Q&A session, Bill Even, CEO at the National Pork Board, asked Meyer to further discuss why the US pork industry seems to have hit a plateau and may be pulling back a bit.
Meyer's response highlighted several areas of concern:
Disease
"These numbers represent challenges with animal health situations – PRRS being the major problem and a few instances of PEDV and pleuropneumonia. So productivity has been kind of questionable."
Material costs
"The building cost situation is a big deal. We don't hear of anyone putting up a sow barn of any significance right now, and a lot of that is materials costs."
Labor
"The other one is availability of labor, and they have the same labor problems that our packing plants and farms have. The whole situation with prop 12 means that many of the people that work on our barns are out trying to make farms compliant with Prop 12 so that's standing in the way as well, so add those all up and there's a lot of reasons the lack of expansion."
Feed prices
"If you look at feed prices since December, we're firmly in the camp that this feed price thing is not over. We're not going to have a good crop this year and say 'Oh gee, we've got $4 corn and $2.80 bean meal again' – that just isn't going to happen. This is a major shift and there's still a lot of risk out there. I think our producers are being very cautious about expansion."
Slaughter capacity
"If you put in a sow unit now, you better darn sure know where those pigs are going to get slaughtered because it's tight. Even with the ramp ups and chain speeds, we're not going to have a lot of slack. There's not a lot of folks that are going to be in a position to take extra pigs this fall, or even the next fall, and there are no real solid expansions of capacity available to us other than the chain speed increases, so there are a lot of barriers to expansion and barriers to entry right now."
Solution is increased productivity
"I think the most obvious way that we can increase production is to increase productivity. We need to get farrowing back up. It's still low, relative to history, and we need to get litter sizes growing again – back up in 11 range. We have the genetic capability of doing it, but we're fighting a lot of issues with animal health and with labor supply. We have farms that just don't have enough people to attend all those farrowings, and that means you lose pigs so. So there's a lot of reasons for these numbers to be like they are, and there's not a lot of real easy solutions to them."