Study demonstrates farm-to-fork benefits of immunological estrus suppression in market gilts
A new study reveals that market gilts grow better and produce more meat that is more palatable to consumers when treated with a vaccine that temporarily delays puberty.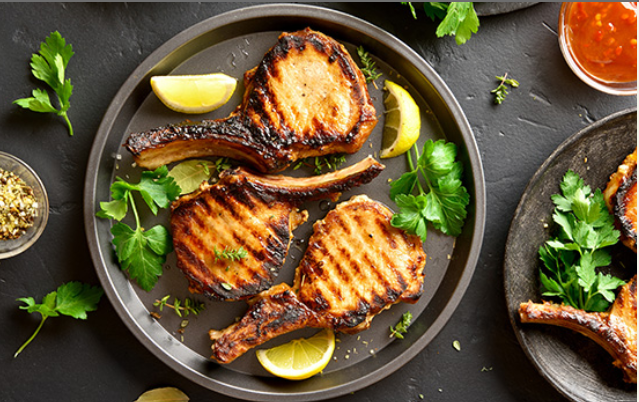 The study, a meta-analysis published in Research in Veterinary Science, was based on data from 22 published papers on the use of Improvac® (gonadotropin releasing factor (GnRF) analog-diptheria toxoid conjugate) for the temporary suppression of estrus in market gilts, or female pigs intended for slaughter.1
According to ChoewKong Mah, DVM, a veterinarian at Zoetis and one of the study's authors, Improvac works like a vaccine2 to stimulate the pig's immune system to produce antibodies to GnRF, the naturally occurring hormone that triggers the onset of puberty in both male and female pigs. It's not a hormone, he emphasized, and no residual antigens would be expected at slaughter several weeks after vaccination.
Originally developed as an alternative to physical castration for male pigs, the vaccine has recently emerged as a tool for temporarily suppressing ovarian function in gilts, thereby delaying estrus.3 Estrus is associated with reduced feed intake and thus has a negative impact on growth, Mah explained. It's also linked to sexual behavioral problems, such as mounting and aggression, which can be harmful to animal welfare.
"Numerous studies have linked the use of Improvac in gilts to effective estrus suppression, with vaccinated gilts demonstrating better and more consistent feed intake that results in heavier market weights. Reductions in harmful sexual behavior have also been observed, a finding that has clear benefits for animal welfare," he said.
"In our latest study, we systematically analyzed currently available literature to evaluate the impact of immunological estrus suppression on a variety of indicators that are important to producers, packers, retailers and consumers. Our findings — including reduction of performance losses, improved carcass value and uniformity, and greater palatability for consumers — reinforce the technology's potential to yield benefits throughout the pork chain."
Study design
The meta-analysis was based on findings from 22 published studies reporting on the use of Improvac in market gilts. Parameters of the study were categorized according to their relevance to one of three stakeholder groups: producers, packers and retailers/consumers.
For producers, the researchers assessed indicators such as performance parameters, final harvest measurements and ovarian activity. For pork packers, they also looked at ovarian and uterine weight, general carcass traits and yield of valuable meat. For consumers, various indicators of meat and fat quality were observed (Table 1).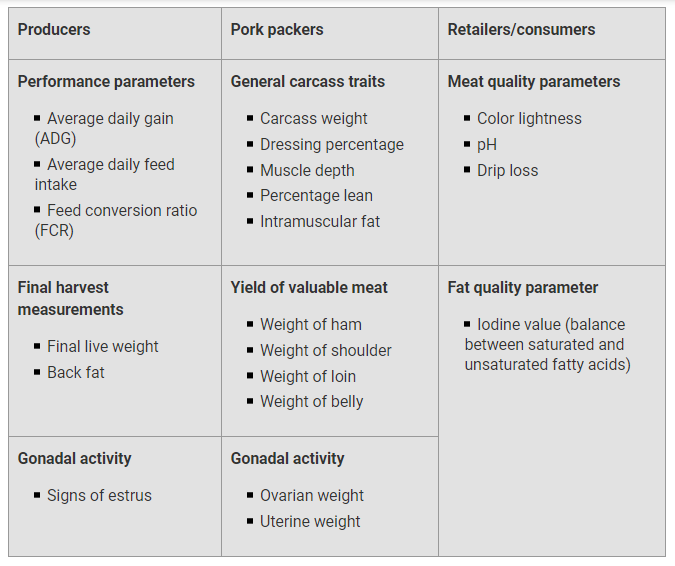 In all studies, the vaccine was given to gilts twice according to label instructions: first after 8 weeks of age to prime the immune system, and second at least 4 weeks later to temporarily suppress ovarian function in the late stages of finishing.
Results
Results of the meta-analysis showed that compared to unvaccinated gilts, vaccinated gilts had significantly and consistently higher feed intake following the second dose, a finding that is consistent with the suppression of ovarian function and gonadal hormones. This was linked to improved growth rates and final harvest measurements compared to unvaccinated gilts, as well as better welfare from the avoidance of sexual behavioral problems.
While carcass dressing percentage was similar for vaccinated and unvaccinated gilts, the higher final live weight resulted in heavier carcasses. According to Mah, this contributes to higher uniformity and increased production efficiency in mixed-sex herds.
Carcasses from vaccinated gilts also had a lower percentage of lean, increased fat content and higher belly weight. This diminishes the often criticized "over-leanness" of female pigs, Mah said, while creating economic advantages and improving sustainability.
There were no differences in meat quality between vaccinated and unvaccinated gilts as defined by color, pH and drip loss. However, fat quality was considered more favorable in vaccinated gilts as demonstrated by a lower iodine value, which reflects a more favorable balance of saturated and unsaturated fatty acids.
Farm-to-fork benefits
The results of the meta-analysis demonstrate the value of immunological estrus suppression from farm to fork, Mah noted.
"Our study confirms that Improvac safely and effectively suppresses estrus in gilts, which in turn helps reduce performance losses, improve welfare and ensure a consistent, high-quality product," he said.
"These findings complement previous work we have done with Improvac linking GnRF suppression in male pigs to improved performance, carcass traits, meat quality and welfare compared to barrows," he added, noting that the vaccine is approved for use in male pigs in more than 65 countries around the world.4
"We are encouraged by our latest findings in gilts and look forward to further investigating the potential of this technology to meaningfully improve the efficiency and sustainability of pork production around the world."
To read the full publication, click here.
References
References
1 Nautrup BP, Van Vlaenderen I, Mah CK.
"The effect of immunization against gonadotropin-releasing factor in market gilts: Meta-analyses of parameters relevant for pig producers, pork packers and retailers/consumers.". Res Vet Sci 2019,
2
The compound is classified as a vaccine in all major swine markets except the US, where it is registered as a pharmaceutical.
3
GnRF analog-diptheria toxoid conjugate is currently licensed for use in gilts in Canada, US, Spain, Thailand and several Central and South American countries.
4 Poulsen, et al.
"The effect of immunization against gonadotropin-releasing factor on growth performance, carcass characteristics and boar taint relevant to pig producers and the pork packing industry: A meta-analysis.". Res Vet Sci.
119:182-195.
Sponsored Article
---