Welfare–Friendly Husbandry through Genetics: Animal Well-Being
Gene polymorphisms influencing stress reactivity open the way to marker-assisted selection to reduce stress and improve robustness of animals, contributing to animal well-being as well as improved product quality, according to the final scientific report from the EU group, Sustainable Animal Breeding (SABRE) subtitled 'Cutting Edge Genomics for Sustainable Animal Breeding'.
All aspects of stress responses are highly variable among individuals and influenced by genetic factors. Numerous gene polymorphisms have been detected as influencing stress reactivity. The established results open the way to marker-assisted selection to reduce stress and improve robustness of animals, contributing to animal well-being as well as improved product quality.
Why Well-Being?
Animal welfare plays a critical role in the sustainability of animal breeding. This is first of all for ethical reasons related to the consideration for living and sensitive creatures. In addition, bad welfare and accompanying stress responses have negative consequences on numerous aspects of animal production, such as growth rate, milk or egg production, resistance to diseases, product quality and product safety.

Selection for highly productive animals with high feed efficiency, fast growth rate and lean carcasses has reduced their ability to adapt to environmental challenges. This ability is known as robustness and includes traits such as newborn survival, resistance to diseases and functional longevity. In the context of sustainable breeding, selection should balance genetic increase in production potential with genetic improvement in robustness. The overall objective of this project is to find genes that reduce stress in farm animals and reinforce their competence for adaptation. Besides genetic selection also the environment has to be improved to better fit the needs of the animals.
Research to Improve Well-Being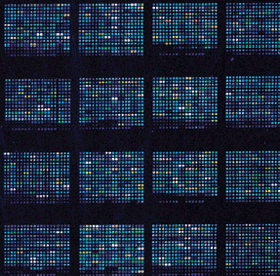 Microarray technology
The project was aimed at identifying the genes responsible for variation in stress responses, including their relationship with animal welfare, product quality and safety. A clear link was found between individual aggressive tendencies and negative consequences of mixing pigs before slaughter.
Role of Temperament
Pre-slaughter stress is a key determinant of meat quality. An important factor of pre-slaughter stress is mixing of unfamiliar pigs because it may provoke aggressive behaviour. Fighting alters metabolism of the skeletal muscle and ultimately meat quality. Adaptation processes include both behavioural mechanisms and biological processes.

The researchers showed that excessive aggressive tendencies in pigs, as measured by mixing young animals aft er weaning, induce later in life strong interactions when the animals are mixed before slaughter (transportation, lairage). These fights have negative impact on welfare (skin lesions, excessive physical demands and biological response).

Stress responsiveness and aggressiveness are interrelated and both show large inter-individual variation, which is partly attributable to genetic factors. To identify candidate genes for stress responsiveness and aggressiveness, we performed transcriptome profiling of the adrenal gland. This can then support the objective to improve welfare and meat quality by genetic selection of pigs with reduced aggressive temperament.
Cortisol and Robustness
A pre-eminent biological response to stress is the release of cortisol from the adrenal gland cortex. This hormone plays an important role in the body to increase resistance to stress and to improve robustnessrelated traits such as newborn survival. Hormone secretion by the adrenal cortices under stimulation by Adrenocorticotropic hormone (ACTH) is a major source of individual differences and several candidate genes have already been identified by genomic studies.

In the experiment under SABRE, scientists sequenced a number of these candidate genes for molecular polymorphisms and studied their association with neuroendocrine and metabolic traits in a genetically diverse pig population.).

These analyses of gene expression in the adrenal gland have revealed several genes that express differentially according to the intensity of the response of the gland to ACTH or to pre-slaughter stress. Mutations were revealed in some of these genes that were related to carcass composition and meat quality traits. Now knowing that there are differences between animals, opportunities arise to genetic selection for animals with a robust stress response allowing better adaptation to environmental challenges.
Further Reading
| | | |
| --- | --- | --- |
| | - | You can view the previous article from the SABRE report by clicking here. |
February 2012