African swine fever in wild boar: biosecurity during hunting
Learn how to plan for hunting wild boar
Editor's note: the following is an excerpt from African swine fever in wild boar populations - ecology and biosecurity. It was created by the FAO, WOAH and European Commission. Additional content from the booklet will be shared as an article series.
Hunting is usually regulated by environmental or forestry services. Veterinary services are rarely involved unless transmissible animal diseases are detected in the wild animal populations. Veterinary legislative acts regulate several diseases that affect both wildlife and livestock, including ASF. The role of the veterinary service primarily relates to ensuring that all appropriate procedures for confirming or ruling out the presence of the disease are followed. Veterinary services are also responsible for providing information to pig owners and hunters, and conducting epidemiological investigations for suspected cases (wild boar showing abnormal behaviour or found dead), including laboratory testing.

When ASF is confirmed in wild boar, the virus should be controlled through the specific management of the wild boar population. European Union countries must develop an eradication plan that includes the establishment of biosecurity measures to be enforced during hunting. Countries should also develop and implement basic hunting biosecurity measures, regardless of the presence of ASF. The development of a proper biosecurity approach during hunting requires time and resources and may be difficult to organize in an emergency situation.
Close communication with hunters is important. Although the hunting of wild boar could represent a useful ASF management tool, hunting infected wild boar poses the threat of the virus spreading further. Hundreds of infected wild boar have been hunted in eastern and northern Europe in recent years. In such an epidemiological landscape, hunters act as a link between the wild infected habitat and the anthropogenic habitat, increasing the risk of ASF outbreaks among domestic pigs.
MANAGEMENT PLAN FOR WILD BOAR HUNTING
Each hunting ground (irrespective of its size) should develop its own basic and simple biosecurity plan. This plan should consider the road network, location of hunting towers, feeding and baiting points, availability of hunting lodges and related animal dressing facilities and storage of offal (containers or animal waste pits).
Hunters in the infected area should address the following points (Bellini, Rutili and Guberti, 2016):
training on ASF preventive measures;
wild boar transportation from the hunting spot to the dressing facility;
dressing room/area requirements and equipment;
the proper disposal of offal;
safe on-site storage of hunted wild boar until an ASF-negative test result; T procedures for the disposal of ASF-positive wild boar; T procedures for cleansing and disinfecting facilities.
MINIMIZING THE SPREAD OF AFRICAN SWINE FEVER OUTSIDE INFECTED AREAS THROUGH HUNTING GROUND BIOSECURITY PLANS
In ASF-infected and at-risk areas, it is not possible to determine whether a hunted wild boar has ASF. All hunted wild boar must therefore be treated as if they are infected, which means applying a complete set of feasible and sustainable biosecurity measures during all hunting phases.
TRANSPORTATION OF WILD BOAR FROM THE HUNTING SPOT TO THE DRESSING FACILITY
Wild boar parts should remain in the hunting spot. In fact, it should be strictly forbidden to open the animal's abdomen and to leave any internal organs in the area. The entire body of the hunted wild boar should be safely transported to the dressing area or facility.
Safe transportation of the carcass should prevent the flow of any liquids, in particular blood, that may contain ASFV. Plastic or metal tanks are recommended, not plastic bags, which are often damaged by vegetation. Dedicated vehicles should transport hunted wild boar from the hunting spot to the dressing area. These vehicles should never leave the infected hunting ground or area. If these dedicated vehicles are not available, trailers or inexpensive external animal transport devices can be used. The means of transportation used to collect hunted wild boar must be cleaned and disinfected after each hunt.
The use of private cars to transport wild boar inside the infected hunting ground should be forbidden as they could be contaminated and thus indirectly spread the ASFV over great distances. Private cars should be parked outside the area where the dressing procedures are performed, preferably on paved road.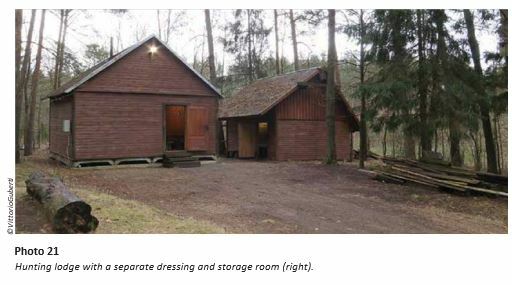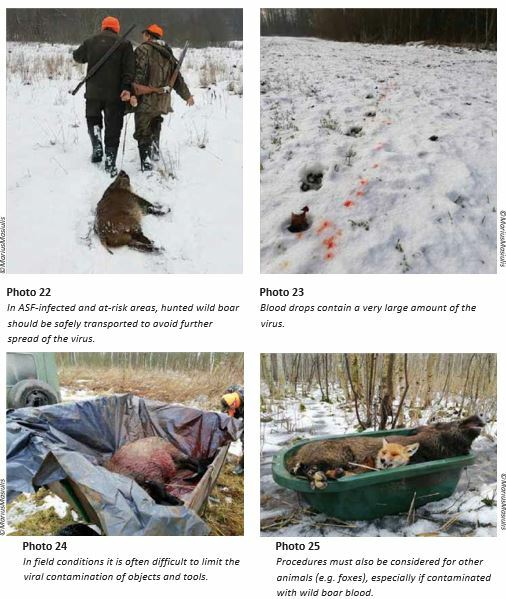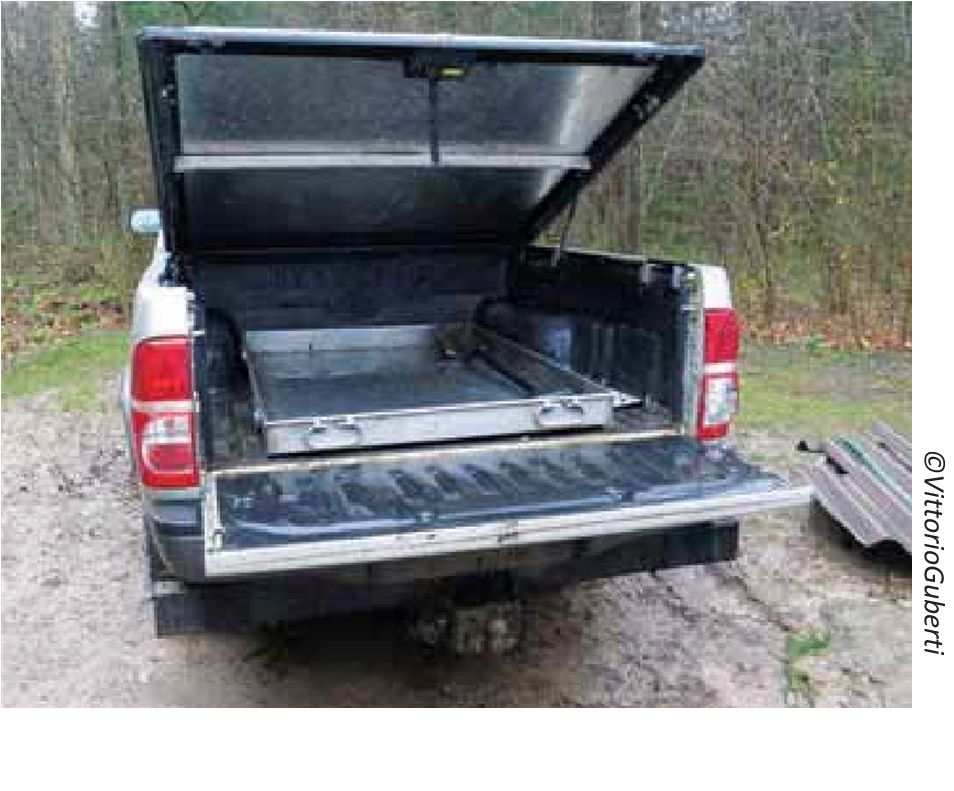 REQUIREMENTS AND EQUIPMENT FOR THE DRESSING AREA/FACILITY
Each hunting ground must have at least one equipped dressing area or dressing facility, authorized by the competent veterinary authority. The dressing area can be open-air or a closed facility, but must be dedicated exclusively to animal dressing. It must also be easily recognizable and only used by those in charge of dressing the animal.
An open-air dressing area should be:
set in an area with permanent dry soil, have a roof protecting it from rain, snow and sun, and organized in a way that prevents contamination of the surrounding areas with infected blood or fluids;
fenced with lockable gates to prevent the entry of wild boar, scavengers and unauthorized persons;
provided with water;
provided with a disposal pit or container for offal and waste.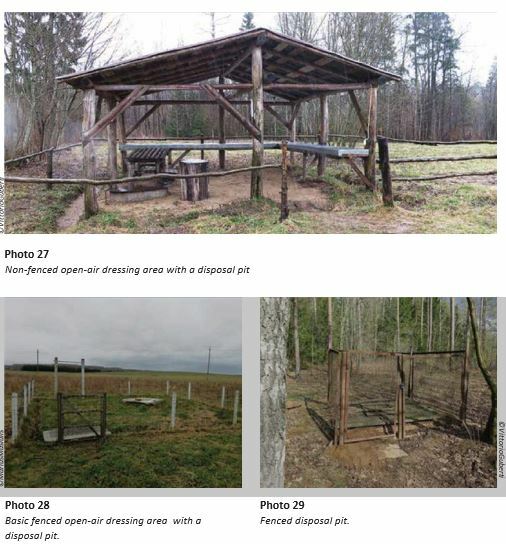 Closed dressing facilities are another type of dressing area that hunters usually equip in part of the hunting lodge or nearby it.
A closed dressing area should:
prevent access of domestic and wild animals;
have walls and floors that can be easily cleaned and disinfected;
have an area for the cleaning and disinfection of the dressing tools and equipment;
have a container for the storage of animal by-products before their disposal;
have disinfection barriers (mats) at the entrance, filled with disinfectant.
Persons in charge of dressing should:
wear disposable or washable clothes and boots that are easy to disinfect;
use tools that are exclusively for dressing, clean and disinfect them after use and not bring them outside the hunting ground;
wash and disinfect every tool, apron and footwear used in the dressing area before exiting the fenced area;
place all disposable items in plastic bags and dispose of them;
use only authorized disinfectants.
Guberti, V., Khomenko, S., Masiulis, M. & Kerba S. 2022. Chapter 4. African swine fever in wild boar – Ecology and biosecurity. Second edition. FAO Animal Production and Health Manual No. 28. Rome, FAO, World Organisation for Animal Health and European Commission. https://doi.org/10.4060/cc0785
January 2023 - December 2022
---