G7 Extraordinary Agriculture Ministers' Meeting: impact of Russia's invasion of Ukraine on world grain prices
A G-7 Extraordinary Agriculture Ministers Meeting convened Friday in response to the Russian invasion of Ukraine.
Agricultural ministers from Germany, France, the UK and US, Canada, Italy, and Japan were joined by Minister Roman Leshchenko, Ukraine's farming and food minister, who addressed the group. The Ministers condemned the invasion and expressed their shared commitment to safeguarding global food security and nutrition, to strengthening supply chains, to avoiding export bans and other trade-restrictive measures and to maintaining open and transparent markets.

In a presentation by Director-General of the Food and Agriculture Organization (FAO) of the United Nations Qu Dongyu to the G7 Extraordinary Agriculture Ministers' Meeting, the Director-General shared the following information:
Ukraine and Russia are key suppliers of wheat to many countries in the world. Nearly 50 countries depend on the Russia and Ukraine for at least 30% of their wheat import needs. Of these, 26 countries source over 50% on their wheat imports from the two countries.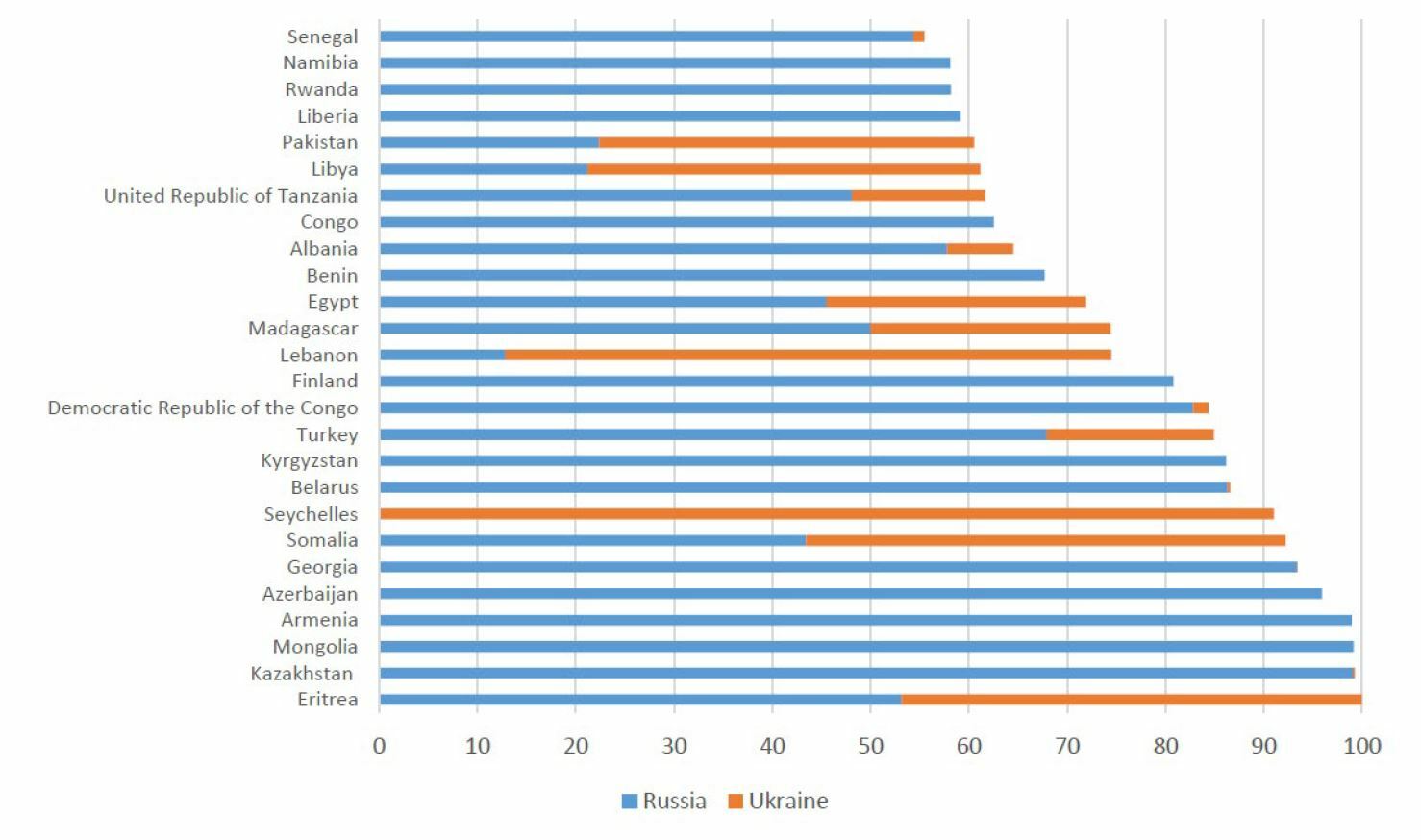 When it comes to fertilisers, 25 countries rely on the Russian Federation, with an import dependency of 30% or more for the N, P, and K fertilizer.

Wheat is a staple food for over 35% of the world's population, and the lack of a substitute is likely to compound the pressure on wheat prices. The conflict can have multiple implications for global markets and food security.
Prior to the conflict, FAO expected Ukraine to export around 6 million tonnes of wheat between March and June 2022, and the Russian Federation to export 8 million tonnes during this period. This represents about 7 percent of total world wheat trade in 2021/22, which is forecast by FAO at 194 million tonnes.
Ukraine was expected to export approximately 14 million tonnes of maize, and the Russian Federation 2.5 million tonnes. Ukraine's expected exports would have represented 18 percent of global maize trade this season. This would have made Ukraine the world's third largest maize exporter in 2021/22.
To assess the potential impact of the conflict, preliminary simulations were undertaken using FAO scientific model to estimate the impact on prices and undernourishment.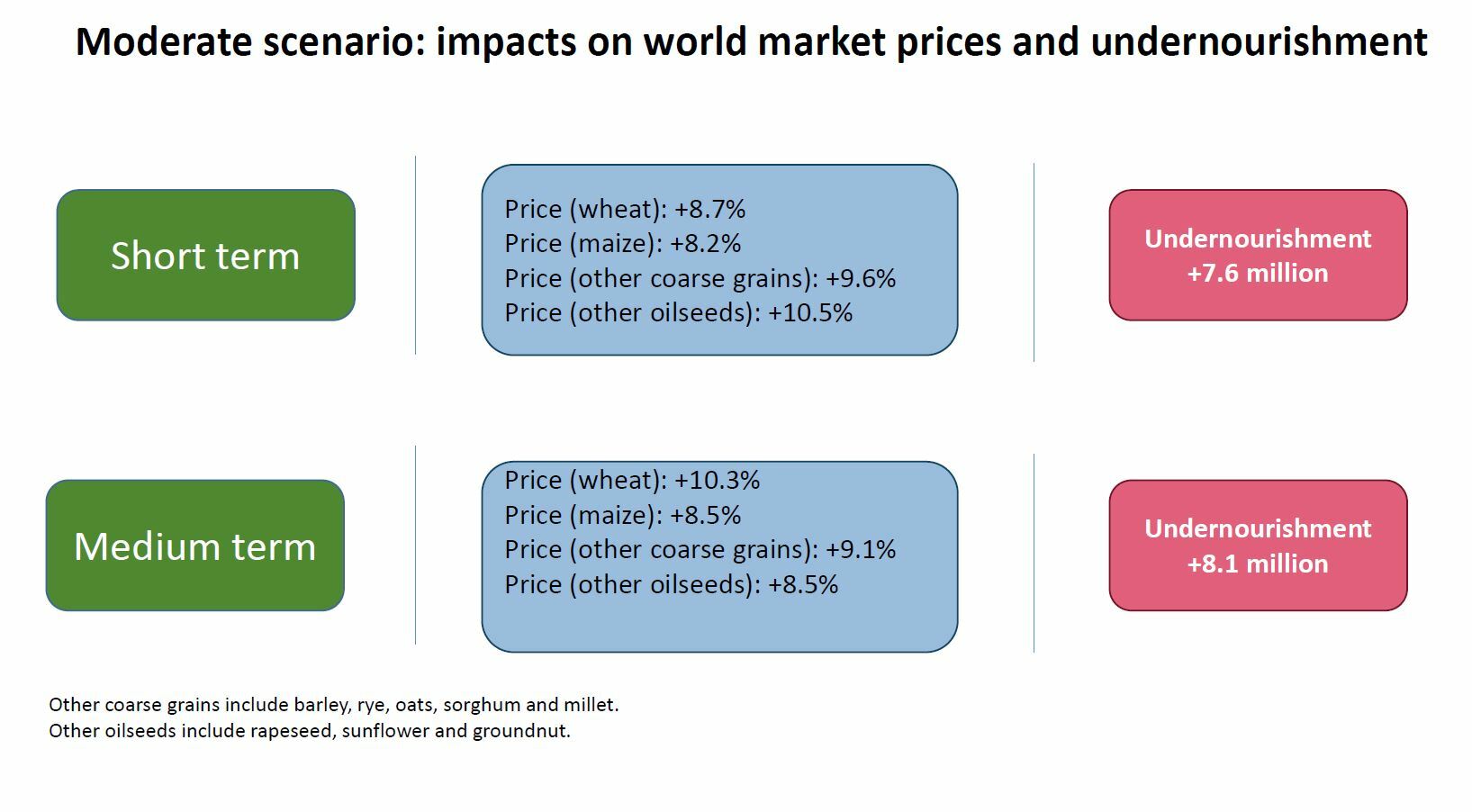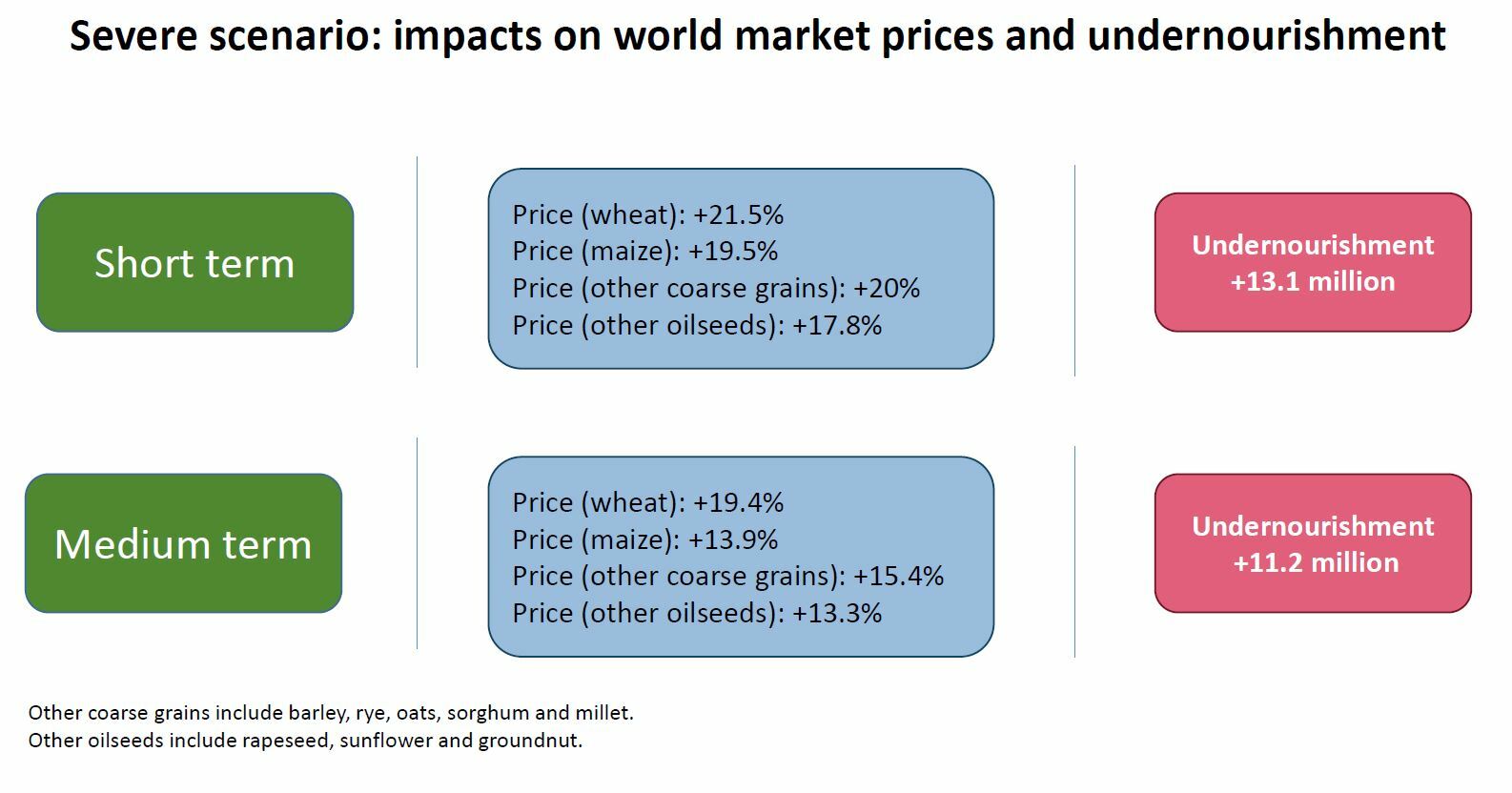 He closed his presentation with: "To conclude, let me recall that the situation is evolving rapidly, and much uncertainty remains regarding the conflict, its intensity, and duration. These simulations can serve to inform collective action to foster global food security, but they are subject to many areas of uncertainty."
G7 Extraordinary Agriculture Ministers' meeting statement on the invasion of Ukraine by the Russian Federation:
1. We, the G7 Agriculture Ministers and the Commissioner for Agriculture of the EU, met today in the presence of our Ukrainian colleague, as well as the World Food Programme (WFP), the Food and Agricultural Organisation (FAO), the Organisation of Economic Cooperation and Development (OECD) and the Agricultural Market Information System (AMIS).
2. We are all appalled by and condemn the large-scale aggression by the Russian Federation against the territorial integrity, sovereignty and independence of Ukraine, enabled by the Belarusian Government. We are deeply saddened by the devastating human losses and suffering, and we express our solidarity with Ukraine in line with our G7 Leader's Statement on the invasion of Ukraine by armed forces of the Russian Federation.
3. We strive to provide national, bilateral and international support to help facilitate harvests in Ukraine and ensure the ability of Ukrainian farmers to feed their population and to contribute to global food security. We call on international organisations to support food production in Ukraine during this crisis and ensure food security in affected areas. We remain determined to do what is necessary to prevent and respond to a food crisis, including with humanitarian aid, and stand ready to act as needed to address potential disruptions.
4. We are deeply concerned about the impacts on food security and the rising number of people suffering from hunger and all forms of malnutrition, caused by the unprovoked and unjustifiable Russian war of aggression, adding to the already severe situation caused by COVID-19, climate change and biodiversity loss. This will only increase the suffering in the region and put pressure on food security globally. We note with grave concern the severe effects on global food supply chains and the sharp rise of already high prices for agricultural commodities and inputs, such as fertiliser, impacting food security and nutrition for vulnerable countries and populations.
5. We deeply condemn Russia's attack on Ukraine. As Ministers of Agriculture, we are greatly alarmed by the targeting of critical agricultural infrastructure, including transportation and storage, which is having significant regional impacts. Given Ukraine is the fourth largest supplier of wheat and produces half of the world's sunflower oil exports, this will additionally have global impacts on food systems and food insecurity.
6. We commit to cooperating closely and taking concrete actions to safeguard global food security and nutrition, especially supporting food security for the people of Ukraine. We reaffirm the importance of working together to maintain the flow of food, products, seasonal labour and inputs essential for agricultural and food production across borders in line with all measures adopted in response to the current situation. Moreover, we will work together to address transportation challenges for food exports and commodity production.
7. We call on all countries to keep their food and agricultural markets open and to guard against any unjustified restrictive measures on their exports. Any further increase in food price levels and volatility in international markets could threaten food security and nutrition at a global scale, especially among the most vulnerable living in environments of low food security. We nevertheless recognise the extreme circumstances behind the export restrictions announced by the government of Ukraine and the vital importance of preserving the availability of food in Ukraine.
8. We will not tolerate artificially inflated prices that could diminish the availability of food and agricultural products. We will also fight against any speculative behaviour that endangers food security or access to food for vulnerable countries or populations. Therefore, we are closely monitoring markets affecting the food system, including futures markets, to ensure full transparency. We will continue to share reliable data and information on global food market developments, especially through the relevant international organisations.
9. We will work together to help ensure that sufficient, safe, affordable, and nutritious food continues to be available and accessible to all people, including the poorest, the most vulnerable, and displaced people in a timely, safe, and organised manner, and particularly for the people of Ukraine. We deeply thank all farmers and workers, and food and agricultural businesses along the supply chain, who continuously provide our food supply in a sustainable manner. We will continue to support food security in line with climate and environment commitments and the sustainable development agenda.
10. Together with G7 foreign and development ministers, we will continue our close cooperation within the G7 and with relevant international organisations, multilateral development banks and international financial institutions to respond to the impacts of the war on food security and nutrition. In this regard, we will inform one another and strive to coordinate the measures we take to ensure food security and market stability, in respect of both Ukraine and countries and regions that may experience food insecurity.
11. We stand united with our partners and with the government and people of Ukraine during this crisis. We will continue our close cooperation to respond to the impacts of the war, including on agricultural and food trade, food security and nutrition.