The inner workings of a global swine semen facility
An insight into the facilities and processes of a boar stud and artificial insemination (AI) centre based in Northern Ireland.
Around 50 years ago, John Luscombe was well-known in the UK industry in his capacity as a pig lecturer at Harper Adams Agricultural College. In his book, Pig Husbandry, Luscombe wrote: "AI is extremely useful in introducing new blood without disease risk and also in obtaining the use of top quality boars at moderate cost". Other producers will wholeheartedly agree with those words, I'm sure. However, Luscombe continued: "I cannot see AI ever being run on economic lines in direct comparison with the costs of keeping a boar". Luscombe would have to eat his words, as AI has certainly come a long way in the last 50 years.
The stud
Glenmarshal Sires Ltd (GS) was established in 1996 by Trevor Shields to distribute the genetics from the Glenmarshal Herd of Pedigree Pigs which he had established in 1976.
A purpose-built, EU-licenced AI centre was built at that time near Kilkeel in County Down, Northern Ireland. Boar accommodation initially had capacity for 32 boars but, following a number of phases of expansion, the centre now holds 140 boars. A satellite site was built in 2015 and has capacity for an additional 70 boars.
The AI centre is under the control of a centre vet and is monitored regularly for PRRS using PCR and ELISA testing of blood serum. The AI centre is also Red Tractor Approved.
The process
Semen collection is carried out manually. Due to safety concerns for collectors using collection pens, GS installed a race-type collection system. A collection pit was installed at the satellite facility allowing operators to stand. Stainless steel boar mounts are used in the interests of hygiene. Boars are also cleaned before collection with paper towels and collectors are trained in hygienic collection techniques. Collection cups are clearly identified before transfer to the lab.
Race-type collection systems are used for safe manual boar semen collection
The central lab, which is air conditioned for temperature control, has been extensively updated over the years. Semen is analysed using a CASA (computer-assisted semen analysis) system and video records are maintained of all ejaculates. Microscopic and colorimetric back-up for semen analysis are present in the lab. BPEX standards and protocols are followed.
When the company was set up, bottles and "flat packs" were used for semen packaging. An automated filling machine was purchased in 2005 when a change was made to using "spouted flat packs", and a further filling machine was purchased in 2017. To prevent the accidental transmission of the colour gene, one machine is dedicated to packing Duroc semen in a flat pack that's styled differently to the packaging for maternal semen (semen used to produce dam (female) lines).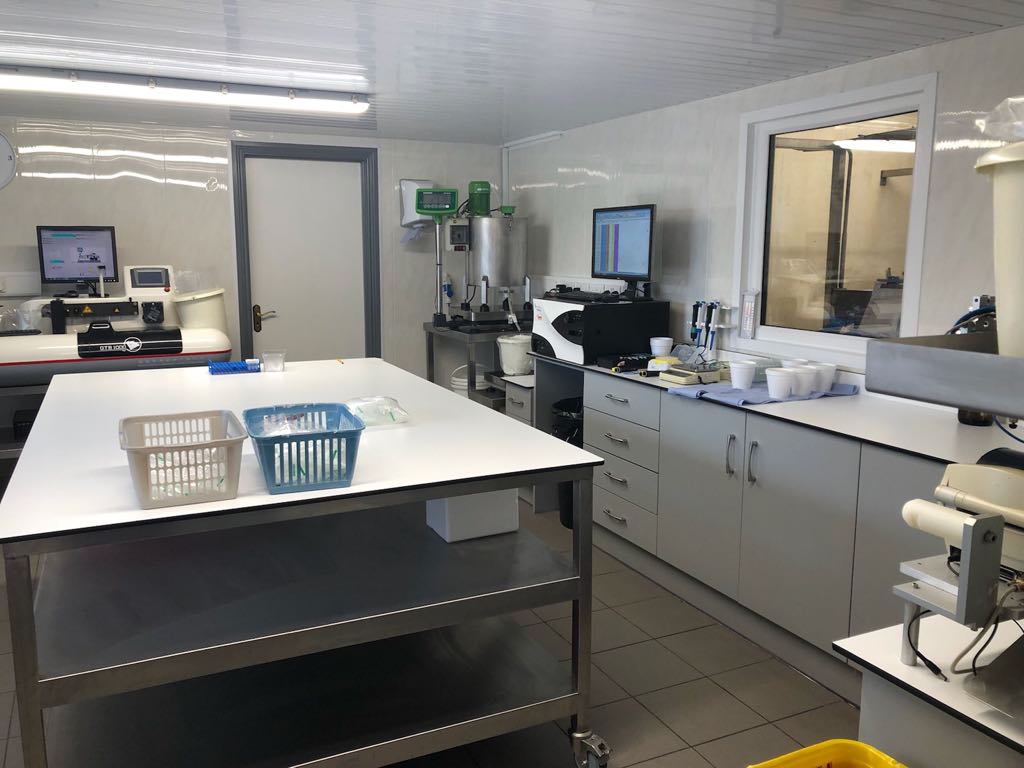 The central lab is air conditioned for temperature control and semen is analysed using a CASA (computer-assisted semen analysis) system. Video records are maintained of all ejaculates, with microscopic and colorimetric back-up for semen analysis
Initially, short-term extenders, such as BTS, were used. As extender technology has improved, world-class long-term semen extenders are used and ultra-pure water is produced on-site for extender preparation.
Initially boars were selected from the top Landrace and Large White boars tested at the Northern Ireland Pig Testing Station in Antrim. As there was a move away from the use of Pedigree Landrace and Large White boars over the first 10 years, Glenmarshal Sires became a multi-franchised AI company in 2005. Boars were sourced from a number of global breeders over the next 10 years.
Following a meeting with Paul Anderson of Genesus Inc, Trevor Shields made a visit to Genesus nucleus farms in Manitoba, Canada, in early 2015. A highly successful trial importation of more than 40 boars was made in May 2015. Further importations have since been made and there are now more than 160 Genesus boars at stud.
In the interests of maximising semen quality and minimising the use of polystyrene packaging, a temperature-controlled "cool chain" delivery service is made within Ireland where temperature-controlled containers are fitted to dedicated vans. Semen is then transferred to a temperature-controlled drop-off point at the farm. Alternatively, a number of GS customers use wall-mounted drop-off boxes which are only suitable for short-term storage. In this way delivery drivers and vehicles never pass a piggery perimeter fence which maximises biosecurity.
Deliveries are made three times per week within Northern Ireland and the border counties of the Republic of Ireland. Deliveries are made twice weekly to the southern counties of Ireland.
Semen is delivered to England on behalf of Genesus UK using the special delivery service from Royal Mail. The main dispatch days are Friday and Monday, and the 9am delivery service for use on a Tuesday morning has proven highly successful with customers regularly achieving born alives of over 14.
Fresh semen exports are made globally, on behalf of Genesus Inc, to countries which have import agreements with the UK. Semen is shipped by air using specially adapted shipping containers. Countries supplied include Thailand, the Philippines, Vietnam, Bulgaria, Germany and Spain.
Fifty years ago, John Luscombe would never have dreamt that semen would be routinely flown over 6,500 miles to customers in the far East – a practice which has proven to be a far cheaper, quicker and safer way to improve herd genetics compared to bringing those genes in on four legs.
By Stuart Lumb