Ventilation systems need winter check-up to keep pigs healthy
Ventilation systems in hog buildings need regular check-ups to prevent environmental issues that can compromise pig health. Winter audits are especially important, with ventilation running at low levels with little room for error.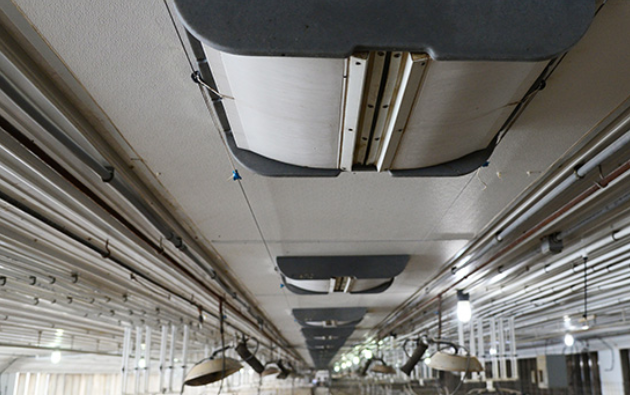 "A lot of the winter is spent in minimum ventilation mode," reported Sam Holst, DVM, Swine Vet Center, St. Peter, Minnesota. "When we do run into ventilation issues, it can be when we are in minimum ventilation, and winter is a good time to monitor that and make adjustments."
A common problem is moving too much air and chilling pigs, especially in the critical time shortly after weaning. "Pigs will be cold and won't have the energy to get to the feeder and start on feed," Holst said.
"On the flip side, if there's not enough ventilation, humidity will build up," he added. Gas contaminants like carbon dioxide and ammonia accumulate, causing growth and performance problems. At certain levels, the contaminants can increase respiratory disease and other pathogens in a group of pigs.
Ventilation basics
Many variables go into determining correct ventilation rates. "It is a pretty intricate process," Holst admitted. "We have multiple barn styles and ventilation systems to start with, and multiple controllers. It's pretty easy to set up incorrectly and make mistakes.
"Even when I'm on visits for something other than looking at ventilation, there will usually be some issue or adjustment to improve ventilation," he added. "There's no doubt it has a big daily impact, and there's room for improvement on almost every site."
Minimum ventilation rates are based on the number and weight of pigs in a barn. A reference chart is needed to know how much air (cubic feet per minute or CFM) must be moved per pig per room. Settings to achieve minimum ventilation will then vary, depending on fan inventory and size. Things can go wrong when calculations are not correct.
Incorrect ventilation rate
The first big issue is the efficiency of the fans. Fan CFM ratings are determined at the factory when the fans are new. Fan efficiency takes a hit after being used for several months, and the accumulated dust and dirt aren't removed.
"A lot of times we overestimate what the output will be in the barn because we are not dealing with factory conditions," Holst said. "Make sure to clean up those fans with a power washer, and get the dirt off the fan blades and louvers.
"Even 1/8-inch of dust or dirt will reduce efficiency up to 40%," he added. "That can really throw the ventilation settings out of whack."
Also be sure to clean fans after fall harvest because extra dirt and chafe will accumulate on them.
Poorly placed temperature probes
"Improper probe location can be another often overlooked cause of ventilation issues," Holst said. "The controller is getting data from multiple probes, and if they are next to a heater or an inlet, it won't be an accurate read of what's going on in the room."
He recommends setting temperature probes for nursery pigs at 35 inches off the slats and finishing pigs at 51 inches off the slats. In barns with curtains, the probes should be located 5 feet from the outside wall or curtain. In tunnel-ventilated barns, the probes should be located over the areas where pigs sleep most of the time.
Heater issues
When heading into cold weather, all heaters should be cleaned and checked over to make sure they are working. It's also important to review heater settings.
"The common error I see is incorrect heater settings with the heater programmed to shut off too close to the set point," Holst said. "Typically, we want the heater to come on 2 to 3 degrees below set point and shut off at least 1 to 2 degrees before getting to the set point."
If heater shutoff is set too close to set point, the minimum ventilation fans will start up and blow heated air out of the building, leading to higher utility costs.
Blocked inlets
Attic inlets and soffits that are plugged with dirt or chafe also lead to insufficient ventilation.
"If not enough air gets into the attic, then there's not enough air going into the barn to be exhausted," Holst said. "You will end up with improper mixing and air exchange."
He recommends regular cleaning of the soffits and inlets, especially in the fall after harvest.
Fall is also an important time to clean pit fans. "It's even more critical because a lot of barns are getting close to full manure capacity which can decrease pit fan output," he added. "Make sure those fans are clean."
Help solving problems
Producers with ventilation problems that aren't easily solved can call on veterinarians like Holst to help. He uses several sophisticated meters and data collectors to spot problems in ventilation.
For example, a client of Holst's noticed an increase in tail biting in a barn and could not find the source. Holst sent a Hobo data collector to the barn where it was installed for a couple of weeks to chart room temperature.
After reviewing the temperature data, Holst noticed the barn at night was not cooling off enough to make pigs comfortable. So the pigs were agitated, leading to increased vice behavior. Without the data collector, he would not have seen the incorrect overnight temperatures.
He also uses meters that measure percent of oxygen, carbon dioxide and ammonia, as well as meters measuring air speed.
"There are a lot of tools and gadgets that I utilize on the full workup that allow me to fine-tune ventilation and find out what's going on and potential problems," he said.
Any producer experiencing ventilation issues in hog buildings should contact their veterinarian for help identifying the problems.