7.2 What is the right time to vaccinate?
Enterisol® Ileitis is used for active immunisation of pigs from three weeks of age and older to reduce intestinal lesions caused by Lawsonia intracellularis infection and to reduce growth variability and loss of weight gain associated with the disease.
In some farms, the pattern of infection is an endemic infection in breeding pigs, with early infection of the growing pigs at around 6 to 12 weeks old. This is particularly seen on many smaller European farms, where the various age groups of pigs are kept on one single property site and faecel bacteria, such as Lawsonia intracellularis, can easily move about between the different age groups. In this situation, it is important to select a vaccination time after weaning, but 3 weeks before the actual infection takes place.
In some larger, so-called "multiple-site" farms, separation of the breeding pigs and other age groups of pigs leads to a later onset of infection in the finishing pigs, at around 12 to 24 weeks-old. In this situation, the vaccine should be administered to pigs 6 weeks before seroconversion is seen in the herd.
On breeding farms and multiplier pig farms pigs should be vaccinated at a suitable time point before they move from the clean source farm to a possibly endemic infected farm situation. So-called "gilt acclimatisation programs" would benefit greatly from addition of the vaccine at the source farm.
Figure 7.2 a
Time of vaccination.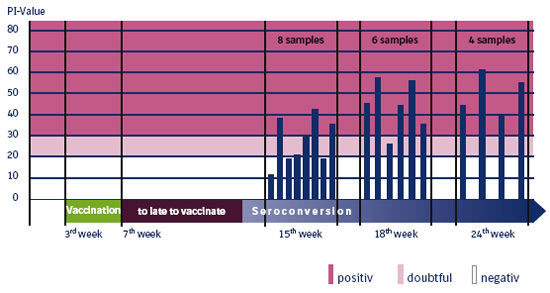 Figure 7.2 b
Timing of vaccination based on 18 blood samples ELISA serology scheme.
To choose the correct timing for vaccination a serological profile of the farm should be made.
After a normal field infection, it will take on average 3 weeks before the animals will seroconvert. The onset of immunity after a vaccination is 3 weeks. Only after this the vaccinated animals can withstand a normal field infection. Therefore, after adding up these two time frames, the total lag between vaccination and onset of serocon­version needs to be at least 6 weeks.
COPYRIGHT NOTICE: ILEITIS TECHNICAL MANUAL 3.0
© Boehringer Ingelheim Animal Health GmbH, 2006
All rights reserved. No part of this Technical Manual 3.0 may be reproduced or transmitted in any form or by any means, electronic or photocopy, without permission in writing from Boehringer Ingelheim Animal Health GmbH.