7.6.4 Three Days after vaccination
* No antibiotics!
For maximum effectiveness of the vaccine it is crucial that the animals are not treated with antibiotics during three days following vaccination. This is true for antibiotic treatment via water, feed or by injection and antimicrobial growth promoters.
* Application using a drencher
As an alternative to the vaccination via a trough or a drinking water system, the vaccine can also be administered using a drench. Following this method the vaccine is reconstituted with the provided diluent. With the help of a drencher, each pig due for vaccination receives a 2 ml-dose of the vaccine directly into the mouth (without addition of milk!). It should be ensured that the pigs swallow the whole 2 ml dose.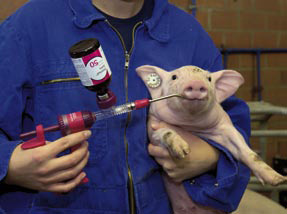 * Questions – Answers
If you have any questions concerning the use of Enterisol® Ileitis, Boehringer Ingelheim will be happy to help. Please contact your local Boehringer Ingelheim team.
COPYRIGHT NOTICE: ILEITIS TECHNICAL MANUAL 3.0
© Boehringer Ingelheim Animal Health GmbH, 2006
All rights reserved. No part of this Technical Manual 3.0 may be reproduced or transmitted in any form or by any means, electronic or photocopy, without permission in writing from Boehringer Ingelheim Animal Health GmbH.