7.1.1 Why is Enterisol® Ileitis given orally?
The basis of the body's resistance to Ileitis is the local immunity in the intestine, which is the product of cell-mediated immunity and local defense via antibodies, especially IgA. According to current knowledge, serum antibodies (IgG) do not give any protection. It has been demon­strated in studies that oral vaccination produces cell-mediated immunity as well as local production of IgA in the intestine (Murtaugh 2004; Hyland et al. 2004). In contrast, intramuscular administration did not lead to protection.
Therefore, a vaccine against Lawsonia intracellularis needs to be administered orally!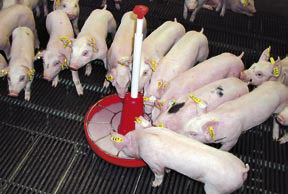 Picture 7.1c
Oral intake of the vaccine via the trough allows stress-free and labour-saving vaccination.
COPYRIGHT NOTICE: ILEITIS TECHNICAL MANUAL 3.0
© Boehringer Ingelheim Animal Health GmbH, 2006
All rights reserved. No part of this Technical Manual 3.0 may be reproduced or transmitted in any form or by any means, electronic or photocopy, without permission in writing from Boehringer Ingelheim Animal Health GmbH.