8.1 What are the efficacy and economic benefits of vaccination with Enterisol® Ileitis in European farms?
Representative farms in different countries of Europe were selected to evaluate the efficacy of Enterisol® Ileitis against Lawsonia intracellularis related diseases. The pigs on these farms tested positive for Lawsonia intracellularis during finishing by PCR and IFAT. On several of these farms the pigs did not show any clinical signs, apart from visually increased growth variation around the end of the nursery onto the middle of fattening. This anamnestic presentation is typical for the sub-clinical form of the disease.
In veterinary practice, Ileitis as hidden disease is probably the most frequent manifestation of the disease. This has recently been confirmed in a number of studies using various diagnostic methods, including faecal PCR, serology and immunohistochemistry (Chouet et al. 2003; Herbst et al. 2003; Guedes, 2004; Heijden et al, 2004; Nuntaprasert et al, 2004; Keller et al. 2004). Nevertheless, farms with sub-clinical Ileitis experience sub-optimal growth, reduced feed intake and loss of homogeneity in body weight (Jacobson et al. 2003; Guedes 2004). In this section we will highlight some of the results of the studies performed on these European farms.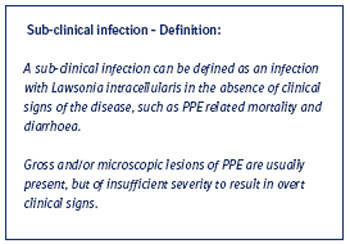 COPYRIGHT NOTICE: ILEITIS TECHNICAL MANUAL 3.0
© Boehringer Ingelheim Animal Health GmbH, 2006
All rights reserved. No part of this Technical Manual 3.0 may be reproduced or transmitted in any form or by any means, electronic or photocopy, without permission in writing from Boehringer Ingelheim Animal Health GmbH.