4.4.2 Intestinal Torsion
Colonic displacement is a common event in fattening pigs. Generally the large intestine is rotated, which may confuse the diagnostician. Pigs are presented with an extremely distended abdomen, which is bloated. The cause of intestinal displacements is incompletely understood, but sudden movements of a freshly fed pig may trigger the intestinal rotation.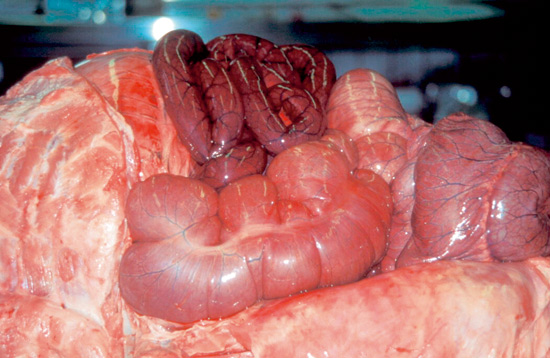 Picture 4.4.2 a (by M. Dünser)
Torsion of the intestine showing characteristic bloated and blood-filled small intestine and a caecum facing to cranial.
COPYRIGHT NOTICE: ILEITIS TECHNICAL MANUAL 3.0
© Boehringer Ingelheim Animal Health GmbH, 2006
All rights reserved. No part of this Technical Manual 3.0 may be reproduced or transmitted in any form or by any means, electronic or photocopy, without permission in writing from Boehringer Ingelheim Animal Health GmbH.