2.4.1 Mortality
The influence of mortality on costs is due to the simple fact that only a living pig can be sold. All costs of the dead pigs (piglet, feed, facility and veterinary interventions) increase the costs for those pigs actually slaughtered. Therefore the effect of mortality on the costs per pig is generally included in the analysis by dividing the total costs of a group of pigs by the number of pigs which are actually slaughtered. Table 2.4 a shows the increase in total costs per pig due to higher mortality.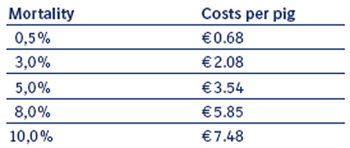 Table 2.4 a
The costs of mortality in fattening*.
* Assumptions: 25 kg to 115 kg pig growth; feed price ¤170/t; ADWG 700 g; ¤50/piglet; average weight of lost pig = 50 kg.
It should be kept in mind that mortality not only increases the costs but reduces the sales as well. Each pig which can not be sold is a "lost profit opportunity". Such lost opportunity costs have a substantial influence on the throughput and asset utilization in pig farming.
COPYRIGHT NOTICE: ILEITIS TECHNICAL MANUAL 3.0
© Boehringer Ingelheim Animal Health GmbH, 2006
All rights reserved. No part of this Technical Manual 3.0 may be reproduced or transmitted in any form or by any means, electronic or photocopy, without permission in writing from Boehringer Ingelheim Animal Health GmbH.