7.1.2 Why is Enterisol® Ileitis a live vaccine?
A successful vaccine against intracellular bacteria has to induce cell-mediated immunity as well as the production of local antibodies. In general only a very low percentage of orally ingested antigens are absorbed by the enterocytes. The incorporation of Lawsonia intracellularis into the cell is an active process initiated by the bacte­rium. Accordingly an inactivated vaccine would provide the intestine with insufficient immunogenic antigen (Haesebrouck et al. 2004).
Only attenuated live vaccines induce sufficient cell-mediated protection in the intestinal cells. Therefore, a vaccine against Lawsonia intracellularis needs to be a live vaccine.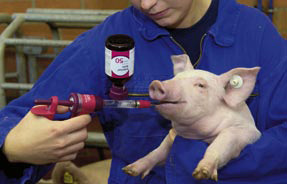 Picture 7.1d
As an alternative to the administration via the drinking water, the vaccine can be applied via a drench.
COPYRIGHT NOTICE: ILEITIS TECHNICAL MANUAL 3.0
© Boehringer Ingelheim Animal Health GmbH, 2006
All rights reserved. No part of this Technical Manual 3.0 may be reproduced or transmitted in any form or by any means, electronic or photocopy, without permission in writing from Boehringer Ingelheim Animal Health GmbH.