8.1.2 What is the Return Of Investment of a vaccination with Enterisol® Ileitis?
In all the previous described trials, vaccinated pigs had significantly higher slaughter sales than non-vaccinated pigs. In a recently performed meta-analysis, combining the results of five trials, the difference in gross margin between vaccinated and non-vaccinated animals was calculated (Voets and Hardge 2006). The carcase returns per animal, based on the local carcase grading grid in the different countries, the local meat prices and costs for piglets and feed, were calculated. Vaccinated animals showed to have a significant higher gross margin of + 4.29 € than the non-vaccinated animals. See Table 8.1.2 a.

Table 8.1.2 a
Economic return of Enterisol® Ileitis vaccination
This meta-analysis demonstrates that vaccination with Enterisol® Ileitis is profitable.
The individual gross margin of groups of vaccinated pigs on different farms can be higher
or lower than the outcome of this meta-analysis. The return of investment varies therefore from 2.5 : 1 to 5 : 1 and is depending on the farm-specific relation between vaccination costs and generated profit. Vaccination can reliably prevent losses due to a Lawsonia intracellularis infection and makes producing pigs a profitable enterprise.
Besides the direct economical benefits, the farmer has also many secondary management benefits from the vaccination against Ileitis.
These are:
Earlier shipment to grower/finisher barn or slaughterhouse
Higher throughput
Easier health management
Less culls and poor-doers to allocate to other groups or to hospitalise
More time between batches for hygiene clean-up
Increased uniformity
More animals in optimum grading grid
Reduction in the use of antibiotics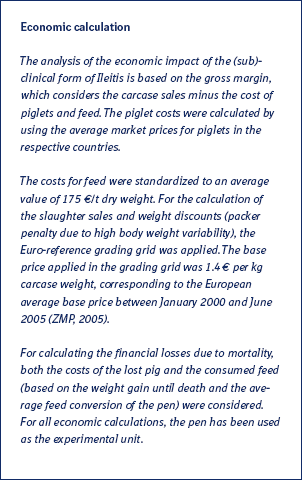 COPYRIGHT NOTICE: ILEITIS TECHNICAL MANUAL 3.0
© Boehringer Ingelheim Animal Health GmbH, 2006
All rights reserved. No part of this Technical Manual 3.0 may be reproduced or transmitted in any form or by any means, electronic or photocopy, without permission in writing from Boehringer Ingelheim Animal Health GmbH.