4.4.7 Escherichia coli infections
Escherichia coli infections are common in weaned pigs. On rare occasions, there appears a haemorrhagic condition in the intestine, when odd strains of Escherichia coli are involved. Pigs die from the so called "shock-syndrome", which may be one type of oedema disease (Escherichia coli enterotoxaemia).
Escherichia coli toxins cause the severe haemorrhagic phenomenon, and the inflammatory response to the intestinal mucosa is subtle. Usually profuse watery diarrhoea with rapid dehydration, acidosis, and death, in rare cases before diarrhoea commences, is observed. A distended and dehydrated small intestine with yellowish, slightly mucoid fluid is characteristic. The colon contains similar fluid. Often the fundic portion of the gastric mucosa is reddened. Pigs which have died suddenly have patchy cutaneous erythema.
Confirmation is based on histological observation of villous colonization. The villi are usually of normal length and have many small bacterial rods adhered to the absorptive enterocytes.By the use of IHC and other immunological techniques, the pilus antigens of causative Escherichia coli can be observed in intestinal scrapings. The Escherichia coli strains can be isolated from focal or tissue samples on blood agar plates. In haemolytic Escherichia coli isolates, the pilus antigens are demonstrated by agglutination with specific antisera. Differential PCR methods are available for detection of pilus antigen genes and toxin genes in Escherichia coli cultures.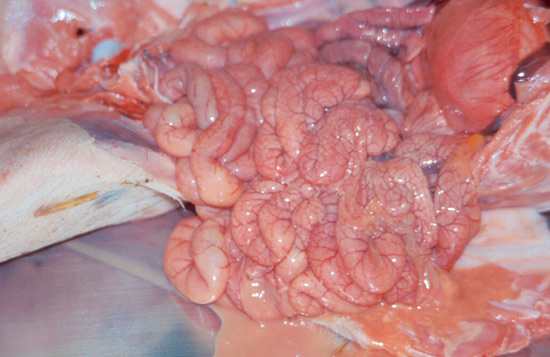 Picture 4.4.7 a (by M. Dünser)
Small intestine infected by E. Coli with a typical watery content and hyperaemia.
COPYRIGHT NOTICE: ILEITIS TECHNICAL MANUAL 3.0
© Boehringer Ingelheim Animal Health GmbH, 2006
All rights reserved. No part of this Technical Manual 3.0 may be reproduced or transmitted in any form or by any means, electronic or photocopy, without permission in writing from Boehringer Ingelheim Animal Health GmbH.